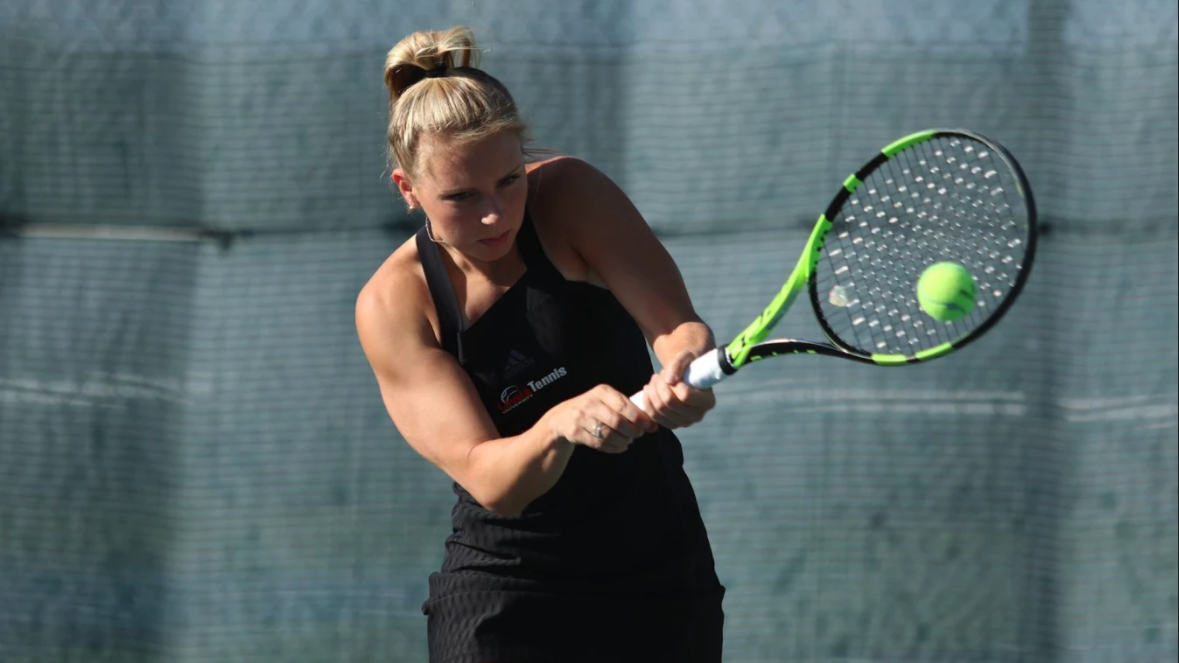 On Feb. 11, the women's tennis team won their first match of the spring semester against the University of St. Francis 7-0 at the Challenge Fitness in Lockport, Ill. The Flyers struggled to get their way out at the beginning of the semester as they lost their first three games. However, the Flyers were ready to step it up this time.
Before the match, the Flyers' goal was to gain victory for once. "My expectations before that game were to win," said sophomore aviation major Joie Reisch. Therefore, the game against the Fighting Saints was a decisive point to make things different. "I try not to think about things that happened in the past and just focus on what is right in front of me and I think that is what we all did," said Reisch.
The Flyers swept all singles matches. Senior Tereza Pilzova defeated Denisse Lizano 6-0, 6-2 in No. 1 singles, while junior Aleksandra Sredojevic beat Maria Kuzminskaya 6-0, 6-2 as well at No.2 singles. Jovana Vujanic defeated Nikki Christiasen 6-4, 6-1 in No. 3 singles.  
Sophomore Joie Reisch won in straight sets over Alyssa Larsen 6-0, 6-0 at No. 4 singles. Sophie Davis, also a sophomore, defeated Michelle Robert 6-2, 6-1 at No. 5 singles. Sophomore Agnes Florczyk beat Grace Monahan 6-2, 6-0 at No. 6 singles to get the first points of the match.
Lewis carried the momentum and blanked St. Francis in the three double games as well. Sredojevic and Reisch defeated Lizano and Kuzminskaya 6-1 at No. 1 doubles. The duo of Pilzova and Florczyk beat Christiansen and Larsen 6-2 at No. 2 doubles, while Davis and Vujanic defeated Robert and Monahan 6-0 at No. 3 doubles. 
"It felt great to finally get a win!" shared Reisch. "We all fought hard, lifted each other up and played smart tennis." During a college tennis match, the athletes play games simultaneously while having others on break.
According to Reisch, the games at St. Francis were played on two different sides of the athletic club. "We were cheering so loud that our players on one side could hear the other teammates cheering on the other," said Reisch.
Although tennis is known traditionally as an individual sport, the team is what holds everyone together in tough situations. "When we step out onto the tennis court it's not about our individual selves anymore, we are fighting as a team and representing Lewis University," explained Reisch. 
After the St. Francis match, the Flyers were defeated against Southwest Baptist four days later. Nevertheless, their two games that followed were straight wins. The players are shifting their mindset focusing more on the team aspect of the sport.
"It doesn't matter what the score is, we always have each other's backs no matter what, which makes our team so special," said Reisch. She also recognizes the efforts of the team's new graduate assistant coach Polina Chala, who brings a lot of positivity and strength this year.
Lewis returns to the courts on Friday, March 6 as they will take on DI University of Wisconsin-Green Bay.
Photo credit: Tereza Pilzova, Lewis University