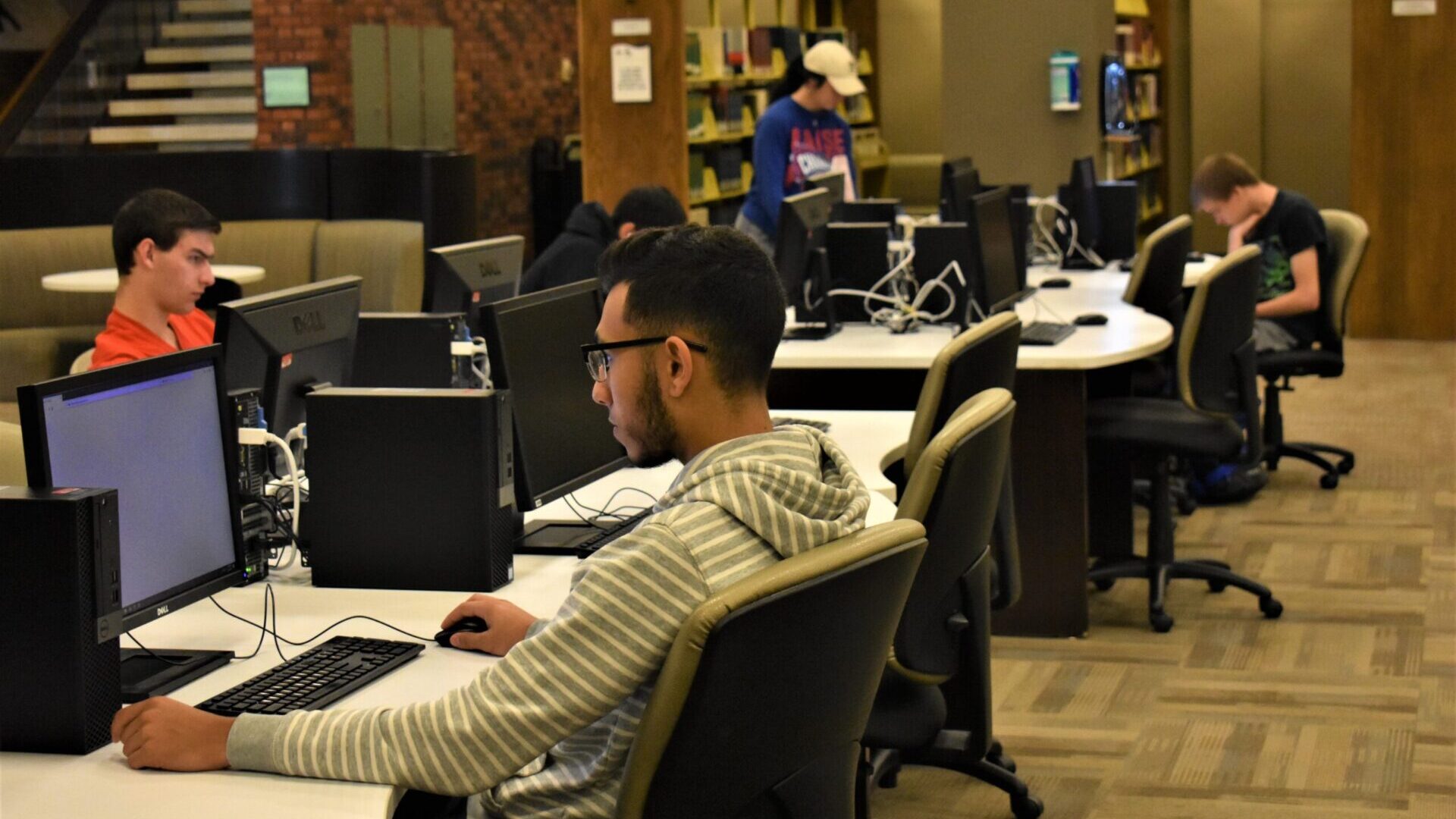 For all four years of college, students will take many classes, either online or in person. When students take online classes, they do a lot of their work on their own. They can work on their class assignments and submit them online to Blackboard. 
When students take traditional classes, they are required to show up to school every day to learn the material. If the instructor assigns the students an in-class assignment, they are required to work on it in class. When the instructor assigns the class a group project, they are expected to collaborate and work on it together.
For online learning, it gives someone more flexibility in terms of scheduling their classes to fit their personal schedule. If someone has a full-time job, and they want to get a degree in a certain field, they would have to schedule classes around their own time. 
For classroom learning, it applies more to the younger generation, whether it's the public school system (K-12) or college-level learning. For many college students, they have to schedule their classes around the activities that they are involved in, as well as any part-time jobs they may have. 
Online courses are presented in a very different way from traditional classroom courses. In many cases, teachers for online courses prepare weekly teaching material and then make it available to students online. Students then have the flexibility to access and work through materials at their own pace and work on the assignments according to their own schedule. This allows students to pursue a degree while also being able to meet commitments for family and work.
"Instructors and students can process classroom information and provide follow-up questions, and materials," said Dr. Christopher Palmi, associate professor of secondary education.  "Quieter students may feel more comfortable sharing ideas."
One notable benefit of taking online courses is that there are more variety and choices for choosing classes. Traditional universities have a limited amount of availability of their teachers to provide certain classes in certain time slots. With online courses, professors can teach from anywhere at any time that fits their schedule. They can design the entire course ahead of time and post it online for students to access at their convenience.
Students who want to take classes online have an unlimited array of options to choose from. Another benefit of online classes is that course materials can be presented in a number of different ways. Even though the course may not take place in a traditional lecture environment, the professor can still record a video of an actual lecture and make it available to students. The professor can also provide students with access to supplementary resources like online videos, PowerPoint presentations, websites, e-books and more. 
It is possible to use or reference these resources in an actual classroom, but with an online course, all of these resources can be made available in a single location for easy access. Additionally, students who take online classes can learn at their own pace. Not only do they learn in different ways, but they can budget out their time to accommodate their own preferred learning style.
 Taking a course in a traditional classroom setting makes the student follow along a set pathway for learning; homework assignments are due on a certain day, tests are scheduled ahead of time, and the course has a set end date. For students who learn at a slower pace, the traditional classroom setting might not be able to provide them with enough time to gain a complete understanding of the course material. With an online class, not only can you learn at your own pace, but you can access and incorporate other reference materials to supplement your learning as you gain more knowledge on the subject.
"Each is fantastic for different reasons," Palmi said. "Personally, I like the dynamic of students and educators engaging in the authentic conversations that happen in a face-to-face environment, but I understand that an online environment also helps to serve a need for students who otherwise might not be able to attend classes."
Students should be encouraged to enroll in classes that best align with their style of learning, and in many cases, online classes are providing the solution.