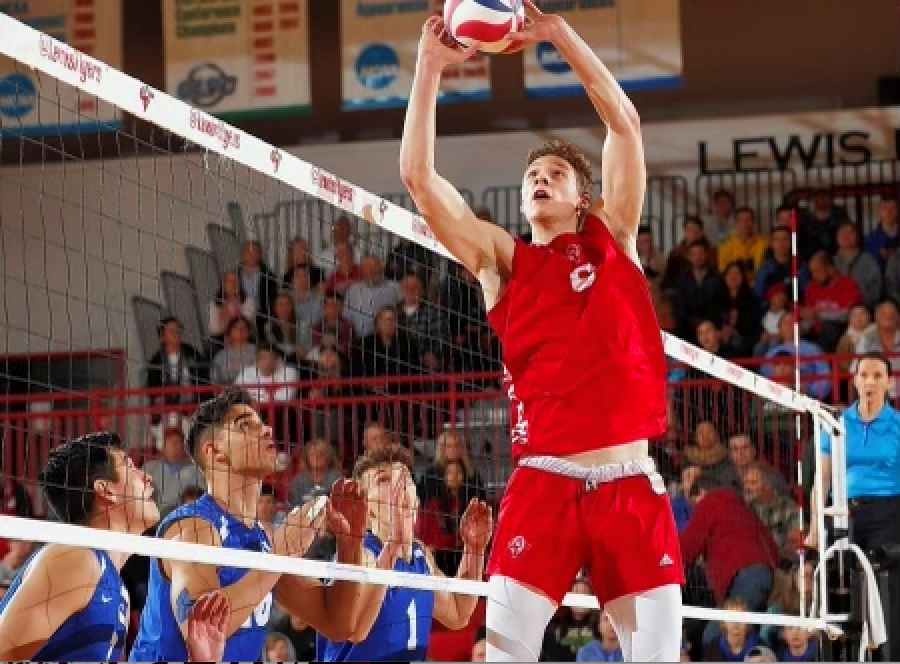 When we see a student athlete in the classroom, we usually see them as just another student. Sometimes, we can't even differentiate them from the rest of the thousands of students on campus. But, when we learn they're not just students but athletes as well, do we ever acknowledge what makes their brain tick? How about their heart, drive or even passion? 
It seems that the answer isn't as simple as we would expect. We usually expect "My dad is the biggest inspiration," or, "I do it for the money." However, with volleyball player and sophomore finance major Kevin Kauling, the answer is a bit unique. 
In his early athletic beginnings, Kauling started off as a swimmer. He followed in the footsteps of his family, with his sisters and father being swimmers when they were younger as well. This is where his competitive nature began, with him racing against his sisters, finding ways to improve, and refusing to let the swimmer next to him be better. 
At the time, volleyball was just a side hobby, with Michael Phelps being a huge inspiration to watch for a young swimmer.
Fast forward and just a few years later, volleyball became Kauling's go-to sport in eighth grade. When he began to seriously acknowledge the fact he could play collegiate sports, he realized he had to decide between swimming and volleyball. After making his decision, it was history from there. 
Kauling went on to commit to Division-I volleyball at Lewis as a sophomore at Neuqua Valley High School. 
However, before his arrival at Lewis, Kauling wasn't finished breaking his own records in high school. As a senior, he played for the under-19 U.S. Olympics team. When describing his experience, he made it clear what is important to him. 
"When you compete at the highest level it is the best thing in the world, win or lose," said Kauling. "I've competed in world championships for U-19 U.S.A. Obviously, We weren't trained year-round. It was more like we came and competed with them for a month. You see other countries have trained together year-round so they know each other like the back of their hand."
Now, at the age of 20, Kauling seems to have accomplished much more than the average student his age. Still, Kauling isn't finished by a long shot.
Kauling acknowledges the journey he's been on has been the result of the impact people have had on him. He credits his family for his upbringing and creating a competitive nature that fuels his desires, teammate Ryan Coenen for being a mentor on and off the volleyball court, head coach Dan Friend for believing in him enough to recruit him when he was a sophomore in high school and even childhood idols such as Michael Phelps and Kobe Bryant. 
When discussing Kobe Bryant, anyone can hear the mamba mentality in his voice. "Kobe's drive is… that's why I love him so much because he's so different from everyone else," said Kauling. "His obsession for the game is sort of unhealthy but it's so cool to see that he's sort of an outcast. I consider myself to be an outcast of working hard. Sometimes I'm questioned why I work so hard or what I'm trying to accomplish. Kobe wanted to be the best more than anything. That's probably why when Kobe died at a young age, it was pretty hard on me and everybody that was a fan of him. He was such a determined player and person."
This led me to ask him who Kevin Kauling is. Fittingly, he answered it in one word: "Determined." 
That's when I decided that I believe Kauling is going to achieve his dreams of playing in the Olympics and playing professional volleyball in Europe. 
You can easily imagine his theme song being "Dreams" by Van Halen because that song sums up who he is as a human being. "My dream at 10 was to always be in the Olympics," said Kauling. "That was always my dream. No matter what I do, I'm going to get there."
Shouldn't that be something we all strive for, making our dreams a reality? He's below the drinking age, yet he seems to have a drive older than life itself. Que Van Halen. 
Photo credit: Steve Woltmann