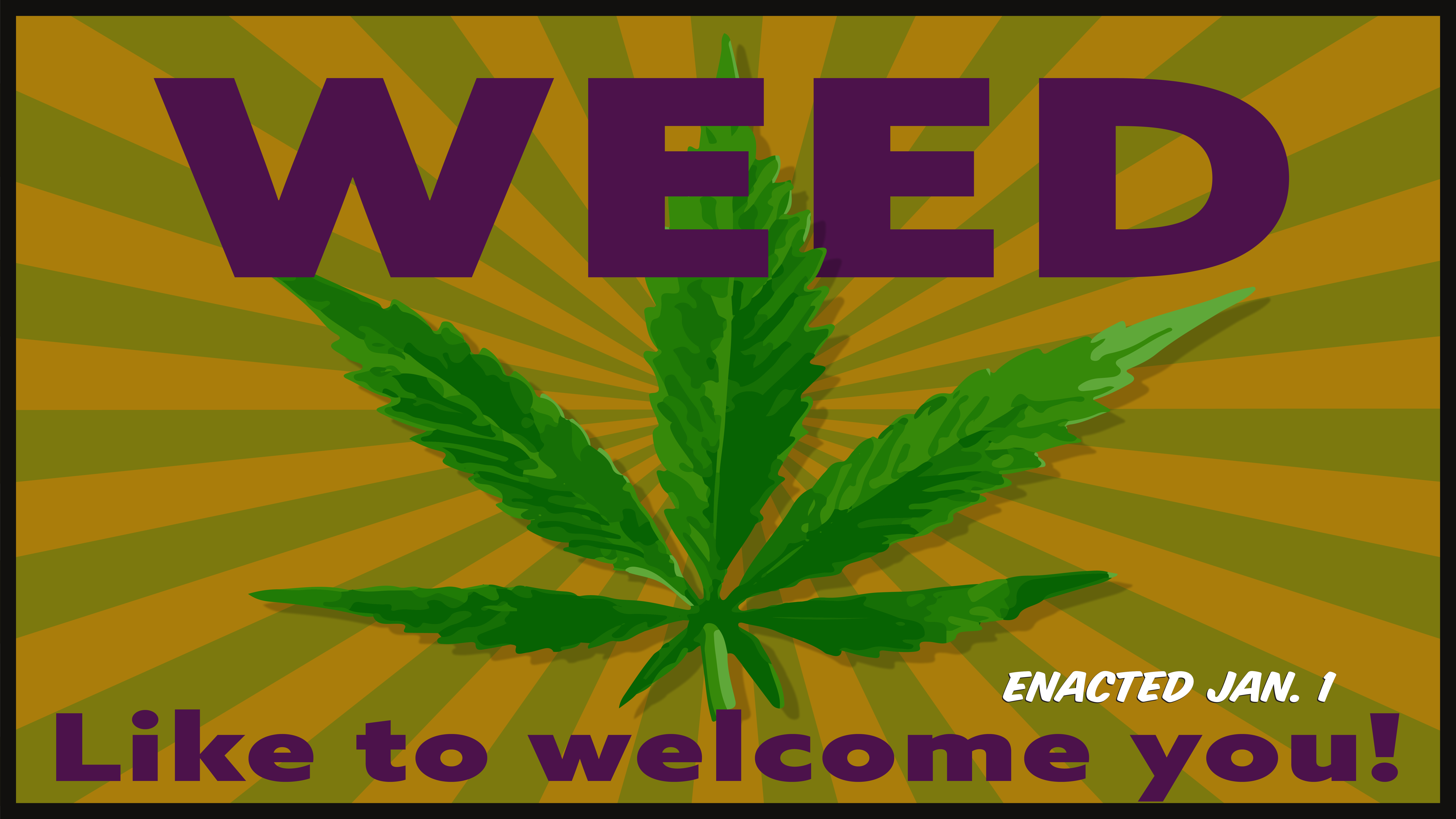 With the new year comes new laws surrounding marijuana use and taxes on cannabis products, the Illinois state Real ID and changes to the hourly minimum wage pay rate. While some laws have taken effect in January, such as the legalization of recreational marijuana, others will affect Illinoians further along in 2020. 
As of Jan. 1, Illinois legalized recreational marijuana, meaning consumers 21-years-old and older could buy marijuana from licensed sellers. Over the course of the year, additional licenses will be granted to new stores, processors, cultivators and transporters. According to Marijuana Business Daily, there could be up to 295 operating stores within the state by 2022.
The legal market for recreational marijuana also imposes new excise taxes, including a 7% tax on wholesale sales made to dispensaries. Retail taxes of 10%, 20%, or 25% will be placed on a product depending on the amount of THC content or product type.
"The Illinois vehicle code still has a statutory component about transporting [marijuana]," said Chief LUPD Officer Mike Zegadlo. "So if you want to transport it, it needs to be in a child-proof, odor-proof container. If it's not being transported in that environment, that is still a misdemeanor, so you can still be arrested for being in possession of under 30 grams if it's not in that container."
According to Article 1 of Public Act 101-0027, a cannabis container is a "sealed, traceable container or package." However, there is currently no law defining what constitutes a "sealed" container. Without definition, it is unclear whether "sealed" means the cannabis product is in the container with the factory foil seal still unbroken or that the cannabis product is in a container where the original seal has been broken, but the container lid is screwed on. 
"I think we're going to see some test cases go to the courts where someone's going to get arrested for not having a sealed container and the defense attorney is going to argue that it was a factory container but the original seal was broken and [the cap] is screwed back on," said Zegadlo. "I think the courts are going to have to decide what their definition of 'sealed' is because that wasn't clearly defined in the law."
Another major legal change within the state is Illinois' compliance with the federal Real ID Act, which will take effect on Oct. 1. As of right now, the Office of the Illinois Secretary of State is issuing Real IDs to Illinois residents. These IDs are marked with a gold star in the upper-righthand corner and cost $5 for residents with a driver's license that expires in over a year. Otherwise, the Real ID costs $30, the same cost to renew a driver's license.
In order to obtain a Real ID, residents must visit a Secretary of State facility in person with proof of one's identity, social security number and residency. Applicable documents include a copy of one's U.S. birth certificate, a U.S. passport, a Social Security Card, W-2 form, mortgage bill, utility bill or medical or school document. 
"They want to confirm your identity, your residency and your signature…You presented additional documents to verify your identification, so it meets the Department of Homeland Security standards," said Zegadlo. "The card itself has additional security figures built in to prevent counterfeiting or illegal reproduction and all of those features meet the federal standards…Reproducing or counterfeiting that ID is going to be more difficult."
Illinois increased the hourly minimum wage from $8.25 to $9.25 on Jan. 1, as part of a plan to phase in a minimum wage of $15 by 2025. For workers under 18-years-old, the youth minimum wage will increase to $13 per hour by 2025. 
Some of these laws may not take effect until the end of the year, but residents within the state can still anticipate the changes in months prior.