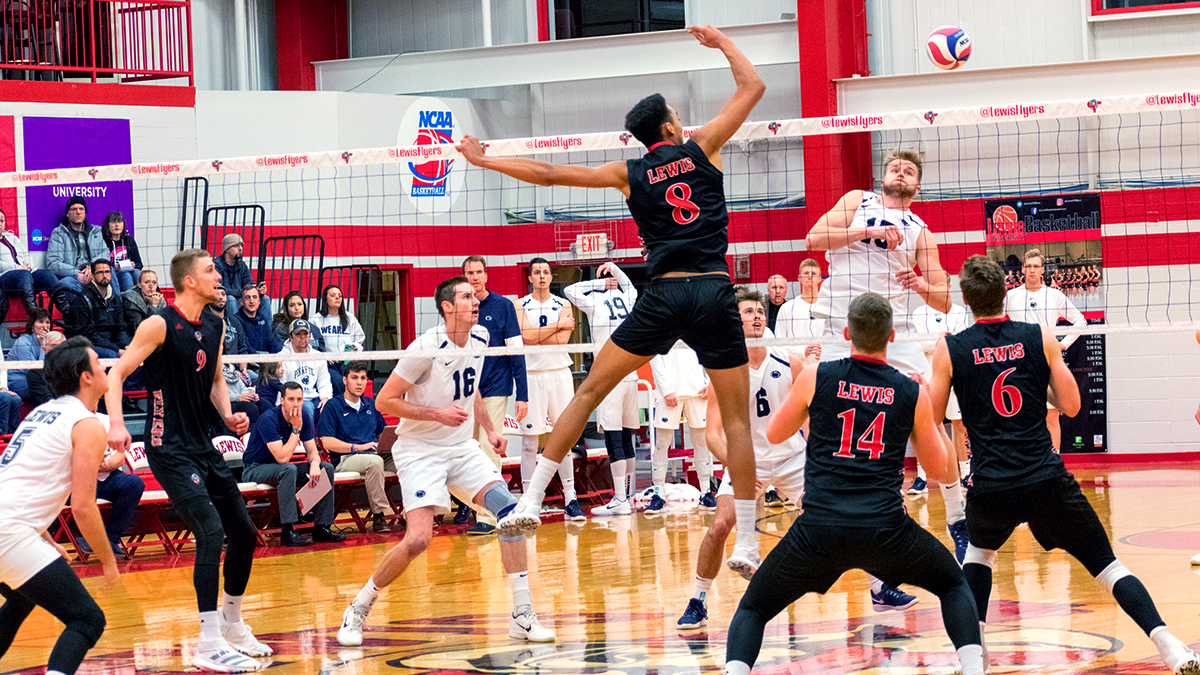 The men's volleyball team was defeated by Penn State 3-2 on Saturday, Jan. 18 at Neil Carey Arena. 
In the opening set, the Flyers broke an 18-all tie with a 5-1 run to build a 23-19 lead. This put enough pressure for the Nittany Lions to take a timeout, which led them to score the next three points. Yet, after scoring one more point, plus a service error from the opponent, the Flyers came up with the win 25-22.
Set two was one of a kind as it included 15 ties and four lead changes that took place after both teams reached 25 points. After a very tight set, Lewis earned the two-margin advantage needed to win after a kill and a block from redshirt seniors Ryan Coenen and Dalen Instenes, respectively. The Flyers brought it home 38-36. 
Penn State took over the third set hitting .556 with 12 kills against, and two errors in 18 chances. Their 9-3 run extended their 11-point win as the final score ended 25-14. 
The Nittany Lions defeated the Flyers during set four on a 7-2 run that included a five-point rally. Points were quickly exchanged until Penn State started dominating again with five straight points that gave them a 23-18 lead. The Flyers lost it 25-20.
The fifth set was back-and-forth with six ties and two lead changes. It was tied at 12 when the Nittany Lions broke the tie on a kill. Subsequently, they got to set point after a Flyer attack error. Penn State won game five 15-12. 
The night before, Lewis also suffered a loss against Hawaii 3-1 at home. "Hawaii is ranked number one and we wanted to seize the chance to see where we are at in this young season," said Head Coach Daniel Friend. The Flyers are currently ranked seventh, according to the latest NCAA rankings. "The guys competed hard and gave themselves an opportunity and that's all we can ask," said Friend. 
According to Friend, the team had too many "unforced errors" during the Penn State game. "There was certainly an emotional and mental piece with the Hawaii loss," said Friend. However, he said it was a great learning lesson as the season moves forward so that they can be better next time.
The team will head to Fairfax Va., to take on a set of games against Barton College and George Mason University on Jan. 31 and Feb. 1.