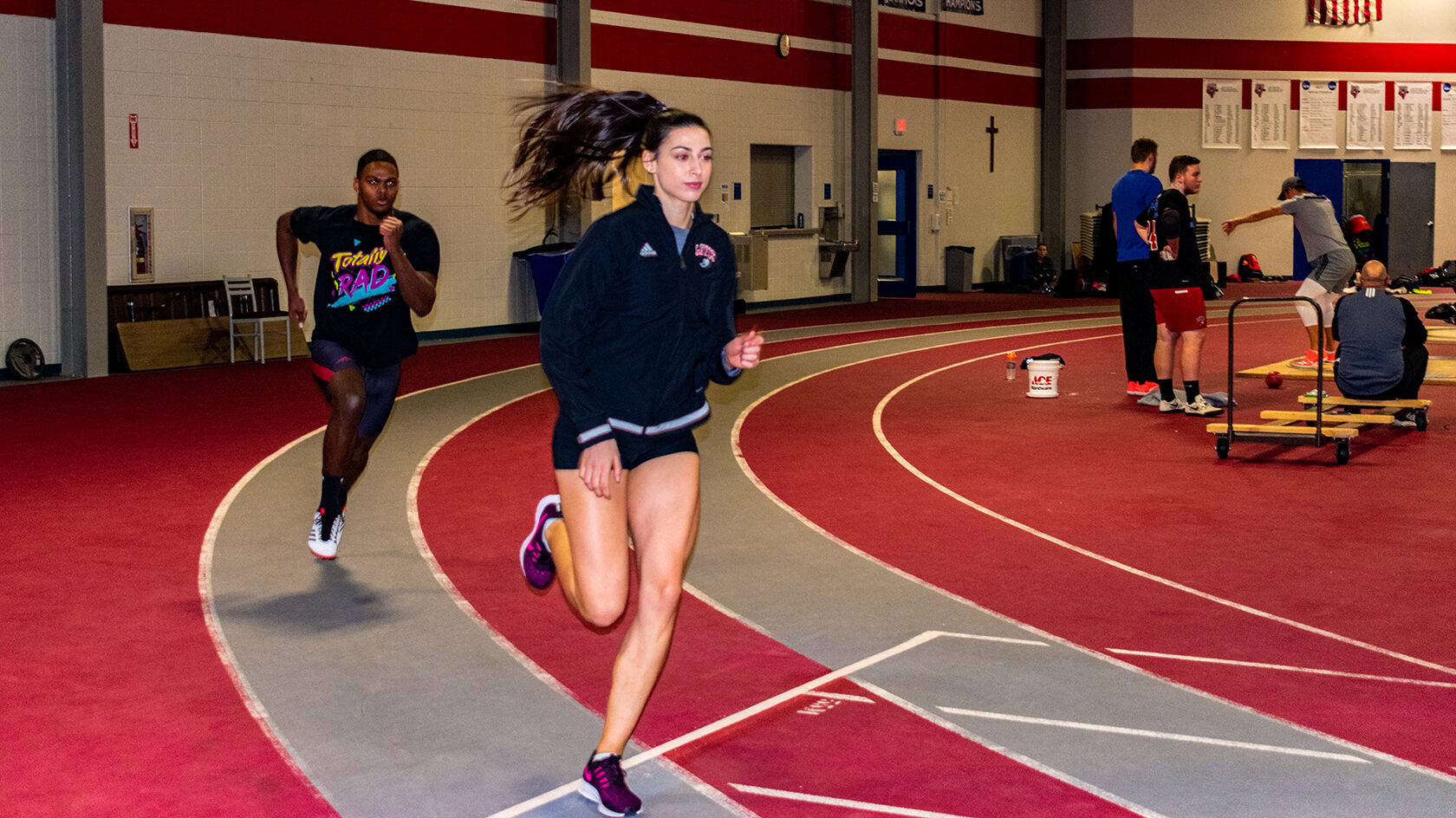 The men's and women's track and field teams competed at their first away meet of 2020 at the University of Indianapolis Collegiate Challenge on Saturday, Jan. 1, which took place at the Athletic Recreation Center in Indianapolis.
On the women's side, Lewis won six events and claimed 17 top ten finishes in eight events. Senior Joelle Ataessien claimed the victory in the 60 meter hurdles in 8.88 seconds while sophomore Natasha Bernett came in 5th with 9.32. Sophomore Jada Hoffman finished 4th in the 60 meters with 7.78. 
Graduate student Teresa Zaragueta came in first in the high jump with 1.65 meters (5'5''). Senior Anna Laudizio claimed the victory in the long jump with 5.32 meters (17'5.5), followed by junior Rachael Ramon (5.27 meters; 17'3.5'') and freshman Jena Martin (5.18 meters; 17'0''). 
Laudizio won the triple jump with 11.41 meters (37'5.25″) followed by Martin in second who posted 10.72 meters (35'2″) and sophomore Tori Hagg in third with 10.66 meters (34'11.75″). On the weight throw, sophomore Alyssa Betlejeski finished fifth with 15.42 meters (50'7'') and junior Kylie Wymer in seventh with 14.95 meters (49'0″).
The men's team won three events and claimed 18 top 10 finishes in nine events. Freshman Connor Wagner came in fourth in the 60 meter hurdles with 8.46 followed by sophomore Chaz Sales in sixth with 8.66. Freshman Will DeBolt claimed the victory in the 200 meters with 19.50. Sales and Wagner tied for third (19.90) and redshirt sophomore Jibreel Brown finished in sixth (20.20 seconds).
Freshman Zach Oleneck won the triple jump with 13.7 meters (44'11.5''). Junior Nick Krella claimed the victory in the pole vault with 4.47 meters (14'8'') followed by freshman Gerwin DeHann in fourth (4.32 meters; 14'2'') and sophomore Malcolm Wolfe in sixth (4.17 meters; 13'8.25''). 
Junior Fargo Thronton got seventh in the shot put and fifth in the weight throw with 14.06 meters (46'1.5'') and 15.22 meters (49'11'') respectively.
For both teams, their goal is to win the Indoor and Outdoor GLVC Championships. "This is our league and the standard that we hold ourselves up to is to be the best team in our league," said head coach Dana Schwarting. 
The teams are funded at a level that gives them a chance to be in the top half of the conference each year, yet at the national level, it is a different story. "We are not at the same level of funding as Grand Valley or Pittsburgh State, to name a couple," said Schwarting. However, in any given year Lewis will have 10-15 athletes that are talented enough to take a shot for the NCAA Championships. 
One of these athletes is Teresa Zaragueta, who is a graduate student originally from San Sebastian, Spain. "My goal as an individual is to keep improving my personal bests; as for the team, I want to help win the Conference Championship," said Zaragueta. "I also would like to make it to Nationals in the 4×400 relay, we are really close and if we keep working as we have, I think we can make it."
The Track and Field teams will head to Grand Valley State University on Feb. 14-15 for their next competitions.