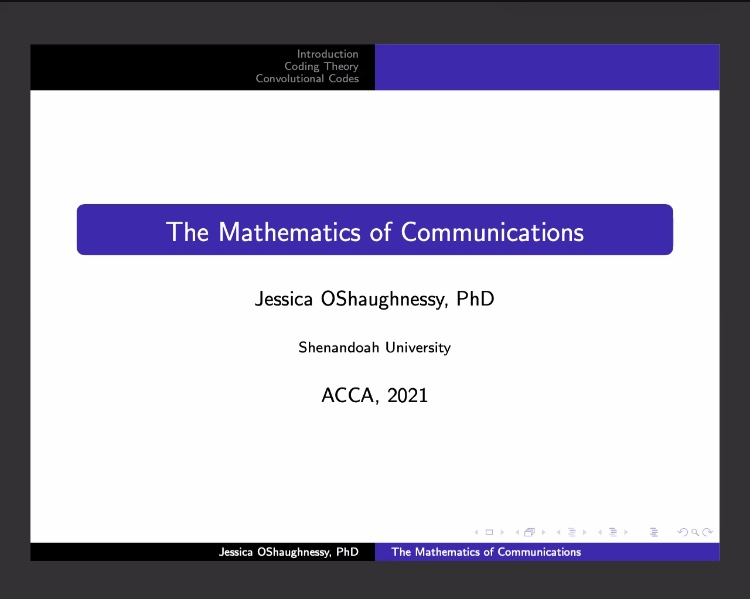 On March 24, the Associated Colleges of the Chicago Area (ACCA) hosted a virtual mathematics lecture series, titled "Mathematics in Communication" that explored what codes are and why they're necessary, as well as how advanced mathematical techniques are becoming a necessary part of codes and their implementation.
The talk is included as part of the "NSF LSAMP PUMA STEM" program, which aims to diversify the STEM workforce by increasing the number of students successfully completing STEM baccalaureate and graduate degrees. This is the second talk of the annual speaker series for the Association of Colleges in the Chicago Area.
"The colleges who are part of this group bring in speakers each year to talk about interesting mathematics and research," said Director of Mathematics Amanda Harsy. "This is also being run in conjunction with the PUMA STEM Speaker Series which brings speakers in to talk about STEM research and because of COVID, it was conducted online."
The talk was presented by Dr. Jessica O'Shaughnessy, the Assistant Dean for Student Success and an associate professor of mathematics and computer science at Shenandoah University. She completed her PhD at the National University of Ireland in Galway in 2010 in the area of algebraic coding theory.
Her research interests are in algebraic coding theory and mastery based testing in undergraduate mathematics and computer sciences classes. She has completed many research projects with under-graduate students, had these students present at conferences, and several times had students win best undergraduate papers and posters for their work.
In the talk, students have learned about mathematics and how it relates to communication in our world today. Mathematics in communications has become an integral part of technology and communications. Codes are used in many communication applications, such as cell phone networks, cryptography, and satellite communications. Codes can be constructed in several ways, from simple repetition of digits to use of abstract algebra such as groups, rings and group rings.
The main purpose for holding this event is for students to hear about interesting mathematics and research, presented by a professional working in the field of computer sciences and mathematics. Even though it's normally done in person, it's different this year because all of the talks, including this one, are being done online.
"We host multiple events through ACCA which allows us to work together," said Harsy. "The speaker series is usually held at rotating universities and we have dinner and a Pi Mu Epsilon induction ceremony, and it is nice to see my friends from other universities."
This event relates to everyone in the Lewis community because since it's being run in conjunction with the PUMA STEM Speaker Series, students can learn more about STEM research from the speakers that present their research findings.
"The topic of this event is interdisciplinary and supports the goals for our Arts and Ideas event," said Harsy. "Seeing how mathematics relates to communication is a broad topic which may be of interest to many students."
Besides students, many other people like professors, can also benefit from attending these events because these talks can give them a chance to have conversations with one another, as well as be able to socialize with everyone, including their colleagues and friends.
"The ACCA Math/PUMA STEM talks also provide topics of interest to professors as well," said Harsy. "It allows us to better support each other and fosters collaboration."
Photo credit: Katelyn Leano