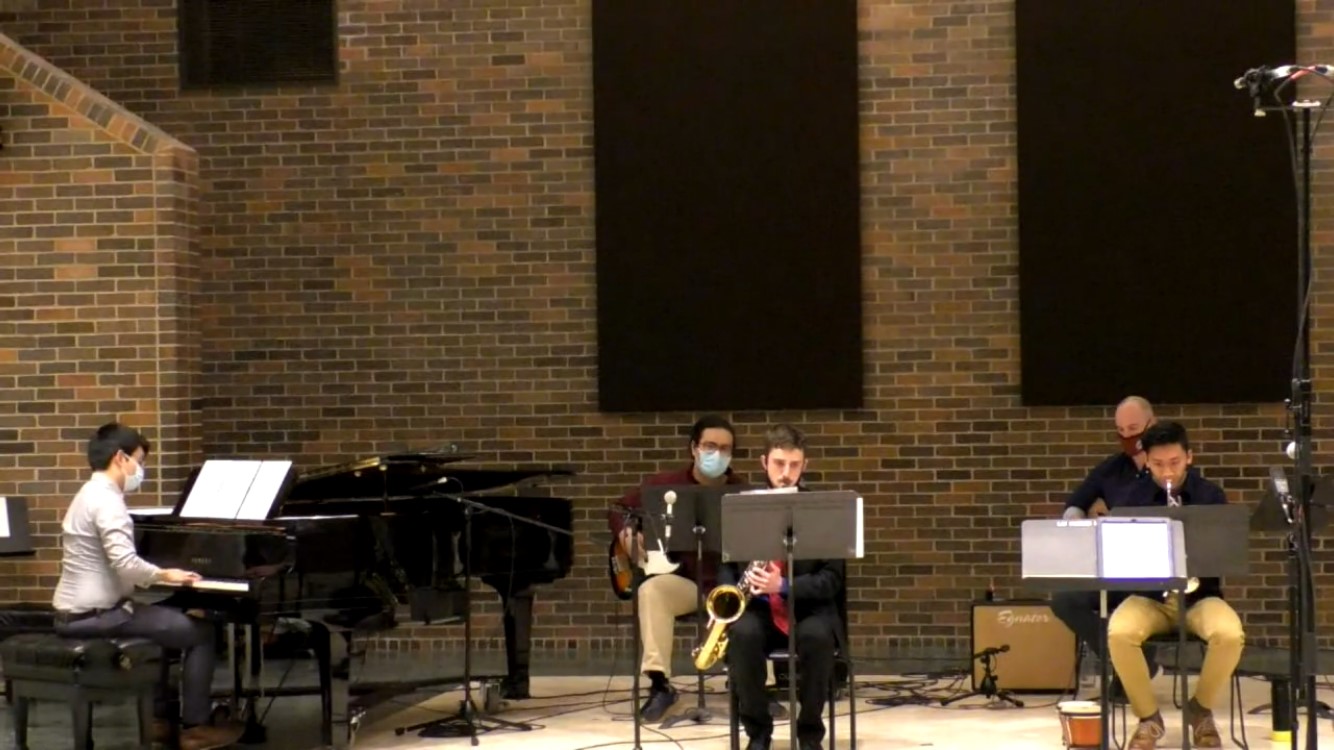 On April 29, the Jazz Band showcased students' musical abilities, highlighting the skill of improvisation. The concert was live-streamed through Vimeo from the St. Charles Borromeo Convocation Hall, and the band performed a total of four pieces.
The four songs belonged to the standard jazz repertoire, which included "Now's the Time," a blues piece by Charlie Parker, and "Oleo," a composition based on a standard song from the American Songbook: "I Got Rhythm" by George Gershwin. The remaining two songs consisted of "Manhã de Carnaval" from Black Orpheus by Luiz Bonfà, which is a bossa nova, a Brazillian style of music that influenced jazz, and "Killer Joe" by Benny Golson, which played in a Latin style called "Cha-Cha".
Each arrangement of these pieces was composed by the Jazz Band Director Leandro Lopez Varady. "My goal with these four songs was to cover four main styles in the broad realm of jazz music," said Lopez Varady.
Though each student in the Jazz Band performance displayed an advanced musical talent, the band featured an array of students from different majors, including non-musical programs.
"The members of the Jazz Band are all Lewis students coming from different careers," said Lopez Varady. "This year, we have Matthew Schrieffer in Bb clarinet, sophomore computer science major Kai Corpuz in trumpet, senior biology major Sydnie Rizaldo in alto saxophone, freshman Air Traffic Control Management major Trevor Christoffersen in tenor saxophone, junior business major Daniel Cantone in electric guitar, freshman music major Julian Rocha in piano and senior Axel Moreen in electric bass." 
In preparation for this concert, some students had been rehearsing for two semesters. Other students who joined the band this spring semester rehearsed once a week for two hours.
"…If I have to define jazz with one word I will say, 'improvisation,'" said Lopez Varady. "Jazz is improvisation. To develop the art of improvisation, we need to master several music techniques that will allow us to improvise, besides of course the proficiency of the instrument. In order to improvise, you need to listen to others and everyone is free to express him/herself respecting a basic structure that has been determined."
Lopez Varady went on to say that jazz is expected and unexpected at the same time. Every time musicians play, they are able to play a piece differently. It can sound really good; other times, not that good. Band members can always improve the way they play and this interplay may bring joy to the player and the audition since participation in the creative process is crucial.
"The benefits that bring the ability to improvise are multiple: joy, active listening, cooperation, teamwork, ability to take risks, create art "in the moment," just to name a few," said Lopez Varady. "I think all these values are in accordance with Lewis' principles."
Students who assisted the Jazz Band with their equipment and instruments were given Arts & Ideas credit.
All students, regardless of their major, can participate in Jazz Band and receive college credit. As long as a student is below 18 credit hours, they can enroll in Jazz Band, which is a one-credit hour course.
"I would like to call this concert a 'Concert/Rehearsal,'" said Lopez Varady. "It is like opening a little window to our classroom and taking a peek of what we practice every week." 
Photo credit: Katelyn Leano