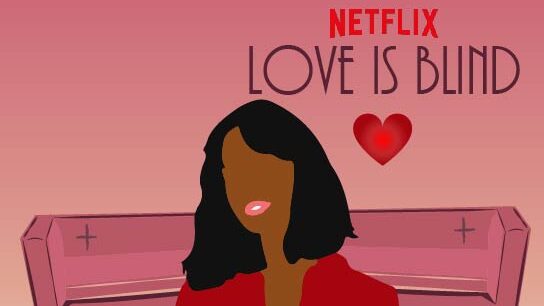 The new Netflix show "Love is Blind"  takes you on a fast- and drama-filled experience with five couples becoming engaged to each other within just days of knowing one another.  
"Love is Blind" is a reality television dating show on Netflix produced by Kinetic Content, who also created "Married at First Sight" and "The Bachelor." It brings you on a journey of a group consisting of 30 participants in total: 16 men and 16 women. Their point is to speed date but with a twist. They can't meet face to face with their date and their only way to talk to each other is through speakers between their rooms. It mainly follows six couples who have decided that out of all the people there, they have found their future partner. 
The men live on one side and the women live on the other. When in the tiny rooms (pods), they can only talk to their date, they can't see each other; therefore, they only know their partner's vice and what they say. Now that seems crazy because they could basically catfish you and say, "Oh I'm a 25-year-old female and a model" but in reality, they are a 54-year-old lout living in their parent's basement. 
In 10 days, they have to find their so-called "soulmate" and become engaged in that small amount of time. Once they propose, they finally get to meet the person they chose face-to-face, then in four weeks after becoming engaged they get married. This is just bananas right!
The couples they focus on are Barnett and Amber, Jessica and Mark, Lauren and Cameron, Giannina and Damien, Kelly and Kenny and, lastly, Carlton and Diamond. 
Even though there was no way for the contestants to see their date, there was still drama. In the beginning, Barnett liked both Amber and Jessica, but when it came to choosing their partner, he chose Amber. This was a drama-inducing situation because Jessica still liked Barnett even though she said yes to Mark who is 10 years younger than her. She brings this age thing up all the time in the show and it gets really annoying. At times, I even felt bad for Mark since Jessica was just doing him dirty by faking her love for Mark since she really wanted Barnett. 
When they decide who their partner will be, they go on a honeymoon. They mainly just get physical with one another, but some of them start to have doubts after they find out more information and actually see their choice.
Another couple's relationship, Carlton and Diamond's. didn't last very long on the honeymoon and they actually broke up on the second day. This happened because Carlton was hiding the fact that he is bisexual. He has been with men before and Diamond was very upset when she found this out. She didn't like the fact that he didn't tell her this, so they had a big fight with a lot of yelling then Diamond splashed water on him and left.   
After the honeymoon, the five couples move to an apartment building and they are all neighbors. They find out about many issues such as pet peeves, financial issues and if they would want kids. Tension fills the apartments with Giannina and Damien, another couple, arguing about family issues.
This mainly upsets Giannina, and she yells at Damien for no reason. Also, Kenny and Kelly are trying to figure out the more physical side of their relationship but Kenny wants more in the relationship than Kelly wants. Also, Jessica meets Barnett and then later confesses to Mark that she still has feelings for Barnett. "If you were to actually ever go after my husband I will destroy your life," said Amber to Jessica, who was drunk one night. 
After a few weeks, the weddings happen and things get really intense. Damien says no to marrying Giannina, Kelly says no to marrying Kenny, and Jessica says no to marrying Mark, but both Amber and Barnett, as well as Lauren and Cameron, get married. Although I knew that most of the couples were not going to get married because of all the drama they had and the way they poorly treated each other, I was personally shocked when Kelly said no because her relationship with Kenny appeared to be one of the strongest.
The show then ends with a reunion, but it is mainly just them talking about what happened in the show and getting to know how all the people are now. We find out that Damien and Giannina have decided to get back together and are now dating. 
This is probably the most cringe-worthy show I have ever watched. After each episode, I literally had to watch something else because of how weird things were among the couples, and I really just needed a break from Jessica saying that she is older than Mark. At the end of the day, nothing more can be said about "Love is Blind." If they have another season, I do wish for more happy endings and less over-the-top-drama.
Photo credit: Netflix