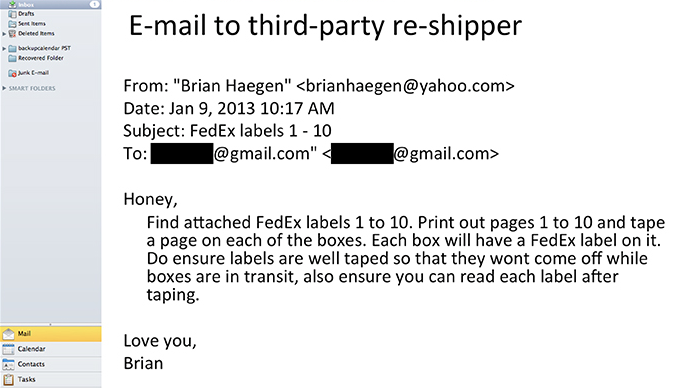 As health concerns for the general public rise due to COVID-19, FBI Chicago has seen an increase in cyber scams and sex crimes against children amounting to over 1,200 reports nationwide. Fears of the virus and increased time on the internet have created an opportunity for malicious users to take advantage of both adults and children.
In cyber scams, malicious users want personal information, money in the form of gift cards or demand several thousand dollar payments via wire transfer or bitcoin. The most common victims of cyber scams are young adults in college and senior citizens since it is usually their first time managing their own accounts, and they may not be as accustomed to technology. 
"College students should be careful of what they're putting online," said FBI Chicago Public Affairs Officer Siobhan Johnson. "You want to make sure you're not putting out all the same information that you're using as [the answer to] your security questions. You don't give people your location because that's not something typically needed; that can be used to find you. Make sure your security settings don't show where you are."
Scammers may pose as a business and request payment in a new or unusual way and attribute it to COVID-19. They may also pose as the Center for Disease Control and Prevention or the World Health Organization. Identity theft and stolen information have also been seen in these cases as scammers want to obtain a user's social security number and date of birth. Malicious users have also advertised apps that supposedly track COVID-19, but, instead, have malware to obtain users' information.
Scammers will, oftentimes, include a time-sensitive component in their emails in an attempt to promote a sense of urgency and cause users to act in fear rather than collected reasoning. Another way to spot a scam is to be wary of any requests for payment in the form of gift cards.
"What we're seeing specific to Chicago are the business email compromises," said Johnson. "Those emails are the ones where someone is…emailing and pretending to be someone else. So it might come through and say that it is your employer but people might have specific knowledge of who your employer is and it might say something like, 'Hello, I need you to go and pick up 20 gift cards…send me pictures of those numbers on the back….' It's far more common than you actually think."
To prevent becoming a victim, users should call a company before transferring any money to verify that the email is legitimate and refrain from clicking any links. These links can download malware, which scammers can then use to lock the device and demand large scale ransoms. A user can also spot a scam by reading an email and taking note of rampant misspellings since legitimate businesses usually implement some form of spellcheck. 
If a user has received a suspicious email, they can report it at the Internet Crime Complaint Center. Users can immediately delete the received email or if they have already made contact with the scammer, they can simply stop responding. For additional information on cyber scams, a user can check FBI reports on cyber scams through their social media pages and online interviews.
"In times like this, we often feel like things are out of our control, but there are three things you can do for cyber scams," said Johnson. "Number one: do your research, two: report victimization, and three: spread the word. Help protect yourself and your family by getting the information out there."
Malicious users, targeting adults who work from home and students participating in online classes have also hacked video conferences such as Zoom. They display hateful messages, pornographic images or threatening language on the screen. 
To prevent unwanted interference in a teleconference, the host of an online chat can use software that allows him or her to create a password-protected teleconference. Additionally, some video conference software has a waiting room function, in which participants can log on, but they cannot access the presentation until the host approves of their joining. To protect users from seeing offensive images on-screen, the presenter can manipulate the settings so no other participants can change the screen.
Though there are ways to prevent becoming a victim, there are circumstances in which these cases can only be reported to spread awareness after the issue has occurred. Some school systems have been hacked giving malicious users access to students' information. Businesses that may have rushed to maintain laptops in the move to an online format run the risk of using laptops installed with malware. 
While cyber scams and malicious users are affecting each age group to some extent, children, and young adults, especially college students, run the highest risk of being targeted online by predators.  Students are using the internet for school or entertainment purposes more than ever before, therefore it is more common for them to come in contact with a predator. These predators first make a connection and groom a victim before asking for sexually explicit photos or videos. 
As protection, college students should be aware that they may not be messaging a person who is the same age or gender they portray online. Parents are encouraged to ensure that device privacy settings are strict by monitoring the devices a child uses and watching what their children are posting. Additionally, they should regularly discuss online safety with their children.
"For a small child…it can be as simple and sitting down with them and saying, 'Have you ever thought about who's on the other end of this game, who you're playing with?'" said Johnson. "It can be that short, three-minute conversation, very gentle you don't want to scare them. That's not going to be a one-time conversation…it's kind of a reminder…. If you're talking about an older child, for example, a child in middle school…that conversation will be a little bit more honest."
Predators can be reported at fbi.gov/tips. As children are often the victims, it is extremely important to report all suspicious activity.
In the future of online COVID-19 related extortions, the FBI anticipates there will be an increase of what is called the "romance scam." In this type of deceit, users will meet someone online only for the other person to feign romantic interest and ask for sums of money. 
If current trends continue, the number of scams and extortions will continue to rise. However, the general public can stay informed and practice skepticism to prevent becoming a victim.
Photo credit: FBI Media