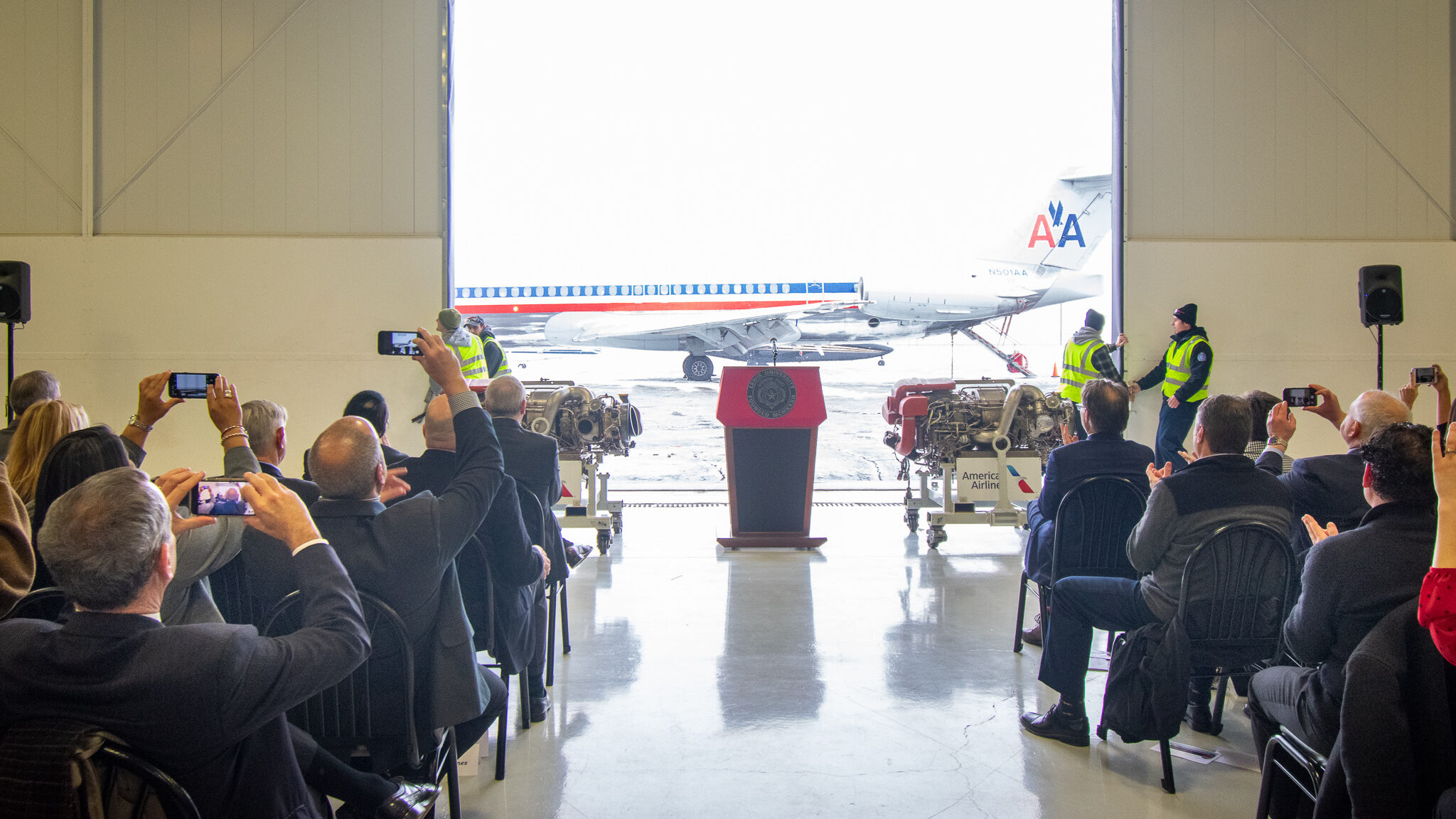 On Dec. 20, 2019, Lewis' Instagram announced that American Airlines generously donated one of its last MD-80 aircrafts to Lewis. The post, created by the Marketing and Communications Department officials, included a picture of the MD-80  plane that's parked behind the Harold E. White building captioned, "Christmas came early for @LUAviation students!"
Indeed the holidays did come early for not only aviation students, but the entire university as they received a new way to enhance their learning experience. 
President Dr. David Livingston said the jet will be used for "education across many majors for research and interdisciplinary studies and serves as a source of pride for our Flyers."
On Thursday, Jan. 23, a dedication ceremony was held in honor of the donation in the Harold E. White Aviation Hangar. Students, faculty and staff were invited to the event.
Franco Tedeschi, regional vice president of American Airlines, said the over 90-year-old airline is, "proud to assist the students who are entering the noble field of aviation."
After the dedication, the garage was pulled open, revealing the MD-80 covered in snow. After it was revealed, attendees were invited to take a tour of the interior. 
Junior aviation unmanned aircraft system major Jaylen Bush was one of the many aviation students excited for this donation. He recalls the day the plane landed on campus. The day prior he was on duty as a resident assistant and his mother's birthday was on Dec. 20, so he decided to leave the night before to be with her. Once he saw the Instagram post he said he was "sad…because If [he] stayed one extra day [he] could have seen the legendary airplane land."
Bush hopes his experience becomes an inspiration for others. "I want to be an example to other students of color who have dreams of pursuing aviation," said Bush. 
Bush was present at the ceremony. Seeing the plane motivated him for his future. He also realized he was blessed with the chance to attend Lewis because other university students don't have this opportunity. 
An MD-80 is a series of twin-engine commercial jetliners. Depending on the seating configuration, it can seat between 130 to 172 passengers. It is considered one of the safest planes in the sky. 
American Airlines was the first to introduce this aircraft to its fleet in 1982.
After 36 years of operation, American Airlines MD-80 operated its last commercial trip from Amarillo, Texas to Romeoville, Ill. landing at Lewis' airfield.
Assistant professor of Aviation and Transportation Studies Craig Neville, said this particular MD-80 had flown as many miles as 65 round trips to the moon.
The plane will serve as a valuable asset for students for years to come.