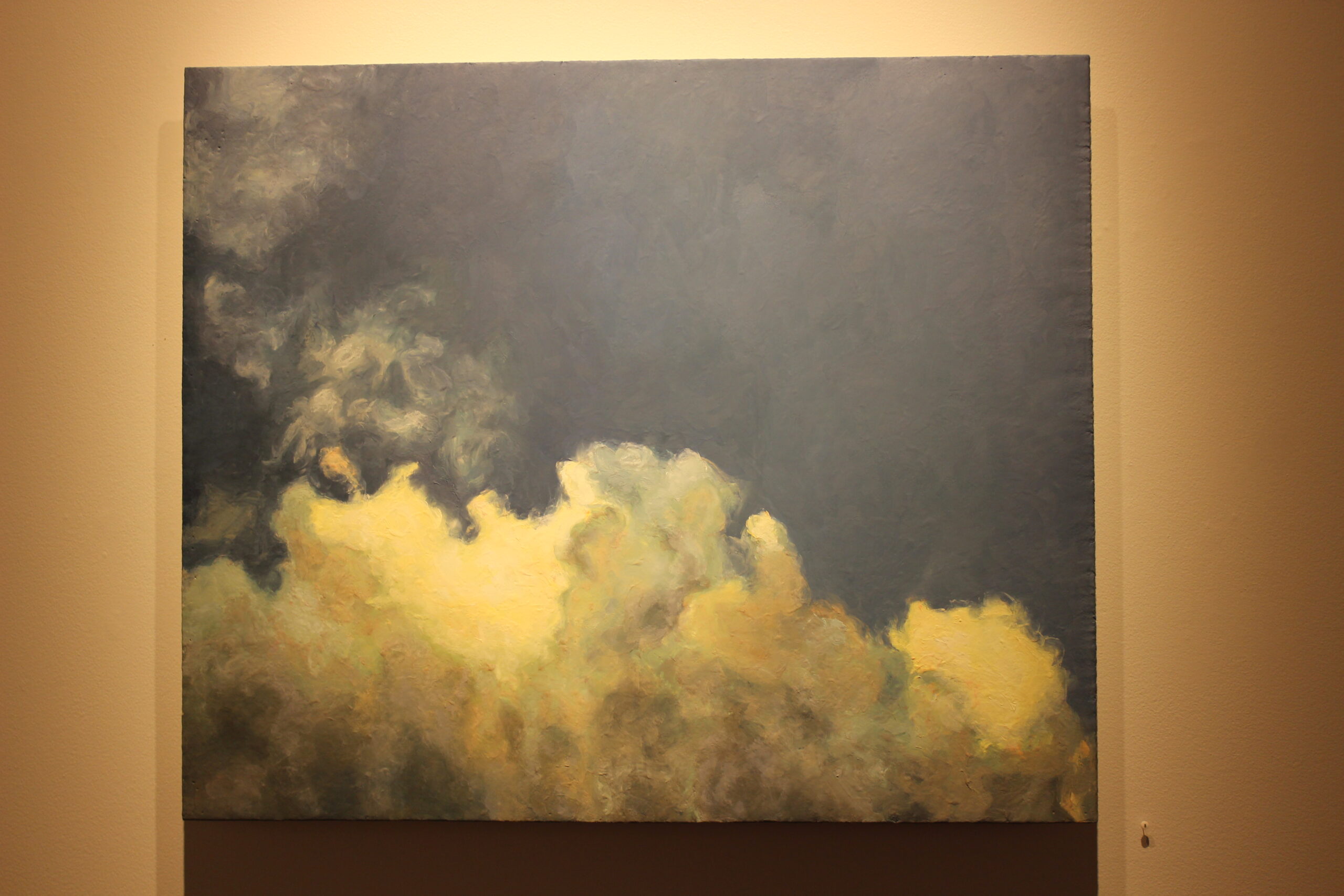 From Nov. 1-23, there will be a solo art exhibition in the Wadsworth Family Gallery, featuring Art Department Chair Mark Swain's work titled "Artificial Perceptions." This showcases the representation of nature and portrays the play of light on a variety of different surfaces.
"This is the first chance that I really had to paint in a while because I've been really busy with a lot of other things I do here at Lewis," said Swain. "I did do some paintings, a few years back oil on concrete, like these are, and I really enjoyed it."
In the gallery, there are a total of 19 oil paintings on concrete that took Swain a little over two months to make and each one has a significant meaning to him.
"The paintings are really intended to kind of be anywhere the subject is depicting and obviously, there are mountains in some of them," said Swain. "They're split about halfway between Montana and Illinois." Both of Swain's children live in Montana and go to school there.
Swain said that the paintings aren't necessarily about Montana or the Rockies. They're really about little snippets of photographs. The paintings are all for sale, ranging from $600 to $800, but money isn't the reason he made them.
"I understand why there are graphic designers because there's an application to the business world," said Swain. "They're hired by businesses and they're paid for what they do and this work that I have is for sale, but that is definitely not the reason why I made these paintings."
When he looks at the photographs he takes, he sees the potential of the horizon line over his head or off to the side. A lot of times, he finds himself remembering the locations when he visited himself.
"I remember the feel and look of the place, but I often get my inspiration from little parts of the photographs I take for paintings," said Swain. "I go back to the photographs and I find the paintings in the photograph, if that makes sense."
After graduating from Lewis in 1993 with a Bachelor's in Art, specifically painting, he went on to complete his MFA in painting at Northern Illinois University.
"There's just something about painting and I really like optics, color, texture and imagery," said Swain. "In the more complex pieces I do, I like the way light hits surfaces, buildings and trees, and just how life affects the way we see things, so that's a big part of what's in the show too."
Everyone in the Lewis community should take the time to view his work in the gallery because in the spirit of a liberal arts education and regardless of someone's role at Lewis, anyone can gain valuable experience from viewing someone else's work for a change.
"I think that they should come to look at and appreciate what a fellow human being uses painting for self-expression," said Swain. "You can add to your collection of experiences that ultimately make you, in my opinion, a more knowledgeable and wiser person."
On Nov. 18, from 7-9 p.m., there will be a gallery talk and reception in the Wadsworth Family Gallery that will feature Swain discussing his work. Students who choose to attend it can earn Arts and Ideas credit.
"The show has inspired me to want to paint more," said Swain. "I've really enjoyed painting and I really like having the show up right now."
Photo Credit: Katelyn Leano