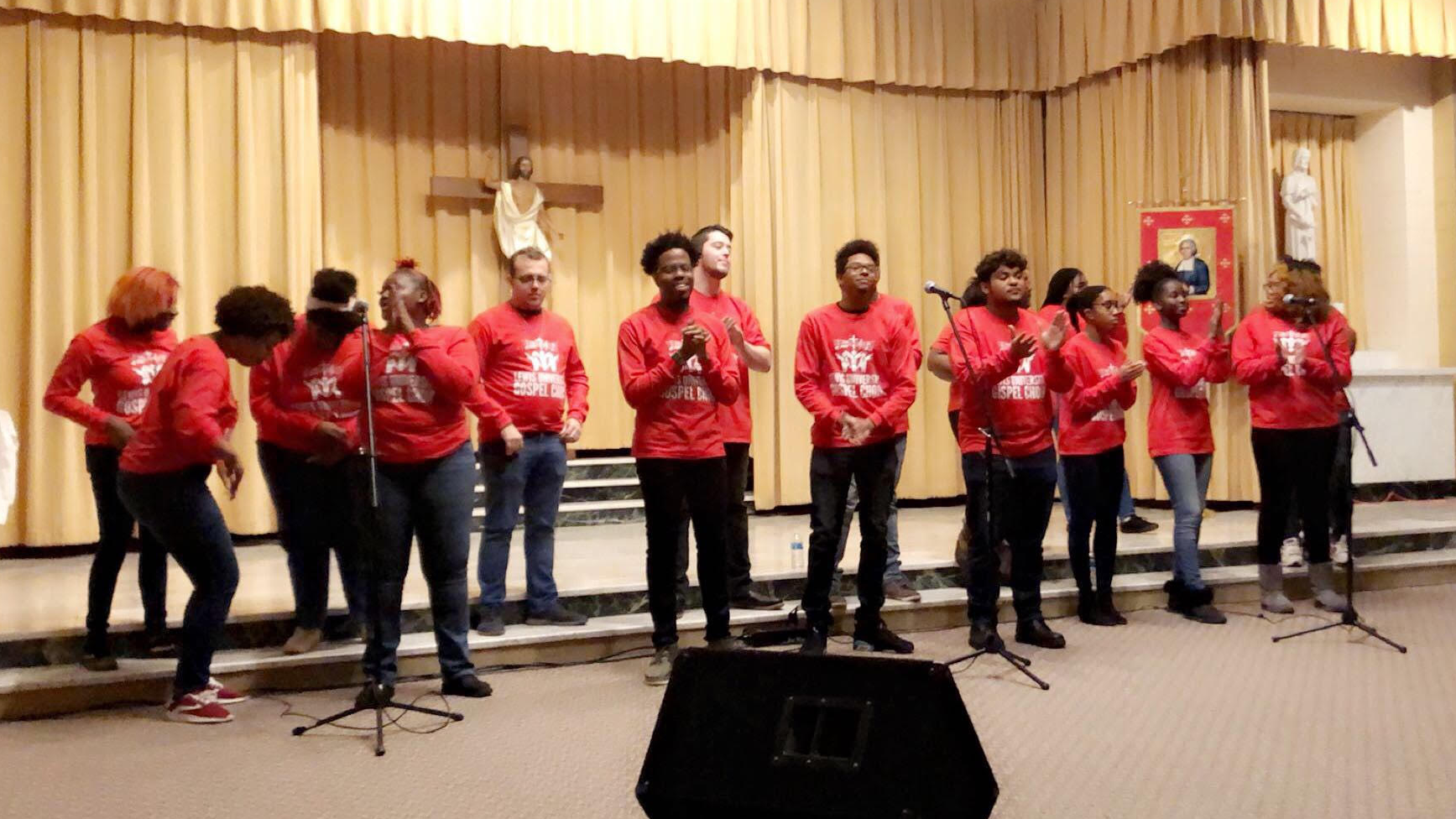 On Nov. 16, the Gospel Choir hosted their annual Gospel Fest, a Thanksgiving musical, in the Sancta Alberta Chapel from 5:30 to 7:30 p.m.
Every year, the Gospel Choir celebrates the season of thanks by inviting friends and families to this event. The chapel was packed with cheers from their supporters.
On-stage featured 17 members who had matching red shirts that read "Lewis University Gospel Choir." 
They performed a variety of different toons including "He Has Done Marvelous Things" by Newbirth, a song requested by gospel choir member Michael Hassan. Hassan was involved in a severe car crash on Nov. 8, the day the group was going to Illinois State University for a performance. The song was played in honor of him; the room was filled with standing ovations.
The concert also featured a special guest from Joliet: Silent Praise Mime Ministry. The group revealed how one can show their love for God silently through the art of mime. The only qualification to join their team is to believe in Jesus and go to church.
Once finished, Silent Praise Mime Ministry members said they were "thankful for the invite from Lewis."
According to gospel choir member Keshawn Williams, who joined in the spring 2019 semester, the choir has been preparing for this event since their first meeting back in September. Their next big event will be a musical fest in April.
Anyone affiliated with Lewis can join Gospel Choir. Williams joined because the vibe was very comforting, and he encourages others to join as well. One can either attend their weekly meetings or contact a current member about interest.
Williams' favorite song they performed was "My God" by Mr. TalkBox and Nashville Life Music. "It's the most fun song to sing in my opinion," said Williams.
The concert ended with refreshments and drinks in the D'Arcy Great Room, which guests were encouraged to attend. Gospel Choir did a great job of bringing the holiday season in with their talented skills and performances at Gospel Fest.