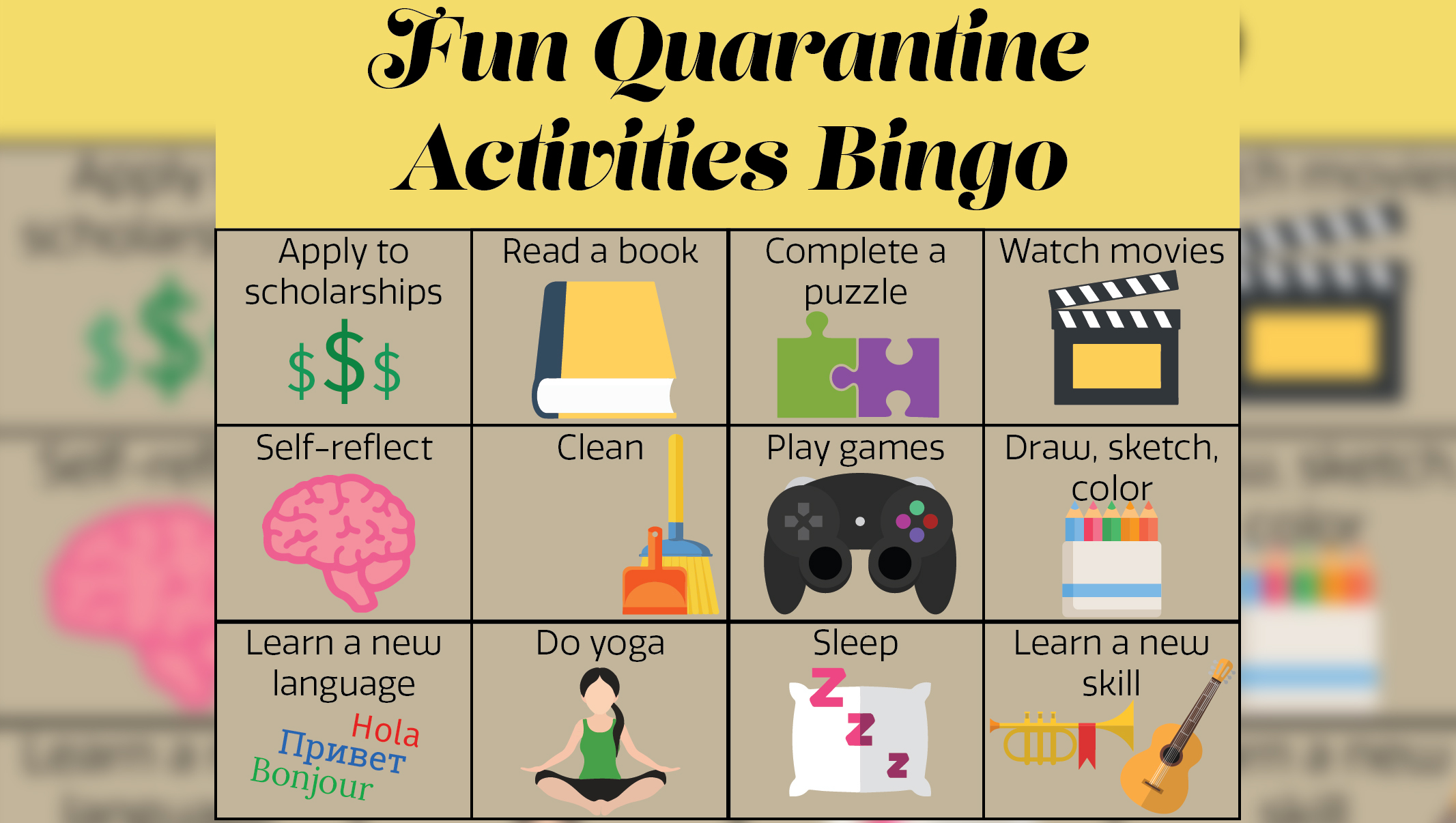 As schools are canceled, concerts postponed, work is remote, sports outtings canceled and one's social life put on hold, the Center for Disease Control and Prevention (CDC) recommends remaining active and maintaining a schedule while self-isolating.  
While self-isolating reduces the spread of the coronavirus, there are some side effects of sheltering in place. Extreme boredom and stir craziness are symptoms many students and people around the globe are encountering.
With the help of 31 suggested activities, symptoms can be relieved and even perhaps one's day can lead to productivity. The first few suggestions, while not so fun, are important as Lewis students. 
Create a schedule for yourself; ensure you provide plenty of time to walk outdoors

Identify and complete scholarship applications that normally would take too much of your time sitting in front of a screen

Contact your professors and academic advisers for guidance when selecting classes

Remain informed and up-to-date with all relevant COVID-19 information by checking the CDC and Lewis's website

You know that stack of books you keep wanting to tackle? Now is the perfect time to read for enjoyment and entertainment! 

Call and video chat with family and friends

Call those relative you only see a few times each year

Keep a quarantine diary; this is a unique experience in modern history

Complete a puzzle or two

Watch and rewatch some classic films; visit our Tempo section for film ideas and reviews

Begin new hobbies and habits such as meditating

It's Spring, so it's time to Spring Clean!

Learn a new skill: piano, calligraphy, how to roll a pen among your fingers, etc.; YouTube has many tutorials and for beginners videos

Start a blog; share what you're doing with others

Play some games: board games, card games, online games, etc.

Make a quarantine "bucket" list: After this pandemic ends, I promise to …

Keep your handwriting and typing skills in practice

Draw, sketch and color; nurture your artistic skills

Binge-watch a few shows that you've been holding for the summer 

Write or memorize a poem

Take time to reflect on this experience

Learn a new language; try the Duolingo app

Treat yourself to some self-care: bubble bath, pedicure, skin routine, etc.

Yoga, 'nough said

Try something new with your personal hair or apparel style; just avoid binge shopping

Volunteer your time; there are even several online volunteering platforms

Create a quarantine playlist and expand your music palet

Try to quit a bad habit or two

Sleep!