Women's Volleyball Tied for First in GLVC East Division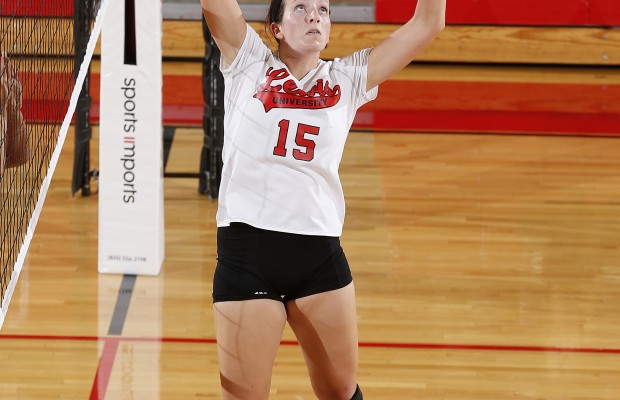 Senior Leigh Barea earned GLVC Offensive Player of the Week.
The Lewis University women's volleyball team has continued to remain consistent in every aspect of their game. With key defensive plays and a strong offense, this team has proven themselves unstoppable in the past six weeks.
"For most of our matches, this team does a great job of playing a very balanced and team-oriented system," head coach Lorelee Smith said. "They share the kills and digs based on our opponents' strengths and weaknesses. I think this is a huge accomplishment for our players."
On Oct. 3, the Flyers took on the Knights of Bellarmine, as they set off on a three-day road-trip to Kentucky and Southern Indiana.
"The team makes goals per month and then per match," Smith said. "Most of the time, the basic goal is to win. We do highlight how to win through individual positions. For USI and Bellarmine, it was more defensive-oriented."
As they have done in so many games before, the Flyers swept Bellarmine in three matches to none. Junior middle hitter Morgan Cebula and freshman middle hitter Aly Schneider collected a combined 25 kills. Cebula accumulated a match-high 14 kills, while Schneider had 11 putaways.
Lewis accumulated higher statistics in every facet of the game, including out-hitting the Knights, .306-.160.
Senior libero Amy Choi also had a match-high 20 digs, while junior right side hitter Cassidy Parsons collected 10.
The following day, the first place Great Lakes Valley Conference Flyers defeated yet another opponent three matches to none.
Redshirt senior outside hitter Kim Vertin paved the way for her team as she led the squad with 13 kills, helping her team sweep the Screaming Eagles of Southern Indiana. Redshirt junior right side hitter Alexis Davito also collected 10 kills, while Choi and Parsons each had 13 kills.
With the win against Southern Indiana, the Flyers improved their win streak to eight games, also improving their overall record to 13-2.  Lewis also remained in the No. 1 spot in the GLVC East Division standings.
On Oct. 6, women's volleyball senior setter Leigh Barea was named the GLVC Offensive Player of the Week. Earning her first GLVC award of the season and second in her career overall, the senior has proven that she was deserving of the award. Guiding her offense, Barea has led the conference with a .296 league-best in hitting, as well as becoming the leader in assists, averaging 12.07 per conference set.
"The team cheered and supported her honors in the best way," Smith said. "I think we have had a few players that have deserved the award on multiple weeks. However, with a 16-team conference and a system that shares responsibility, it can be tough to receive the honor. I am extremely proud and happy for Leigh."
With Barea earning her first GLVC award this season and the Flyers winning eight in a row, Lewis took that and pushed their momentum even further into their 16th game of the season, which was on Friday Oct. 10. LU earned their ninth-straight W against Saint Joseph's College, improving their overall record to 14-2 on the season thus far.
"St. Joe was a tough match for us," Smith said. "They dig any easy ball you send over their way and are a determined team. We really had to build our own momentum that night."
Davito led again, collecting 20 kills and earning a .410 hitting percentage on the evening. Her teammate, Cebula, hit .588 with 11 kills, while Schneider hit .500, collecting 12 kills. Choi picked up 17 digs, while Barea earned herself 52 assists, nine digs and two kills on the night.
On Saturday Oct. 11, Lewis' winning streak was snapped, as they took on rival University of Indianapolis at home.
"Indy was a struggle from top to bottom," Smith said. "I can't say any one individual played their best. I know we tried, but sometimes just giving effort just isn't enough. We have to move forward with a stronger sense of determination and an attitude in practice that actually reflects how good we want to be by season end."
Choi collected 25 digs, while the team fell 3-0. Davito led the Flyers with 10 kills.
With the loss, Lewis moves to 14-3 overall (as of Oct. 11), as well as now becoming tied with UIndy in the East Division.
"[At the end of the game] we talked about our mindset in practice as of late and our desire to make a statement in matches that we can control," Smith said. "I think this team has all the ability and talent to reach their season goals. It will come down to how hard every member chooses to push daily."
On Oct. 17-18, the women's volleyball team competed in the GLIAC/GLVC Conference Crossover Tournament in Aurora. For matchups and game results, visit the athletic website at lewisflyers.com.
Nicole Kappelman, Assistant Sports Editor