Women's Volleyball Stays on Top in GLVC Standings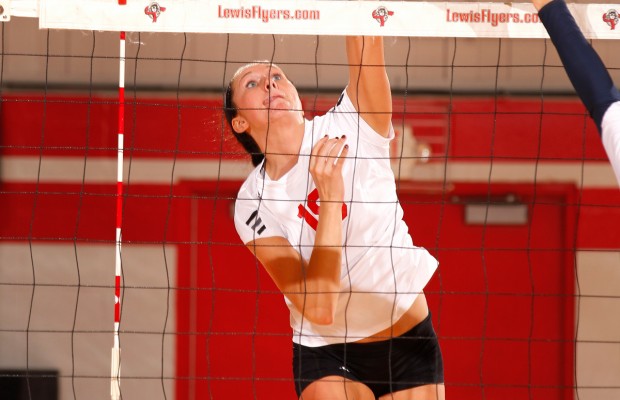 Photo provided by Steve Woltmann: Redshirt sophomore Alexis Davito has been playing lights out the past five games – a stretch in which they've gone 4-1 – averaging 14.6 kills per game.
Nicole Kappelman, Assistant Sports Editor
Despite a tough 3-0 loss to Southern Indiana University on Oct. 11, Lewis University women's volleyball remains in first place in the Great Lakes Valley Conference standings.
"Honestly, losing just made us come out with a fire that we weren't going to let it happen again," said Kim Vertin redshirt junior outside hitter . "We know now that in any game, we need to come out with a lot more energy and perseverance in order to succeed."
Coming into their fifth match of the season with a 4-0 GLVC record, the Flyers first took on McKendree at home on Oct. 4. Assisting her team with the 3-2 victory, sophomore outside hitter Cassidy Parsons rallied 16 kills and 11 digs, while junior setter Leigh Barea had 48 assists. Freshmen right-side hitter Maddie Seliga and middle hitter Jenna Selby saw action on the court as well. Seliga collected 18 kills for the Flyers, while Selby aided her teammates with two blocks.
Lewis took on University of Illinois-Springfield the following day at Neil Carey Arena on Oct. 5. Winning the game three matches to none. Redshirt sophomore right-side hitter Alexis Davito came up big for her team again with 14 kills and five aces. Vertin also posted 10 kills, while Barea had 35 assists.
"We had different people step up in key situations in order to get the win," Barea said.  "Also, anytime we can get a win in Neil Carey in front of all our great fans, it's a great feeling."
Gaining her third double-double of the season, Vertin accumulated 19 kills and 15 digs, as the women's team took on UW-Parkside Oct. 8. Davito also collected 17 kills and eight digs. Redshirt freshman libero Nicole Yuede picked up 17 digs, while sophomore outside hitter Lauren O'Brien provided 11 kills and eight digs.
"Playing Parkside is always a good game because not only are they our travel partners, but also it's a rivalry," Yuede said. "They always come pumped up to play us. We came out very excited, and [it's a] total team win."
It was in their match against Southern Indiana on Oct. 11, though, that the lady Flyers were handed their first GLVC loss of the season.
"[This loss] just showed us a lot about what we need to work on in practice," Vertin said.  "It's given us more of a drive to come out focused for our next few weekends of big conference competition."
The defeat also marked the women's first home loss in the last 25 matches, dating back to Sept. 9, 2011. Lewis was swept in the 3-0 match against the then-5-2 Eagles, where Davito picked up 12 kills and Barea collected 20 assists. Yuede added 14 digs, while Vertin posted eight, but it wasn't enough to beat USI.
"Southern Indiana played really well and exposed multiple weaknesses by us," Yuede said. "But we learned from that game, came together as a team and pulled out a victory the next game."
Lewis bounced back the following day when they defeated Bellarmine in a quick 3-0 game. Yuede posted 11 digs in the three matches, and Barea picked up a floor-high 34 assists, as well.
"We knew we had to clean up our side of the court and limit our errors in order to beat Bellarmine," Barea said. "We came in focused and determined to fix the little things in order to be successful."
Davito led her team with 16 kills, while Vertin collected 13.
When asked about the team's chemistry thus far, Vertin agreed that it is one of the things that continues to keep them going week by week.
"I think the [phrase] that best describes our team is that we take it day by day and we don't look ahead or behind us," Vertin said. "We focus on the task we are handed that day and I think that is one of the reasons we are so successful, because we don't overlook anyone."