Women's Volleyball Pushes Onward Through Last Games of Regular Season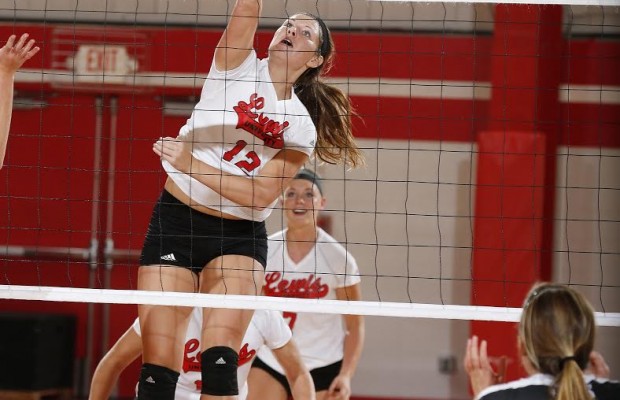 The women's volleyball team works hard to earn a playoff contending spot.
Nicole Kappelman, Assistant Sports Editor
"Women's volleyball pushes onward through last games of regular season"
It seems nothing can stop Lewis University Women's Volleyball junior redshirt outside hitter Alexis Davito.
Earning a new school record of six aces in a match, Davito also helped earn her team a 2-1 record at the Great Lakes Valley Conference/Great Lakes Intercollegiate Athletics Conference Tournament on Oct. 17-19.
Davito also captured the plaque where she was named to the GLVC/GLIAC Crossover All-Tournament team for the weekend's events.
Unfortunately, their first match of the weekend was lost in a defeat to the No. 11 ranked Lakers of Grand Valley State University on Friday, Oct. 17.
Despite the loss, the Flyers bounced back the following day as they took on their first match.  Lewis swept opponent Michigan Tech, 25-20, 25-22 and 25-21.
Davito collected a match-high 17 kills and two aces.  Redshirt senior outside hitter Kim Vertin hit for .440 with 12 kills on the match, as the Flyers out-hit Michigan Tech .304 to .208.  Senior setter Leigh Barea recorded 43 assists, while redshirt senior libero Amy Choi also had a match-high 19 digs.
That afternoon, Lewis defeated Northern Michigan, earning them an overall record of 2-1 on the tournament weekend and improving to 16-3 on the campaign.
Davito had a match-high 13 kills and hit for .423.  As a whole, the Flyers out-hit their opponent once again, .364 to .179.  Junior middle hitter Morgan Cebula hit .474 with 12 kills, while junior outside hitter Lauren O'Brien collected nine kills.
"After losing yesterday, sometimes it is hard to come back the next day and find that attitude and fight you need," Lewis head coach Lorelee Smith said.  "But this team didn't fold it in.  They fought and played a little more intelligent and it resulted in two wins today." (Quote courtesy of www.lewisflyers.com).
On Tuesday, Oct. 21, it was freshman middle hitter Aly Schneider who stole the show as she aided her team to another victory in a 3-0 sweep over Kentucky State.
Schneider recorded nine kills as well as seven blocks, helping her team to improve to 17-4 on the season.
Junior outside and right side hitter Cassidy Parsons also collected seven kills and five digs on the night.  Sophomore setter Abby Biggs recorded 21 assists, while Barea collected 14 assists in the first set.
Choi recorded 25 kills on Oct. 25 as the Flyers defeated opponent William Jewell in another 3-0 win.
"William Jewell never gives up and it shows how much they love volleyball," Lewis head coach Lorelee Smith said.  "It became tough at times to score points but we found a win.  Amy Choi made it equally as hard for them to get kills." (Quote courtesy of www.lewisflyers.com).
With that win, Lewis improved to a winning streak of four in-a-row.
The following day, however, that streak was snapped, as Lewis fell to Rockhurst University, 3-1.
The Flyers were out-hit .260 to .307 in the loss.  Schneider and Cebula both earned 14 kills, while senior outside hitter Katie Fuerst had a career-high nine kills.
Davito had 19 kills and two aces on the night, while Choi collected 30 digs.
"We were outplayed at pressure moments by a team that, as a group, better controls the ball," Lewis head coach Lorelee Smith said.  "We'll need a few key players to step up in order to make a late season push." (Quote courtesy of www.lewisflyers.com).
With the loss Lewis moves to 18-5 on the campaign and 10-3 in GLVC action.
As the end of the regular season is coming to an end, the women's team will look to continue to push forward with play and earn that playoff contending spot.
The Flyers played the University of Wisconsin-Parkside on Wed., Oct. 29.  For game results visit www.lewisflyers.com.