Women's Volleyball Improve to 20-8 on Year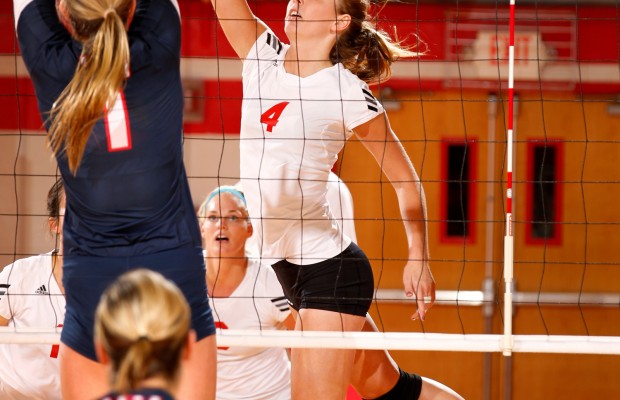 Photo provided by Steve Woltmann: Sophomore Lauren O'Brien goes for a kill against the University of Southern Indiana back in October. The Flyers would fall in three matches to none.
Nicole Kappelman, Assistant Sports Editor
The Lewis University women's volleyball team has dropped to the second seed in the Great Lakes Valley Conference standings as of Nov. 14. Despite numerous efforts, the women's team fell to Rockhurst 3-0 on Nov. 2 at Neil Carey Arena.
The loss brought their GLVC record to 10-2 on the season before playing three key conference matchups.
"The loss [to Rockhurst] was kind of a wake up for our team," redshirt junior outside hitter Kim Vertin said. "They really exposed a lot of our weaknesses. We just did not play as a team at all, and it seemed that everyone played very individually."
Bouncing back from the loss, though, the 20-8 Flyers took on Wheeling Jesuit that night and won in four matches, 3-1.
"Getting back together and playing as a unit was a huge focus of ours," Vertin said.
Getting the big regional win were sophomore Cassidy Parsons and redshirt sophomore right side hitter Alexis Davito. Parsons had her third double-double on the season, while Davito picked up 14 kills in the Flyer's win.
Taking on William Jewell the following day, the Flyers picked up their 18th win of the season in three matches to none. Leading the team was sophomore outside hitter Lauren O'Brien with 10 kills and two block assists in the win on Sunday, Nov. 3. Davito had eight kills, while Parsons had six kills and 11 digs. Redshirt freshman libero Nicole Yuede had 12 digs, as well.
Traveling down to Rolla, Mo. on Saturday, Nov. 9, the women's team took on Missouri S&T in their 14-conference game of the season. O'Brien was solid again, as she continued to lead her team with 19 kills and 15 digs in the 3-1 victory over the Miners.  Collecting her eighth double-double of the season and a career-high 20 digs, Vertin also picked up 17 kills, while four blocks and 17 kills were recorded for Davito. Junior setter Leigh Barea had a season high of 56 assists and 13 digs, where Yuede also picked up 27 digs.
Making their final stop in Missouri for the year, the Flyers took on the Panthers of Drury University on Sunday, Nov. 10. Picking up their 13th win in conference play and their 20th win on the season (as of Nov. 14), the Flyers remain in a close race for first place once again. Sophomore middle hitter Morgan Cebula had a career-high 16 kills and five blocks. Yuede picked up 21 digs, while freshman libero Carolyn Nojiri had 12.  Davito had two block assists and 10 kills, as well.