Women's Volleyball Finishes Regular Season on a High Note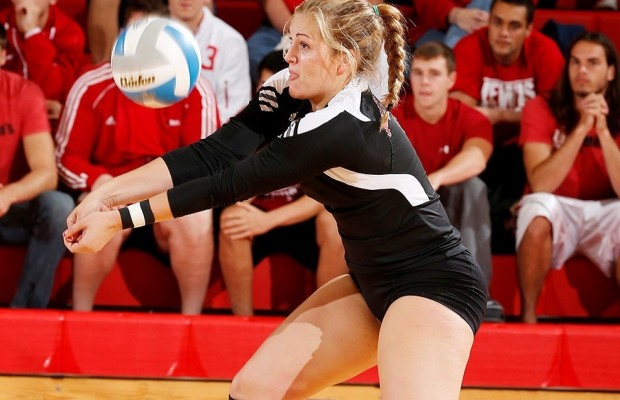 Redshirt-sophomore Nicole Yuede has played a vital role off the bench for head coach Lorelee Smith.
Nicole Kappelman, Assistant Sports Editor
Lewis University's Women's Volleyball team ended regular season play on Saturday, Nov. 8 with an overall record of 22-6 and 14-4 in Great Lakes Valley Conference play.
On Oct. 29, Lewis defeated University of Wisconsin-Parkside 3-1. Outhitting the Rangers .261 to .199, the Flyers won the last three sets of the match.
Redshirt senior outside hitter Kim Vertin had a match-high 16 kills, while junior right side hitter Alexis Davito had 11 kills and hit for .393.  Senior setter Leigh Barea had 38 assists and a career-high 11 kills.
It was thanks to senior libero Amy Choi though and her 31 digs on the night.  The Flyers out-dug the Rangers 71-66, while Choi also earned her 11th 30-dig match in her career.
It was on Nov. 1 when the Flyers earned their 20th win of the year, as they swept Drury University 3-0.
Davito had 10 kills and 2 aces in the three sets, while freshman middle-hitter Aly Schneider collected 10 kills and 1 block as well.
Four Flyers had double-digit digs, including: Choi (17), Barea (14), junior outside hitter Cassidy Parsons (11), and Vertin (10).
"I think early in the week we were a little flat," Lewis head coach Lorelee Smith said. "(But) you could see the passion, you could see the happiness on everyone's face (tonight). It was a good win."
With that win, Lewis now earned their ninth consecutive season with 20 wins or more.
The following day, on Nov. 2, the Flyers fell to Missouri S&T in four sets.
"S&T made fewer unforced errors than us at some key, opportune times when we had a chance to make to take charge of the match," Lewis head coach Lorelee Smith said.
Lewis' offense was led by Davito again, as she collected 12 kills in the match, while Vertin collected a double-double, earning 10 kills and 16 digs.
Senior night was held on Nov. 7, as the Flyers honored six players.
Choi recorded 14 digs, as she helped her team out-dig the University of Illinois-Springfield 47-34.  Vertin had 22 kills and nine digs, while Barea collected 31 assists.
Senior middle hitter Ally Maurer had three digs, two kills and two blocks.  Senior libero Jenni Mueller had four digs and one ace, while senior outside hitter Katie Fuerst had five kills and three digs.
With that sweep, the Flyers improved to 21-6 overall and 13-4 in the Great Lakes Valley Conference.
In the final game of the regular season, the Flyers made it close as they went to five sets with McKendree University.  Lewis prevailed and won the match three sets to two.
Parsons had 15 kills on the night, while Vertin collected 14.
Barea recorded 47 assists, earning her the title of Lewis' rally scoring era assists leader in the match. Barea now owns 4,592 career assists as a Flyer and ranks second all-time in Lewis history.
"It took guts and confidence," Lewis head coach Lorelee Smith said when asked what it took for her team to pull out the match. "You need all six players on the court to fight for ever ball and not give up."
With the regular season under-wraps, the women's volleyball team finished with an overall record of 22-6, and 14-4 in the GLVC.
On Nov. 13, Lewis will face Missouri S&T for their first game of the Great Lakes Valley Conference.
For game results and tournament match-ups, visit www.lewisflyers.com
*All quotes courtesy of www.lewisflyers.com