Women's Volleyball Falters in Postseason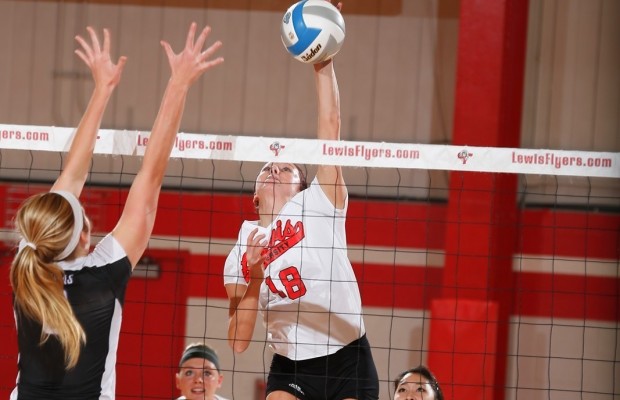 Alexis Davito was a bright spot in a disappointing postseason. 
Nicole Kappelman, Assistant Sports Editor
As the Lewis University women's volleyball team delved into their first game of the Great Lakes Valley Conference tournament, they were seeded No. 2 overall in the East Division.  On Nov. 13, the Flyers then took on the West Division's No. 3 ranked Missouri S&T.
The match went to five sets, unfortunately ending with a 3-2 advantage for the Miners.
"We have never lost in the first round, but even more surprising was how great we played," head coach Lorelee Smith said.  "Our starting libero was out and Nicole Yuede stepped in.  The entire team dug more balls than we had all season, and we also executed better than in previous matches. As the stats read, we outplayed them in all areas. So it was frustrating to know S&T got the win, even though we scored more overall points."
Opening up the match strong, Lewis defeated Missouri S&T 25-13 in the first set.  The Miners bounced back in the second set, however, edging the Flyers 25-18.  From there on out, every set was won by just a few points.
"I think S&T came up with some huge points late in the game," Smith said.  "Those will eventually add up to a lead and then a win. It really wasn't one thing."
Missouri S&T kept up with their streak as they defeated Lewis in a close third set, 25-22.  The Flyers had the advantage in the fourth set though, when they defeated the Miners 25-18.  In the fifth and final set, Lewis unfortunately could not push through as they lost 15-12, ending their 2014 GLVC Conference Tournament run.
Despite the loss, the Flyers had many accomplishments throughout the five-set match.  As a team, the Flyers had 117 digs in the five sets, as well as numerous other record-breaking numbers in kills, aces and blocks.
The Flyers outscored the Miners in these categories: kills (60-54), hitting percentage (.151-.123), aces (7-3), blocks (12-9) and digs (117-101).
"I knew this stat early," said Smith.  "It is something to be proud of but also something you have to work to earn each and every year."
Redshirt junior right side hitter Alexis Davito had 14 kills, four aces and a career-high 14 digs.  With her four aces from the S&T match, Davito now holds the new single-season rally scoring record of 45 total aces.  Redshirt senior outside hitter Kim Vertin collected 12 kills and a career-high 26 digs.  Redshirt sophomore libero Nicole Yuede also had a career-high 31 digs.
Despite losing in the quarterfinals round of the GLVC Conference Tournament, the Flyers still earned a seventh-seed in the NCAA Midwest Regional Tournament.
Unfortunately, Lewis dropped in the first round to the No. 2 seed Ferris State Bulldogs, losing in four sets.  This was the third year in a row that the Flyers fell to the Bulldogs.
After losing the first set, Lewis evened the match 1-1 in the second set before Ferris State clinched the match in the final two sets.
"Ferris played really, really well from top to bottom," Smith said.  "We had a few players really step up and finish strong but unfortunately it was not the full team.  Whenever we end our season, it is tough.  I tend to take it rough and sulk for a long time."
Although the women's volleyball team's season came to an end on Nov. 20, there were many things that still went right for them during the Ferris State match. Redshirt senior libero Amy Choi had 30 digs during the Ferris State match, making this her fifth match this season with 30 or more digs.  She also finished with 550 digs on the season, giving her 2,108 career digs.  With this number, Choi has now been named the Flyers' leader for the most digs in school history.
"Amy has earned every single one of her honors," Smith said.  "She is the toughest player I have coached and naturally works hard every day.  I don't doubt that she'll be amazing in her next phase of life."
Senior setter Leigh Barea was also awarded an accomplishment as she finished second all-time in assists at Lewis with 4,685.
"Leigh finished this year better than any other," Smith said.  "She, in my opinion, is the best setter in the region.  I'm so very proud of her and consider myself lucky to have coached her for four seasons."
The Lewis University Women's Volleyball team finished with a total record of 22-8.  The Flyers will unfortunately lose six stellar seniors following this 2014 campaign.  Looking ahead to a very promising future though, the Flyers will return 20 players, as well as welcome ____ players for the 2015 season.
"This team is large," Smith said.  "At 25, we were almost twice the size of anyone else.  I'm so very proud of how well the team managed such a large number.  They all have goals and remain driven.  They all embody Lewis and I'm proud to say I was their coach."