Women's Volleyball Continues GLVC Winning Streak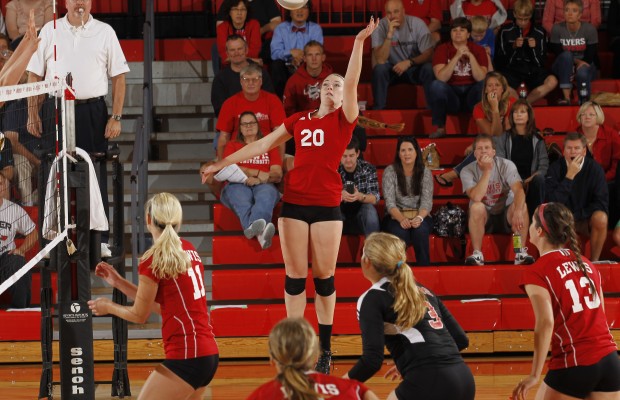 Maddie Seliga, freshman, led the team with 10 kills in a win over Maryville.
Photo provided by Steve Woltmann
Nicole Kappelman, Assistant Sports Editor
As of Sept. 29, the Lewis University women's volleyball program has become the No. 1-ranked team in the Great Lakes Valley Conference, posting an undefeated record.
The team began an 11-game conference stretch beginning the 29, hosting six of the 11 games.
Not only are they currently 4-0 in the GLVC, but two players have already been nominated as the conference offensive and defensive players of the week in just two weeks of play. Redshirt junior outside hitter Kim Vertin and redshirt sophomore right side hitter Alexis Davito have been nominated as the GLVC Players of the Week.
"I was extremely excited when I found out," Vertin said. "I was even more excited when I found out it was a defensive nomination. I usually consider myself more of an offensive player, so it definitely gave me a boost of confidence and showed me I am capable of being not only an offensive player, but a defensive threat as well."
Both players have been working extremely hard on and off the court and were preparing before the season even began.
"I prepared myself by getting into shape and working on the mental aspects of my game," Davito said. "The thing I did different for this year than in the past was [work] on the mental aspect. Being mentally tough is very important in athletics. I also try to focus on all aspects of my game from my footwork to my communication. All are very important in order to be successful in a match."
Leading the team, Vertin has posted 117 kills with Davito right behind in second beginning her sophomore campaign with 81.
"Right now, I'm just working to maintain solid numbers as an outside hitter in our very competitive conference," Vertin said. "But my biggest goals are for a conference championship and to get us back into the national rankings."
In the season opener and first home game of the season, Vertin aided her team in defeating No. 14 Truman State, gaining their first win of the GLVC stretch on Sept. 21. Davito, Vertin and sophomore outside hitter Cassidy Parsons all had double-figure kills, giving Lewis the 3-1 victory.
The Flyers continued their streak coming out Sept. 22 and sweeping Quincy in a 3-0 match.
"We really do a great job in practice of focusing on what we need to do personally and translating that mentality to games," Vertin said. "We want so badly to beat our opponent, that we really focus on practicing each individual and our team's strengths."
Davito collected 11 kills in the match, while Parsons added three to assist the team in winning all three matches with seven or more points.
On Sept. 28, the Flyers traveled down to St. Louis where they took on the Saints of Maryville University. Winning once again in three matches, the team advanced to 7-4 on the season and 3-0 in GLVC play. Freshman right side hitter Maddie Seliga led the team with 11 kills in the game. Redshirt senior Vivian Pritz, junior Leigh Barea and freshman Abby Biggs all had double figures in assists as the team's three setters.
Continuing play against teams in Missouri, Lewis ventured over to play the University of Missouri-St. Louis on Sunday, Sept. 29. Staying consistent with their record, the women's team improved to 4-0 in conference, winning yet another in three matches against the Tritons. Achieving a career-high, Vertin posted 20 kills on the night, while Barea had 36 assists on the floor. Redshirt freshman middle hitter Alesia Kroeker and freshman outside hitter Bailey Sparkman closed out the final match for the Flyers, giving them their third sweep in a row.
"It honestly feels awesome that we've had such a successful start in conference so far and only goes to show everyone just what we are capable of," Vertin said. "The most exciting part is that our team keeps improving and learning with each game we play, and we just continue to grow closer each and every week."
The Flyers took on their fifth GLVC competition at home against McKendree on Friday, Oct. 4. For results of this game, visit lewisflyers.com .