Women's Tennis Win Regional Tournament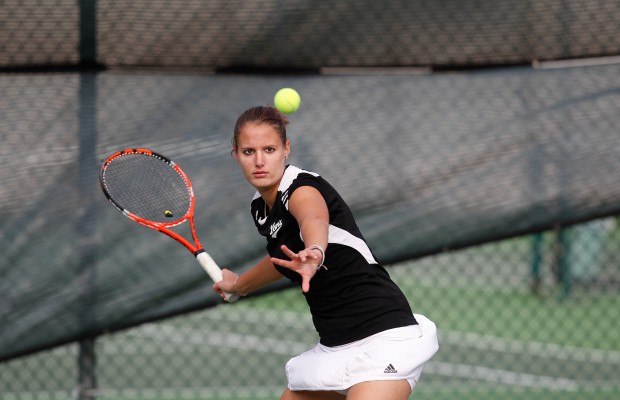 Zsofia Kranczicki, senior from Eger, Hungary, defeated her teammate Zsofia Lanstiak (also from a senior from Hungary), to earn the Green Flight singles title at the Cougar International.
Photo provided by Steve Woltmann
David Ridderhoff, Contributor
The pair of Zsofia's, Lanstiak and Kranczicki, went on a tear and came out on top at the Midwest Regional Championships Sept. 27-30, taking the top-two singles spots in the tournament and winning the doubles flight together as well. It is the second time the duo has won doubles and taken the top two spots in singles, matching their dominating performance from 2011.
The region has now had three chances to stop this pairing, but has been unable to, and the two finished off a three-peat as regional champions with an 8-6 win over Wayne State's Annie Li Briand and Yahsha Moore in the eight game pro-set match.
"We won the doubles championship and we fought really hard all the way, I am proud of our efforts," Lanstiak said. "We qualified for the Nationals for the third time, which will be held in Florida this year. We are both really excited to compete there."
In the singles flight, the two were able to take down a pair of opponents from Drury University to set up an all Lewis championship match, which Lanstiak won 9-7, 6-1. At the 2011 tournament, Kranczicki defeated Lanstiak for the singles title 6-2, 6-2.
Both players will now travel to Fort Myers, Fla. for the Small College Championships with the two teaming up for doubles, but only Lanstiak competing in singles play. That tournament will be played on the weekend of Oct. 10, and all of the results will be updated as they happen on lewisflyers.com.
Lanstiak and Kranczicki's last matches as college competitors will be for national championships, and Lanstiak summed up the whole situation, saying, "I am super excited."