Women's Soccer Playing Best at End of Season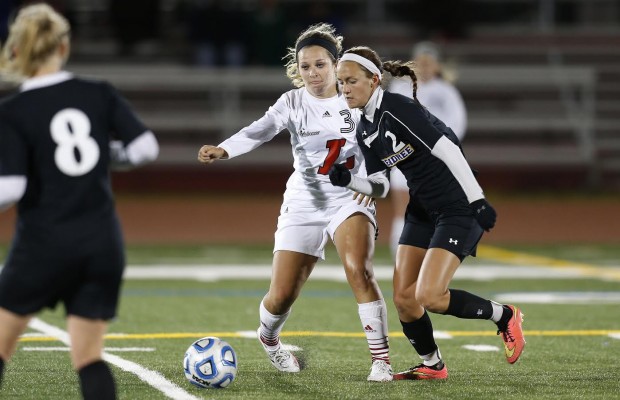 The women's soccer team is hopeful that they will end their season with a strong finish.
David Ridderhoff, Sports Editor
While it may not be enough to get them a spot in the GLVC tournament, the women's soccer team has been on a stretch of great play recently, which included close wins against very tough opponents and even blow-out victories.
"It's been a work in progress, and we've played much better over the past four weeks," said head coach Chris Koenig. "Everything [the coaching staff] has asked of them they've been doing." The strong play started with a 2-1 win against Quincy on Oct. 17. The team got off to an early start in that game, scoring a wonder goal in the 17th minute. "It started off of a throw-in, and a Quincy player came in. It ended up being a 50-50 ball that we won," said Koenig. " [Junior Jessica] Chavez made a nice one-touch pass to [senior Susan] Thomas who changed the plan of attack, then [sophomore Meg] Carmody put a nice shot into the lower third."
After Quincy tied the game with a goal in the 57th minute, the Flyers added pressure to their attack, and in the 76th minute, a shot by Thomas went off of Quincy's keeper and right onto the foot of junior Lauren Grady, who scored to give the Flyers the 2-1 victory. Despite Grady's heroics, Thomas was the story with two primary assists on the match. "She was a ball-winner for us and was all over the field," said Koenig. "It was a shame she didn't get a goal when she hit the bar from distance, but she was just great for us."
While the team couldn't gain a victory against their next opponent, Truman State, they dominated long stretches of play and drew with a team that was higher on the table than themselves. "I thought we dictated the game well and dominated pace of play," said Koenig. "We just weren't as clinical on offense as we would have liked." The 0-0 draw was a result that is positive for a team team in the Flyers' position.
Koenig stated two reasons for the strong play: ball possession and defensive success. Through that weekend, and into the next, the team dominated those two areas. Their next match against Saint Joseph's put those two traits on display. The Flyers had 23 shots attempted in the game, against only four for the Pumas. The 3-0 victory resulted in another clean sheet for the defense and goalkeeper senior Mara Bennett. After the win, the team had five clean sheets on the season.