Women's Hoops Upset D-I Teams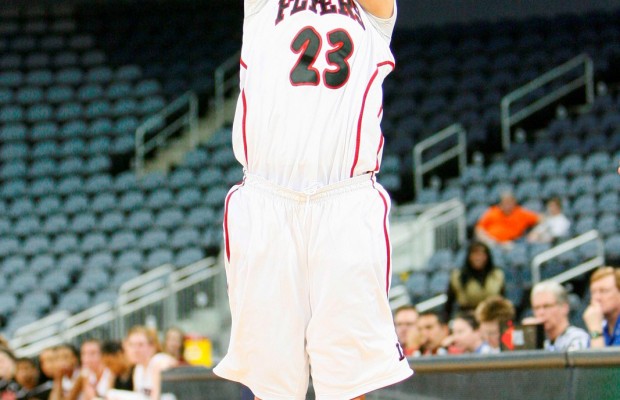 Alexus Grayer could be ready to make up for missed time last season.
Nicole Wanta, Contributor
David Ridderhoff, Sports Editor
The women's basketball team is off to a great start, winning game one in an exhibition contest and receiving a No. 9 overall ranking before the completion of the first week of the season. The defeat of Loyola University, an out-of-conference and Division I Chicago team, had the girl's excitement at an all-time high. According to Lewis' Sports Information reports, the Flyers led the first half of the game 45-26, taking full advantage of Loyola's 12 turnovers and inability to quickly rebound the ball. The game concluded with Lewis ahead 83-61, and senior Jamie Johnson with a game-high of 17 points.
The team didn't stop their domination of Division I opponents with their defeat of Loyola. They also defeated  Northern Illinois University in convincing fashion, 60-49. Johnson once again was leading scorer for the Flyers, putting up 20 points, while both junior Mariyah Henley and senior Jess Reinhart had double digits in rebounds for the team.
Finally, the team traveled to play the Marquette Golden Eagles in their final preseason tune-up. The team played an extremely competitive game against their Big East competition, but pulled out a victory. The team had a definite height disad vantage, but used their speed and strong play from Reinhart and senior Alexus Grayer, who scored 24 and 15 points respectively. Despite gaining 10 fewer rebounds than the Golden Eagles, the Flyers used a 40 percent shooting percentage to upset Marquette, as they held the opposition to 37 percent shooting from the field.
"After playing with, competing with and beating three division one teams this past week I believe that we have a very special team and we need to use that to our advantage for the rest of season," said redshirt sophomore Alexandria Poole.
 In addition to the exhibition win, USA Today Sports Division II released results for the Top 25 in Women's Basketball poll, Lewis landing a spot at No. 9. Sports Information reports explain the credibility of the members in the poll to be 33 coaching members of the Women's Basketball Coaches Association. The current record high for Lewis belongs to the 2006-07 women's team, coming in at No. 7.
"I really want our seniors' last year to end with a bang. First, starting off with a conference championship then on to becoming the regional and sectional champions. It will be the icing on the cake if we get to the Elite Eight and I believe we have the talent to do just that," Poole said.