What is Student Government at Lewis University?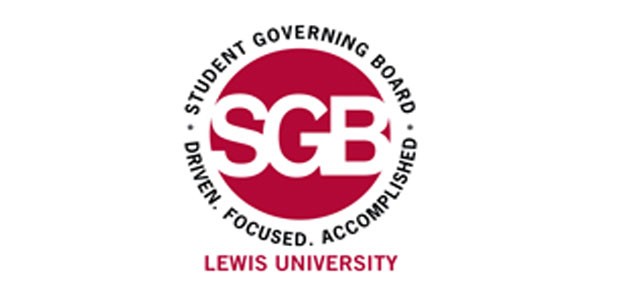 Derek Abin and Jake Garringer, SGB
At Lewis, student government is rooted in two fundamental functions: representing the student community and overseeing student organizations. The student orientated nature of these functions is what makes it essential for the students themselves to be the primary executors of them. Hence, the University's administration sanctions the Student Governing Board (SGB). Today, we continue to carry out our mission and are consistently working for the betterment of Lewis for the student population.
Our effort to represent the student community manifests itself in a number of ways. We strive to be a consistent and reliable connection between University employees and the student community. Each of the four members of the SGB Executive Board serve as student representatives on Board of Trustees committees, and President Alston and Secretary Garringer serve with other upstanding students on the President's Student Advisory Council (PSAC). Furthermore, the SGB General Assembly, described below, has the power to issue recommendatory resolutions to University administrators.
As well as serving the students, the Student Governing Board represents all clubs and organizations at Lewis University. We exercise a supervisory role regarding organization recognition, organization review, activity plan submission processes, and budget review. If students wish to form an organization recognized by the University, the Student Governing Board is the first step. The Student Governing Board includes an Executive Committee composed of a President, Vice President, Secretary and Treasurer. In addition, the Student Governing Board General Assembly consists of the presidents of designated representatives of each of the Councils including:  Black Student Union (BSU), Latin American Student Organization (LASO), Asian Student Association (ASA), International Student Association (ISA), Commuter Council (CC), Inter-Greek Council (IGC), Inter-Organizational Council (IOC), National Pan Hellenic Council (NPHC), Freshman Class Council, Sophomore Class Council, Junior Class Council, Senior Class Council, Student Athletic Advisory Council, Service and Social Justice Council, and Residence Hall Association (RHA).
Because it is our responsibility to represent students and oversee student organizations, we strive to connect with various sectors of the student population in our day to day work. However, we strongly encourage all students or organizations to stop by the SGB office in the Student Union if a concern arises or you would like to give feedback to the University.