Wegrzyn with a Noteworthy Feat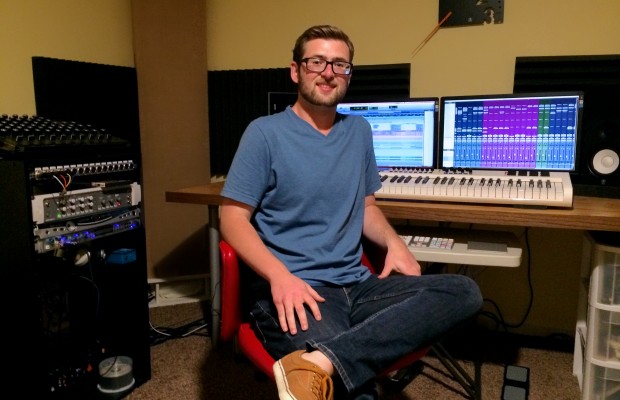 Photo courtesy of Jeffrey Wegrzyn: With the help of Dr. Mike McFerron, Jeff Wegrzyn produced a recording of professional musicians.
Lauren Grady, Assistant Tempo Editor
Little do you know, you may very well have a student sitting next to you in class who has produced, edited and mastered a recording of professional musicians.
Lewis University junior Jeffrey Wegrzyn, a music merchandising major, has accomplished this noteworthy feat. After about a year of hard work and hours upon hours of editing, Wegrzyn, with the help of Director of Music Technology Dr. Mike McFerron, has a produced a final product he is proud of, and rightfully should be.
"In my 13 years here at Lewis, Jeff is possibly the finest music tech student I've had," McFerron said. "He has a lot of working knowledge, and is able to access and improve upon his work. He brings so much to the table."
Featuring Beethoven's Op. 18 No. 5 String Quartet in A major as well as Bartok's brilliant 2nd string quartet, the masterpiece was recorded at the Music Institute of Chicago in Winnetka and edited/mastered in Lewis' very own digital audio productions studio (DAPS). The music recorded was performed by Grant Street String Quartet, a professional music group. The recording included some of the music the quartet performed at Lewis earlier in the year as part of the Arts & Ideas touring series.
"I find it really rewarding seeing the process from start to finish, then getting to the final product and having people be happy with it. I have a passion for [recording], and when Dr. McFerron offered me the opportunity to do this project, I jumped on it," Wegrzyn said.
Like any task in life, however, this project was full of ups and downs of its own kind.
Once Wegrzyn and McFerron tweaked, edited and came up with a final product that they were proud of, they presented it to the Grant Street Quartet and to their dismay, the ensemble wasn't fully pleased with it.
"It was upsetting that after all our hours upon hours of work put into it, that it wasn't what they wanted," McFerron said. "However, in the end I realize that it was all for the better. It was rewarding sitting back and watching Jeff solve problems, identify situations, and then fix them. It was beneficial that we were able to bring the quartet in, find a middle ground and finish with an even better product."
With this project ending in a roaring success, Wegrzyn and McFerron say they are planning on possible collaborations in the future.
"It was such a remarkable learning experience to work with the professional ensemble," Wegrzyn said. "It showed me that I don't just have to know the technology, but I have to be able to follow, understand, and effectively communicate with whoever I am collaborating with. It really brought what I have been learning to practice."
For students interested in listening to the CD, it is available at www.cdbaby.com/cd/grantstreetstringquartet.