VET Ally Program helps veterans transition successfully to college life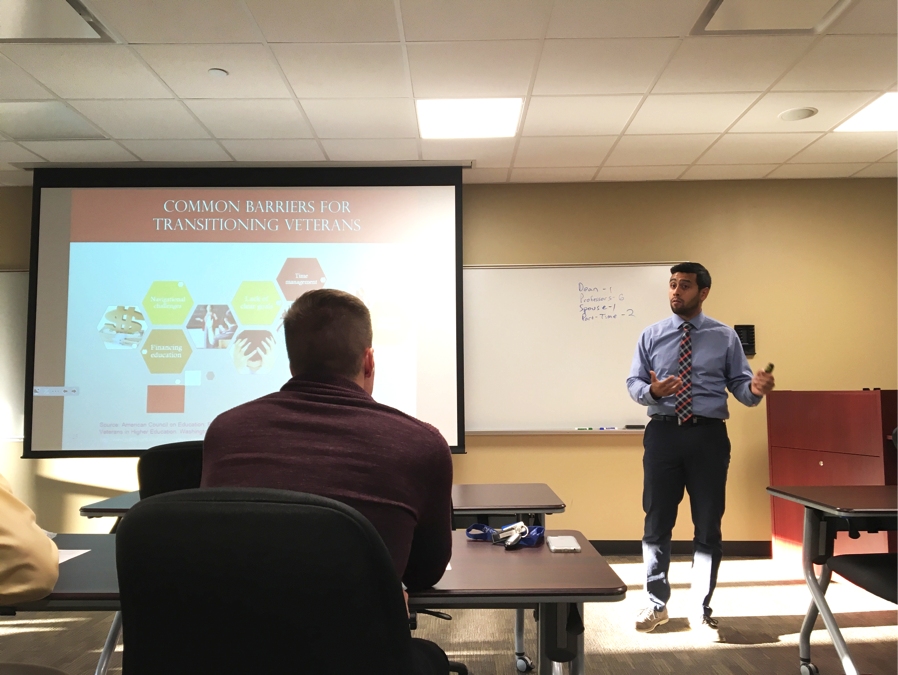 Photo by Ashley LaFayette
Roman Ortega's 18 years of service as a major in the U.S. Army enriches his knowledge of how to help veterans transition to college.
Ashley LaFayette, Co-News Editor
Transitioning to college after serving in the military can be challenging for veterans because the lifestyle they had been accustomed to is much different from civilian life. In order to discuss and inform how this transition can be made smoother, the Office of Veteran Affairs organized the VET Ally Program to coincide with Veterans Day and Valor Week.
Over 120 people have participated in the VET Ally Program during the past three years that it has been offered. Being a VET Ally makes a participant a reference in support of those who have served our country.
There are approximately 30,000 student veterans in Illinois, and that number is likely to in increase within the next 10 years. This makes VET Ally training more important than ever.
"Our goal is to provide veterans with a welcoming and supportive environment in which to pursue their academic objectives," said Roman Ortega, Director of Veteran Affairs and Recruitment.
Ortega conducted the presentation for a group with a combination of students and faculty that had various involvements with the military.
The program emphasized the fact that all veterans are different; they each come from various backgrounds and experiences. Therefore, all veterans will adjust to the college routine in their own way. Attendees discussed both the weaknesses and strengths of veterans as they make their transition.
"Adjustment difficulties may be amplified if a service member or veteran is transitioning into civilian life after one or several deployments," Ortega said.
The main challenges veterans face include distraction, triggering content, sitting quietly, sleepiness, unstructured settings and privacy. In order to overcome these struggles, it is imperative to encourage veterans to sit at the front of the classroom, take breaks, keep them engaged, show them respect and be aware of how certain comments may affect them.
Despite these barriers, there are also many significant strengths that veterans bring to the classroom. Veterans are already familiar with diversity, and they have learned how to work well in teams. They have also attained excellent leadership skills from their military experience. Their brains are wired to focus on outcomes and results, which enhances their ability to achieve academic success.
"A veteran who goes back to school wants to be there, and will be driven to complete their college education," Ortega said.
The VET Ally Program provided beneficial tips for starting conversations with veterans, as well as topics and questions to avoid. Ortega hopes that the program will be impactful by producing centers of influence within the community and creating a culture on campus that will enable student veterans to succeed, graduate and find meaningful careers.