University Provides Assistance to Students With Disabilities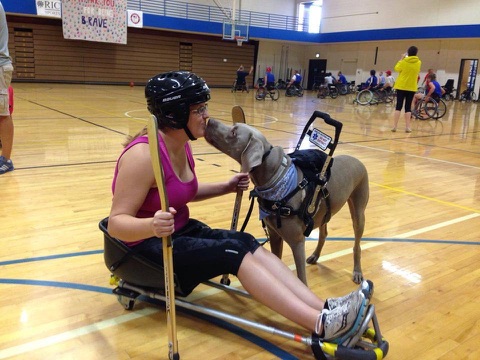 Photo courtesy of Bridget Reynolds: Bridget Reynolds receives assistance from Lewis' accomodation services, allowing her to fully enjoy her college experience.
Jessica Resendiz, Assistant News Editor
Lewis provides extra support to students challenged with disabilities through accommodation services.
Sophomore information security major, Bridget Reynolds is one of the many students who are receiving disability accommodation services through the university.
For Reynolds, college has been a challenging task to accomplish. Reynolds suffers from central pain amplification syndrome and psychogenic non-epileptic seizures.
Although this disability did not come into play for a while, it was an unexpected setback that affected her college plans.
In 2008, Reynolds enrolled as an air traffic control major, but due to financial reasons, her time at Lewis was cut short after her freshman year.
But Reynolds did not let this stop her. One year after knowing returning to school was not a possibility, she took on a different career path and enlisted in the U.S Navy.
"I was excited and a bit nervous to start my life in the military, but I knew it was going to bring me great opportunities and life experience," Reynolds said.
Shortly after completing her first year in the Navy, Reynolds received military orders of deployment.
While performing her deployment duties, Reynolds' health took a turn for the worse as she started to experience minor lower back pains.
"When I first started to feel lower back pains, I didn't think much of it because I figured it just had to do with my daily routine of excessive work my body wasn't used to," she said.
As time passed, her pain gradually worsened and caused her to seek medical attention.
"The pain got to the point where I couldn't stand up or even take a step. I underwent hip surgery, but it was deemed unsuccessful," she said.
Reynolds' military career came to an end. She was medically discharged, causing her to move back to Illinois and live with her parents.
Although Reynolds has been faced with some tough challenges in the last few years, she is still determined to pursue life with a strong and positive attitude.
"After being discharged from the military, I was mentally exhausted and discouraged. I was scared not knowing how my life will turn out after this," she said.
Despite the challenges she faced with her disability, Reynolds enrolled once again at Lewis.
"I was definitely scared to enroll back at Lewis. I didn't know how I would get through college with my disabilities, but most of all, I was scared not knowing how I would handle people's reactions," she said.
After letting go of any fears Reynolds had of going back to school, she began a new journey and returned to the campus.
"[During] my first semester back at Lewis, my main obstacles were not fitting through doorways, dealing with handicap parking spots being blocked and bringing a service dog around many students that have never met one before and explaining that he can't be pet or distracted," Reynolds said.
However, the obstacles Reynolds faced were alleviated thanks to the welcoming environment and accommodations Lewis provides.
"I feel like I am part of a team here at Lewis, instead of feeling like an outsider. I have nothing but great things to say about the Lewis staff and how they handle accommodations," she said. "Denise Rich who handles the accommodation services here at Lewis and Roman Ortega who is the director of Veterans Affairs have both been such a great support system and really look out for my needs."
Accommodations that Reynolds has requested to better her accessibility on campus include paving over a crack near the library entrance, making arrangements with professors in allowing her service dog to join her during class time, getting approval to register for classes early to have them arranged in one building, and exceptions regarding absences and tardiness due to medical reasons.
Director of Academic Support Services, Denise Rich said that for more than 14 years the university has been a support system for students with disabilities.
"We started off with about 20 to 30 students and have now grown to about 150 students," Rich said. "I think we've done a great job of making these students feel comfortable and helped them succeed academically without them feeling discriminated."
Lewis continues to provide equally distributed academic support services to all students in need.
For students needing extra assistance like Reynolds, Lewis assures an environment that is safe, accommodating and enjoyable.