To Go or Not to Go: Students Reflect on the Praised 'Snow Day'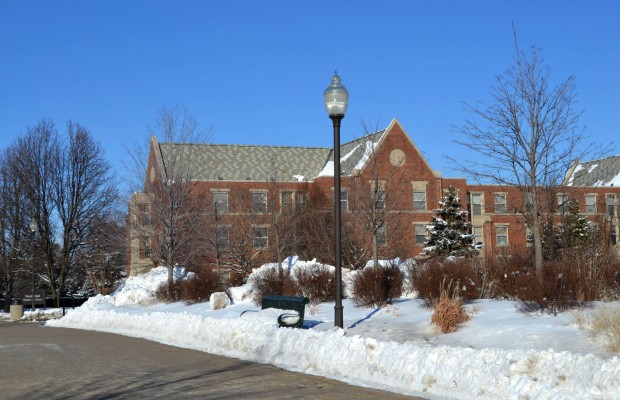 Photo by Audrey Donovan: The amount of snow on campus can be overwhelming, causing students to struggle while walking to classes.
Laura Fox, News Editor
The month of December has rolled in, which means cold weather is in full swing and snow could hit at any given moment.
When spring semester begins in January, the weather will be anything but spring-like. If the Midwest experiences a winter comparable to last year's, the Lewis campus is in for more below freezing temperatures and plenty of snow.
Weather like this leaves students on the edge of their seats wondering if a campus closure is in the forecast.
During the previous spring semester, the campus had multiple closures due to snow or below freezing temperatures that provided an unsafe environment for students.
For the upcoming spring semester, faculty, staff and students are all curious if Romeoville will get hit by another harsh winter season.
The real question about this crazy weather is if it is affecting students' education. The weather problems the campus is faced with could cause more classes to be cancelled, and this takes away from the limited number of classes students have during the 16 week semester.
Large gaps in the syllabus occur because of lost time to teach certain lessons, and a loss of class time also means students are paying tuition for an education they are missing out on due to campus closure.
Different approaches could be taken to still hold class at some point when the weather is not providing safe conditions for attending class at its usual time. The class could be held online via Blackboard, the class could be recorded and watched online or the class could be held on a Saturday instead.
These approaches are appealing to some students, yet unappealing to others. A recent poll was conducted to find out what students would prefer as an alternative to a 'snow day.'
Out of the 82 students who participated in the poll, 50 percent said they would like to hold class live online during the campus closure.
Seventy one percent of the students said they would like to watch a recorded class online, and 29 percent said they would not want to watch a recorded class.
For making up a class on a Saturday, 99 percent of the students polled were against this approach.
Out of the different approaches to making up the snow days, the more likeable idea seemed to be watching a class online. Freshman student Rachel Aubart thinks it is a good idea to have class online, but is not confident students would go along with it.
"I think it's best for them to put things [online], but not enough kids look at Blackboard," Aubart said.
Students will always be happy to have a day off, but when class starts up again, there is a lot to catch up on, which can be overwhelming.
"Initially, when it's a snow day, you're excited. But then when I'm behind in my classes, I feel like I'm getting jipped," freshman nursing major Audrey Collard said.
Although most students seem to be against the idea of making up class on a Saturday, junior accounting major Dan Quinnert disagrees.
"I would rather make up a snow day on a Saturday morning during the school year because it would be more fun to plan something out and to do something than just sitting at your computer on Blackboard all day," Quinnert said.
Making up a snow day is not exactly an exciting concept for busy students, but when weighing in all of the factors, such as making up the schoolwork or losing money on a class you are paying for, students may reevaluate the idea of having a day off.
"[Making it up would be] helpful, because if you miss a full class, it could be detrimental," Collard said.
With some possible approaches of making up the missed class, students seem to still be more in favor for the day off.
From the poll, 78 percent of the students said they do not want to make up snow days, with only 22 percent of students saying they would rather make it up.
When unsafe winter conditions arise, faculty from student services and facilities make a campus closing decision based off of forecast, road conditions, campus conditions and status of other area schools.
In case of campus closures, Lewis University will notify students and staff through Send Word Now messages, website postings and telephone-recorded messages.