Thousands march to the beat of democracy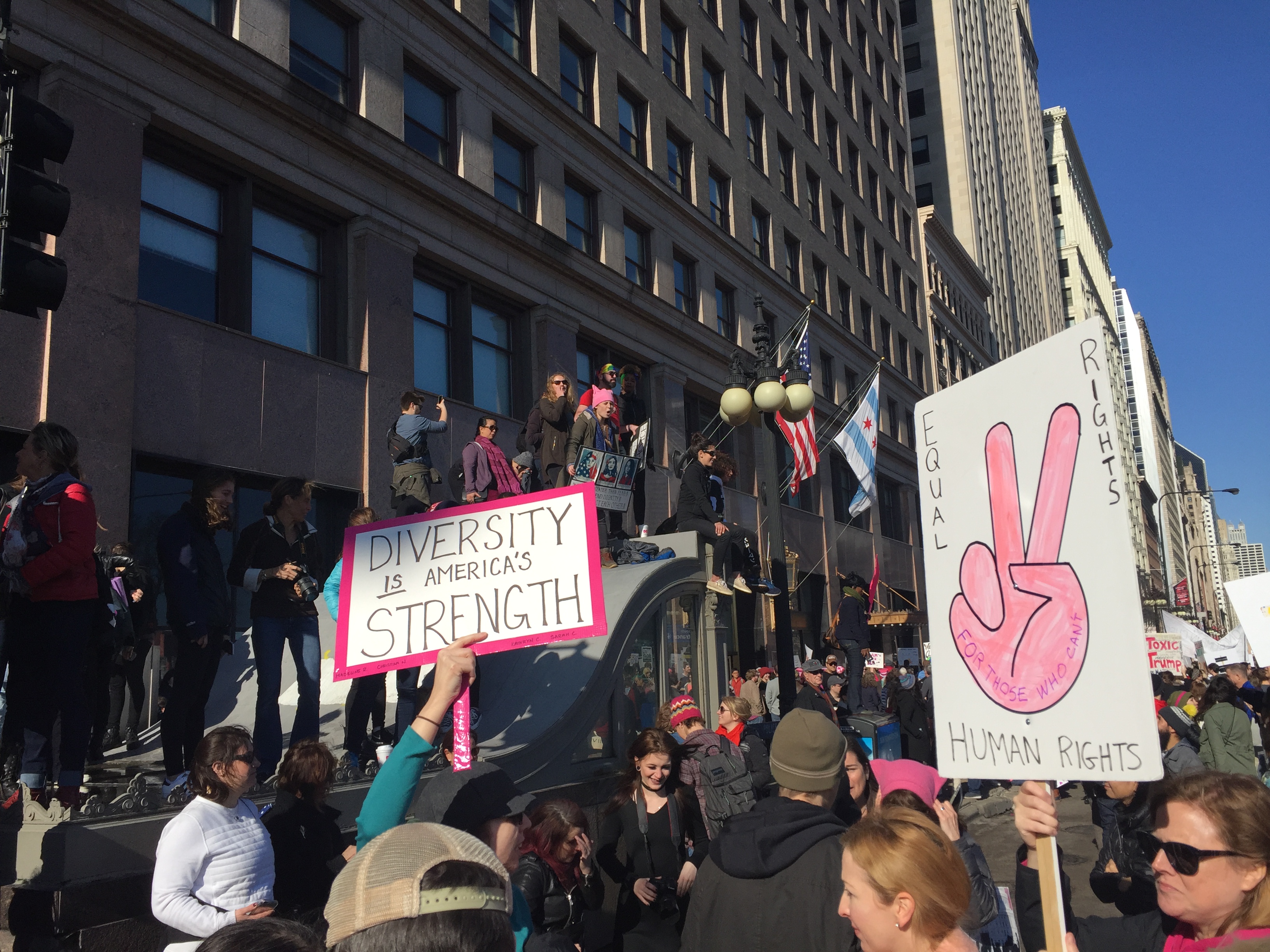 The Woman's March brought together people at all genders, races, and religion on Jan. 21.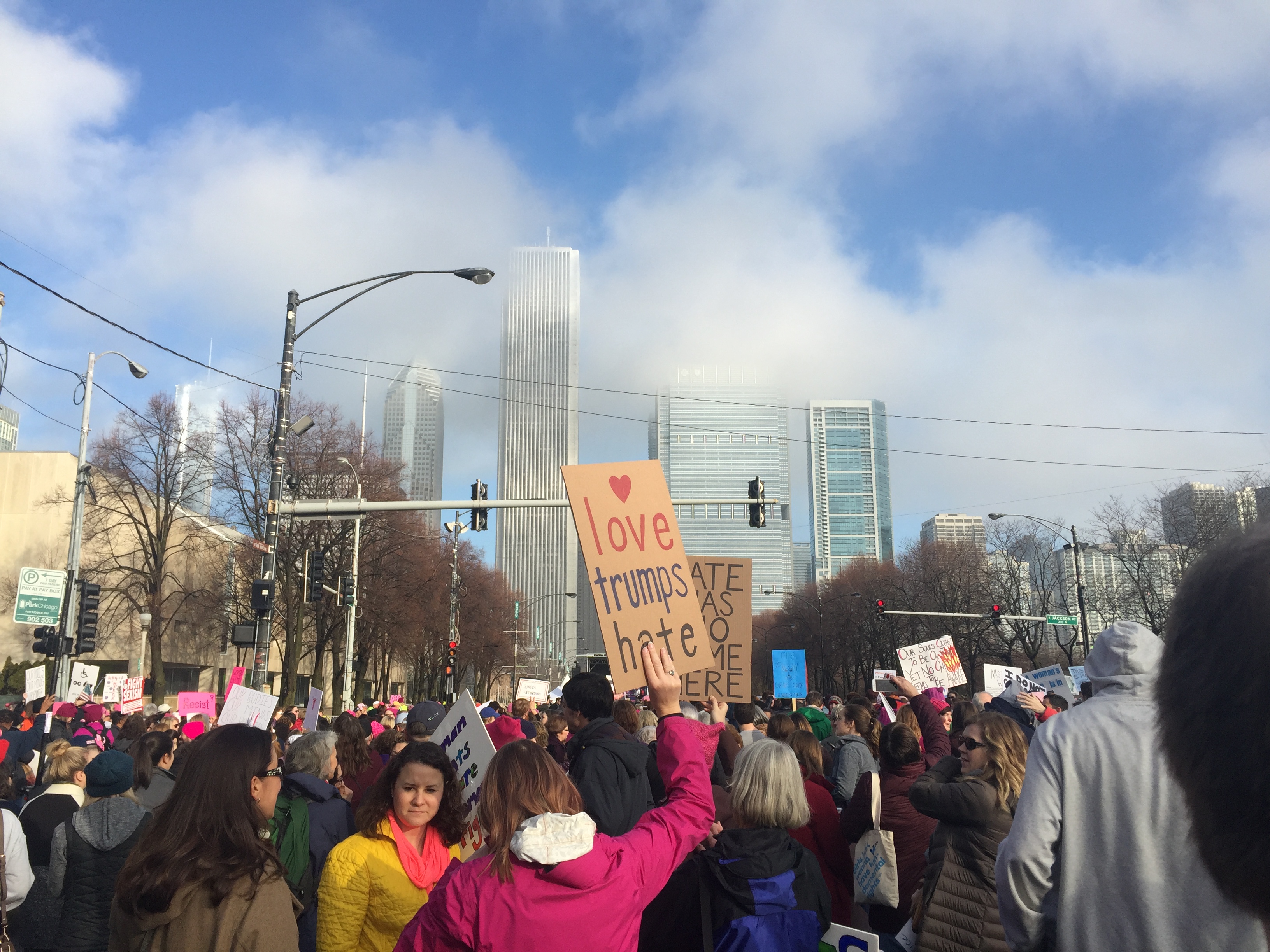 More than 150,000 people gathered in Grant Park.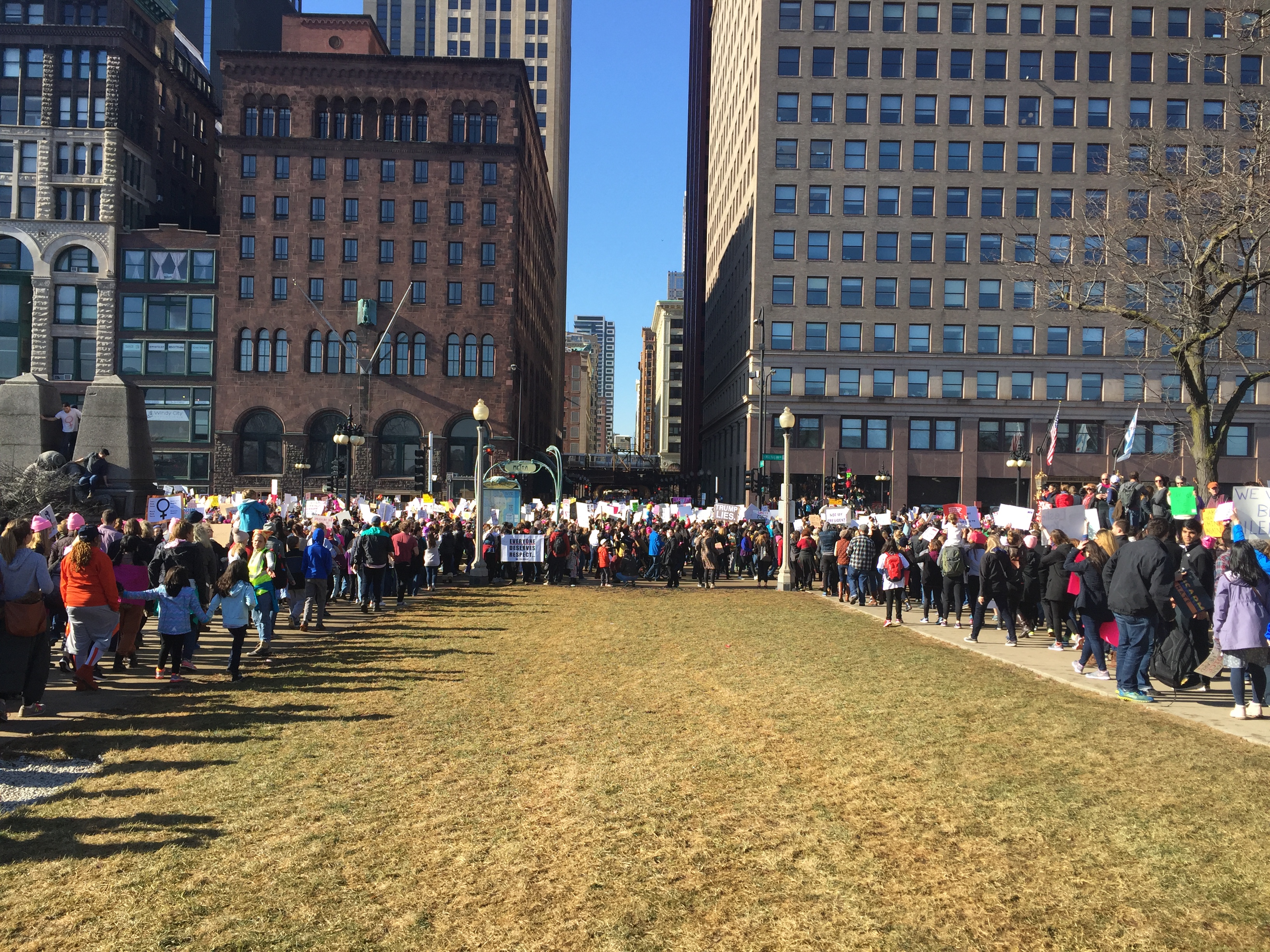 Photo courtesy of Kate O'Hagan
Ralliers did their best not to walk on the grass in fear of extra costs for organizers
Kate O'Hagan, Tempo Editor
The day after Donald Trump was inaugurated as president of the United States, women across the globe rallied together to tell him that their rights are important.
The Women's March on Washington, which is an organized walk to recognize not only the rights of women, but also many other minority groups, took place on Jan. 21.
According to Women's March website, an estimated 2.6 million people took part in 673 marches in all 50 states and 32 countries on all seven continents.
While organizers for individual marches in each city had initial expectations of the number of people who would show up, most cities doubled, tripled or even quadrupled the number expected.
March organizers in Chicago initially expected 50,000 people to attend the rally. However, more than over 150,000 people filled the city, causing the march to be cancelled. Instead, a rally took place in Grant Park.
Los Angeles organizers also had to cancel the march when the expected 80,000 attendees turned into over 250,000.
Celebrities also joined in across the country to voice their concern of the new administration.
Speakers, including Natalie Portman, spoke at the rally in Los Angeles, Chelsea Handler in Park City, the Hamilton cast in Chicago and Scarlett Johansson in Washington DC.
No one held anything back when expressing fear and frustration in country's new leadership under President Trump.
They spoke of concerns for basic healthcare needs, immigration policies, LGBT rights and climate change.
One of the most powerful lines from a speech that has been viewed more than a million times on YouTube comes from actress America Ferrera in Washington DC. "We will not go from being a nation of immigrants to a nation of ignorance," said Ferrera.
Though some marches were cancelled, that didn't diminish the spirits of people who gathered together. The atmosphere at each march, including the one in Chicago, was electric and inviting.
In Chicago, people shared snacks, sang songs, held signs and hugged one another while realizing they were a part of history.
According to the Chicago Police Department, no arrests were made during the women's rally, which was a significant difference when compared to other protests against Trump in the past.
While it was called the "women's march," men and women of all ages were present to demonstrate their right to protest.
Signs demanding equality were held high in the midst of thousands applauding and taking pictures.
Seeing as everyone had their personal reasons as to why they were marching, the hashtag "#WhyIMarch" was a worldwide trending topic for over 24 hours on Twitter.
The main event was the march on Washington which consisted of over 500,000 people.
Organizers for the Women's March have said this march will definitely not be the last, and have announced a new campaign "10 actions for the first 100 days."
For more information on the new campaign, visit www.womensmarch.com