The Verdict Is In: Mock Trial Team Warrants National Attention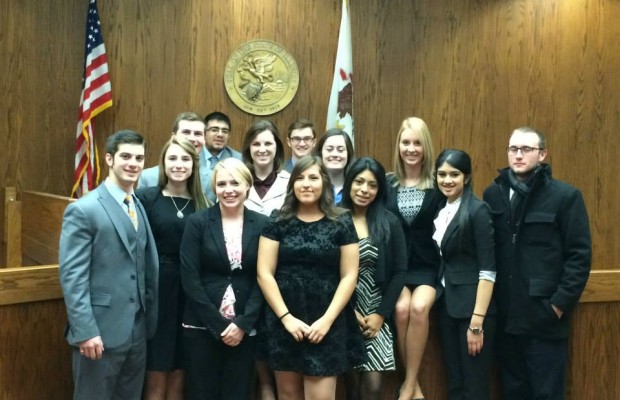 Photo provided by David DeSchepper: The Mock Trial team has been having a successful season thus far and recently hosted the Will County Regional Competition.
Stephanie Lipinski, Print Editor-In-Chief
The Lewis University Mock Trial team has had a very successful season, competing against some of the top teams in the Midwest. Most students do not realize how competitive the organization is, and that they are continuously involved in national competitions.
Head coach Dr. James Houlihan, professor of justice, law and public safety studies, has been with the team for 18 years, and during that time, Lewis attended nationals on 18 occasions, sometimes even twice in one year.
Other coaches include Bill Rock of Block, Klukas, Manzella & Shell in Joliet, Paul Namie of Law Offices of Jason R. Moseley in Merriville, Ind. and Cary Hansing, a financial analyst for BP Oil.
The coaches are all veterans of the program who have moved on into the professional world, and were all top players in their days.
"It's been a tough year and I really appreciate what they have done," Houlihan said, in reference to his fellow coaches.
This season, the team has gone from two teams to just one, and according to Houlihan, the players they lost were scoring really well, and having only nine members has put a real strain on the team.
In competition three witnesses and attorneys pair off and work on their parts together. Yet with team members dropping partners and roles swtching around, performances are greatly affected.
"Erica Swanberg had been on a streak of winning of outstanding witness, and then we had to move her. We needed her and her skill in another role. It cost her winning individual awards. It's a shame, but that's what happens," Houlihan said.
Lewis hosted the Will County Regional competition Feb. 21-22 at the Will County Courthouse in Joilet, where 26 teams from 18 universities competed for bids to nationals.
Due to publication deadlines, the results could not be included in this article, however before the competition took place the team was optimistic.
Senior Team Captain David DeSchepper has been with the team since his freshmen year, and had high hopes for this year's regionals.
"We have been preparing for this competition, as it is the most important of the year," DeSchepper said. "We've taken on a lot of individual responsibility for practice. It's hard to fit a scheduled practice time into everyone's busy week so a lot of our practice is done on our own with our attorney/witness pair."
The universities that were present at the competition include local schools such as Elmhurst, North Central and Lake Forest, but larger higher ranked schools were present as well, such as UIC, Northwestern, Loyola, University of Michigan and Michigan State.
Lewis holds intense rivals with Loyola and Michigan, which usually results in a high point, high intensity match.
"Loyola is ranked way higher than us, but when we play each other, dead even," Houlihan said. "They are always looking for us. We may not make it to the next level all the time, or be in the top five, but we're always in the mix. We hold our own against these top teams."
DeSchepper and the coaches hope to lead a well-prepared team into regionals so that higher ranked schools don't get the upper hand.
"We want to be prepared for any situation that can happen. It comes down to which team knows more about the case and understands the issues better. That's our focus—little details. That's what we're hoping sets us apart," DeSchepper said.
Lewis has gone to nationals the past three years, and DeSchepper hopes that this year won't be any different.
"I really want to keep the streak going for Lewis. It brings a lot of attention our way and gives us a bigger name in the American Mock Trial Association and locally," DeSchepper said. "Personally, the level of competition at the national level is at such a high level that it's a thrill to compete with them."
The team competed this past weekend, and results of the competition can be found on the Lewis University website.