The Fashionable Fox: Style Advice From a College Girl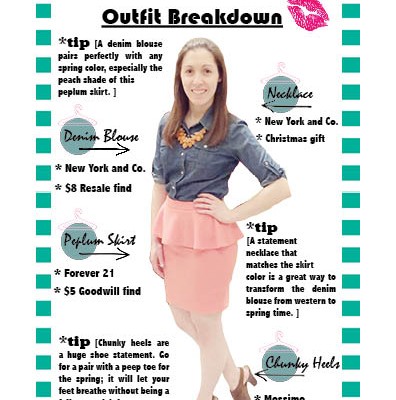 Laura Fox, News Editor
Welcome back, stylish students! Spring break has officially ended and we are back in full swing with this semester.
Although our week-long break was the perfect getaway from the school routine, it was not exactly "spring." Unless you vacationed in a place with warm weather, sunshine and beaches, chances are, you're still feeling like spring will never arrive.
As I lived vicariously through others via social media as they traveled to all of the places that are capable of giving you a tan in March, outside my window was the frozen slush reality of the Chicago suburbs. Hooray, spring break.
After throwing an irrational pity party for myself and binge-watching 90210 on Netflix, I finally decided it was necessary to actually be somewhat productive during this breather from school.
I could have been very productive and worked ahead in my classes to complete assignments that are now piling up, but instead, I did what I do best. I went shopping.
I did not get myself into too much trouble, thank goodness, but I did hunt the racks for some clearance deals.
Certain pieces I admired in the fall were now 70 percent off, and if that couldn't lift my spirits, then I didn't know what would.
Along with the good deals I found which ended up in my closet, I also did a fair share of research in the stores to check out all of the new and upcoming trends for the spring.
From the colors and patterns to the shoes and accessories, I came to the conclusion that springtime will most definitely be worth the wait.
But what kind of fashionista would I be if I didn't share my findings? Even though none of you let me join you on your sunny vacays, I'll still do my job and let you know what to start hunting for. No hard feelings, okay?
The top three color trends for the spring are all shades of blue, including aquamarine, scuba blue and classic blue. If blue just happens to be your favorite color, you will totally work it this coming season.
Other bright shades that you should be prepared to spot are Lucite green, strawberry ice, tangerine and custard.
For my friends who are not quite ready to tuck away the neutral colors and take on the brights, you are in luck! Neutral tones are still on the scene this spring, including shades like toasted almond, sandstone, titanium and glacier gray.
Some of the colors I have been seeing are more of a neon pastel. I don't know of many people who enjoy walking around looking like their outfit was modeled after a highlighter, so I think the lighter neon shades scream spring without being over the top.
Try pairing an aquamarine colored button-down shirt with a titanium colored pencil skirt for a great spring color combo.
A spring trend that has made its way back to the scene this year is floral prints. I have spotted floral trends in a variety of colors for the spring, but I really like the prints that have a watercolor look.
A floral print dress with a white blazer is a great dressy ensemble or for a more casual look, pair up some high waisted jean shorts with a soft and sheer floral print kimono.
Soft floral print sundresses are very comfortable in cooler weather. Add on a jean jacket to stay stylish on cooler nights.
Another fun trend to try this spring are white jeans. Once the spring rolls around, white articles of clothing look extra bright and fresh.
I have seen white jeans matched up with a variety of tops. White always looks great paired with a pastel color, so try wearing a lightpink or lavender top with these bottoms.
Don't be afraid to play up the patterns this spring as well. Stripes are still a hot pattern that can be found in all colors and sizes.
Although stripes can be tempting to wear, be sure to try anything with the pattern on beforehand. Horizontal stripes are not always flattering, depending on the shape of the top.
If you have a curvy shape like me, horizontal stripes can occassionaly make the body look too wide. But some stripes end up looking good, so it is important to try it out before giving up.
Another pattern stepping onto the scene this spring is gingham.
For the fall, plaid was popular. Gingham is a softer, lighter print that will look great on tops, dresses and accessories this season.
Chunky heels are a top spring shoe trend.
A pair of open-toed chunky heels look perfect paired with cropped jeans.
They also make a great statement when paired with a bright skirt or dress.
Spring weather is starting to make a grand entrance, so be sure to check out these trends and get ready for warmer weather!
Until next time, stay stylish!