The Fashionable Fox: Style Advice from a College Girl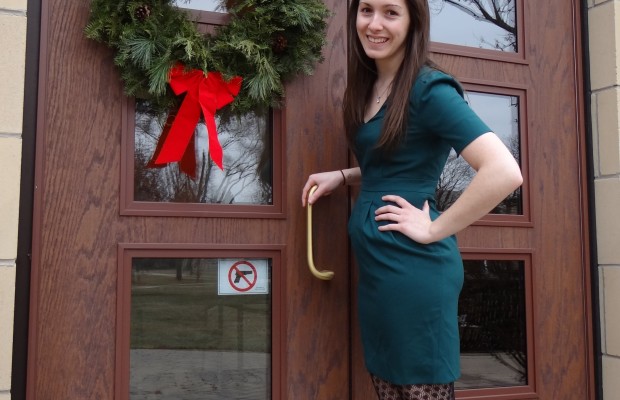 Photo courtesy of Brittany Gorski: For a dressier holiday outfit, try pairing a hunter green dress with a fun pair of tights. It is festive and dressy enough for any formal party.
Laura Fox, News Editor
Hello there, LU students! And happy December!
Can you believe the fall semester is coming to a close? Final exam week is upon us, which means that in a few
short days, the first half of the school year will be over.
I am just as excited as everyone else for a break; it has been one exhausting semester. Although I'm looking forward to finally relaxing, it does make me sad that this will be my last piece of fashion advice for the year. But have no fear! These last fashion tips for 2014 will most definitely end on a good note.
The end of the fall semester means that the holidays are quickly approaching. It seems like there is always plenty of time to shop and prepare for the festivities, but before you know it, the days sneak up and leave you feeling overwhelmed.
From cleaning and cooking to gift giving and decking the halls, the list of things that need to be done grows longer than Santa's list of boys and girls. Cue the fa la la's and holiday anxiety. Unfortunately, I am not a sugar plum fairy, and I cannot wave my magic wand and make that list disappear. But, I promise you, I am not completely useless.
What I can do is provide you with some great fashion ideas to wear for any parties, gatherings or events you may be attending or hosting. Then, you can cross that task off your list and give your time to something more cheery.
Whether you only celebrate one day, or have numerous days and events to attend, there are plenty of great ways to look festive and stylish this year.
A classic holiday trend that has made a return this year is incorporating sparkle into your outfit. Jewels, sequins and studs are all little details that can give your look that extra holiday shine.
Try pairing a sequins tank top with a blazer and jeans, or a sweater with some sparkly threading tucked into a skirt with tights. Studded boots are also a great way to incorporate shine into your holiday outfit, and they help your feet stay warm in the cold weather.
An important tip to remember when incorporating sparkle into your outfit is to not overdo it. Just one piece that shines—whether it is your top, shoes or statement jewelry—is enough. Pairing too much bling is overwhelming and will subtract from your classic winter look.
Another great holiday outfit go-to that is both stylish and can be worn comfortably is plaid shirts. These shirts are very versatile; they can be dressed down with a pair of leggings and boots or with a pair of boyfriend jeans, a faux fur vest and flats.
They can also be dressed up simply by tucking them in to an A-line skirt with tights. Button up the collar and slap on a statement necklace for a chic twist to a cozy shirt.
If plaids and sequins are not your forte, never be fearful of resorting to the classic red and green colors of the holiday season. Instead of bright reds and greens, try out different shades, like maroons and emeralds.
These shades of color are not only trendy, but will also make any holiday outfit look very classy and pulled together. Try pairing a maroon peplum top with black skinny jeans and a sparkly necklace. Chic and festive!
There are so many great outfits to pull together for the holidays, whether you are looking to make a major fashion statement or just lay low and be comfortable. Be sure to try out numerous looks until you find the one you love most!
When in doubt, plan for darker colors; try out a bold necklace and never be afraid of skirts with tights. After all, it is the season of giving, so be sure to give yourself plenty of outfit options that will make you feel like a holiday queen.
I hope these fashion ideas, and all of the ideas I've provided you with this semester have been helpful and inspired you. I wish you the
very best with the end of the semester, and hope you have the happiest of holidays.
Until next year, stay stylish!