Tennis Teams Will Build Off Championship Appearances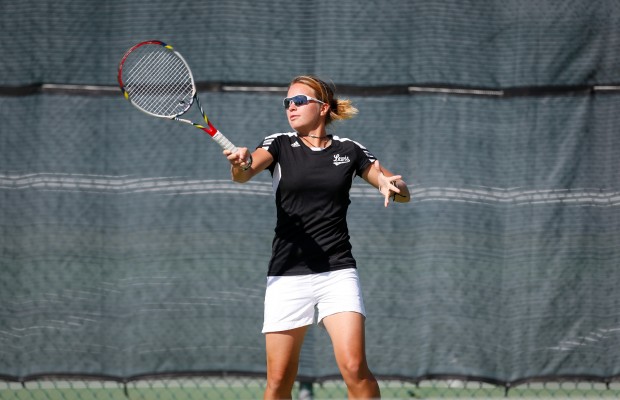 Photo provided by Steve Woltmann: Zsofia Lanstiak, senior, finished sixth overall at the USTA/ITA National Small College Women's Tennis Championships despite playing injured this fall.

David Ridderhoff, Contributor
The fall tennis season is officially over, with the National Small College Championships finishing up the weekend of fall break. Unfortunately, the two singles players and one doubles team who went to the event were unable to come away with championship gold.
"My expectations are always the same: Do everything you can to prepare yourself to compete; give everything you have got, physically and mentally, for the whole duration of the match," head coach Brett Bridel said. "If the players have done those things, then they have met my expectations."
The team of seniors Zsofia Lanstiak and Kranczicki took the best finish, placing in third place.  Their only loss came in the semi-finals to Barry University's Emma Onila and Linda Fritschken, who went on to win the championship. The team came into the tournament as the No. 1 seed, and Bridel says there's a reason for that.
"They are absolutely the best players I have had at Lewis," Bridel said. "They have been the best players in the GLVC and the Midwest Region every year since they were freshmen in both singles and doubles. They have dominated the conference and region over the past three and a half years."
Lanstiak was also in the singles draw, by way of defeating Kranczicki in the regional final. She was tripped up in her first match by Celia Respaut, who finished third, and won a match to make the fifth-place match. She fell in that match to Lucie Sipkova and finished in sixth overall.
Junior Armand Levandi was the only participant from the men's side, and he finished in fourth place. Levandi won his first match before losing to Ouachita Baptist's Marko Boskovic and then dropping the third-place match to Jan Meyer of Azuza Pacific. Levandi is a junior, so his chances at a national championship are still there.
"He has the skills to [win a championship], but it takes a lot of tough matches just to qualify for the tournament and then three tough matches against the other regional champions from around the country," Bridel said. "There is no room for a bad match or it is over."
The teams will now look to improve on their strong fall and get ready for the spring season, which involves actual matches instead of a tournament-only schedule used for the fall. That means that conference play will be in effect.
Last year, the two teams combined to go 10-1 in GLVC play. The team will undoubtedly look to at least match that performance this year.
"We are trying to build a program that can consistently compete year after year," Bridel said.  "We need to recruit well and focus our efforts on being the best student-athletes we can be every day. That takes a lot of accountability, responsibility and sacrifice to do at a high level."
While it is an accomplishment to make the National Small College Championships, the team must now move past that, and ready themselves for a grueling spring schedule. Bridel thinks his teams are both good enough to have great records in the spring.
"I want to believe so," Bridel said. "If everyone commits to being prepared, then I believe that is very attainable."