Tennis Teams Plan to Continue Strong Play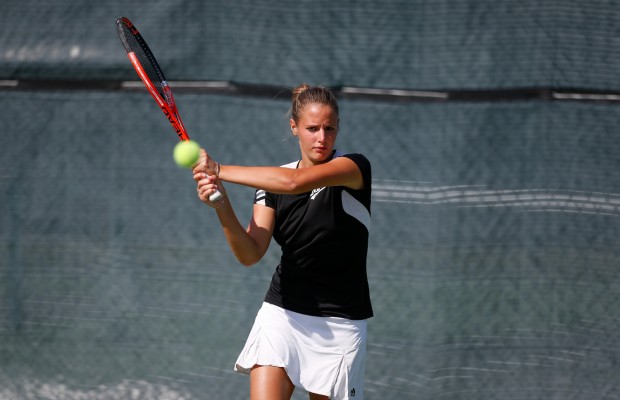 Photo provided by Steve Woltmann: Zsofia Kranczicki, senior, is preparing for a strong fall as she's currently ranked second individually in the Midwest only to her doubles partner, senior Zsofia Lanstiak. 
David Ridderhoff, Assistant News Editor
Lewis University's tennis teams will look to recapture their great play from the autumn season as their spring schedules begin.
The women have already started their season, losing their first match to Division-I Northern Illinois.
"We let that match slip away from us," head coach Brett Bridel said according to the Lewis Athletics Department. "We didn't serve well and made way too many unforced errors."
The Zsofias, seniors Lanstiak and Kranczicki, were able to win the top two singles spots. Lanstiak played at No. 1 singles and won her match 6-3, 0-6, 10-7 while Kranczicki defeated her opponent at No. 2 with the scores of 6-2, 6-2. The Flyers looked to have an advantage at the No. 3 and No. 4 singles as well, as freshman Ana Banic and sophomore Megan Nguyen both won their first sets before ultimately dropping their last two.
Lanstiak and Kranczicki will both be the leaders for the Flyers as they enter their final seasons. From there, the play of Banic and Nguyen will be key for the team's success. Doubles play could also certainly factor into the team's success, but most of the team's hope resides in the play of their singles competitors.
The men are also due for some great campaigns, and the crop is led by junior Armand Levandi. He is ranked eighth in the ITA Division-II National Men's Tennis preseason rankings. Levandi took fourth at the USTA/ITA National Small College men's tennis singles championship this past fall. Fellow junior Erik Aunapuu is ranked 14th in the Midwest Region in the same poll. Levandi is the favorite to win the Midwest Region and is also the top ranked player. The two combine to rank 14th in doubles for the region.
"I believe we have the talent to move up in the [national] rankings," Bridel said via the athletic department. "We get to play a number of teams ranked ahead of us this spring, so it will be decided on the tennis court."
Both teams traveled to Milwaukee on Feb. 2 to face Cardinal Stritch. For the results, please visit lewisflyers.com.