Tennis Teams Clinch Berths In GLVC Tournament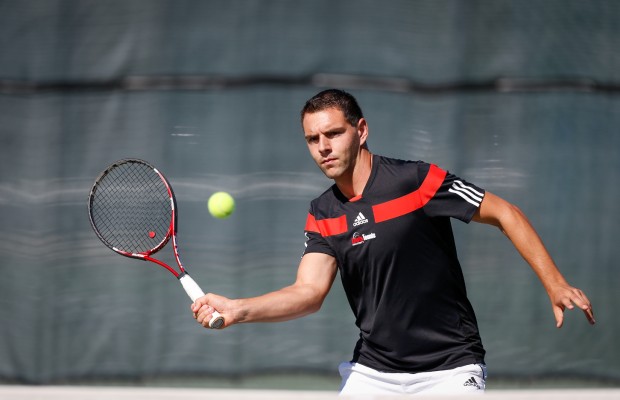 Photo provided by Steve Woltmann: Freshman Mate Srdanovic teamed with junior Erik Aunapuu at first doubles and defeated IUS 8-4 on April 4.
David Ridderhoff, Assistant News Editor
Both Lewis University tennis teams have officially clinched berths in the GLVC tournament, which will be held in St. Louis on April 18.
The women have been the epitome of dominance in GLVC play, winning four of their five matches by a 9-0 score, and their only non-sweep came against McKendree, an 8-1 victory. The men haven't been as dominant, but are currently 3-2 in conference, winning all three of their matches by a score of 5-4.
Not only sweeps, but also a player of the week honor has highlighted the women's dominance. Senior Zsofia Lanstiak was named GLVC Women's Player of the Week, and so far this season has compiled a 23-6 singles record, while teaming with fellow senior Zsofia Kranczicki to go 25-2 in doubles. That team is currently ranked No. 3 in the country. The university is currently ranked No. 47 in the nation With both of those players leaving, the younger players will soon be without their leaders, but head coach Brett Bridel believes that they will be fine without them.
"I think they are still following their lead, but hopefully they are learning what it will take to lead in the future," Bridel said.
With both teams having clinched, Bridel did not change preparation heading into the final two regular season matches, saying, "It will not change our preparation, but it gives us more days to practice because we get to play in the postseason."
With both teams off to the GLVC tournament, they will need to play their best tennis if they want to win the conference.
"In my mind, we are always the favorites, but according to number of scholarships and the rankings we are not," Bridel said. "What every team we play will get from us is nothing short of our best tennis that day."
The women's dominance and the men's ability to overcome obstacles will undoubtedly make them a tough team to beat in the tournament, and added preparation and confidence by Bridel could be one of the deciding factors.