Tennis Continues To Stock Trophy Cabinet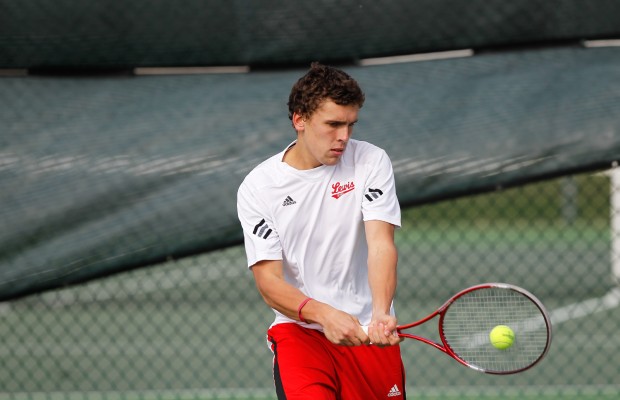 Photo provided by Steve Woltmann: The Flyers' tennis team will be fortunate to have junior Armand Levandi, the GLVC Player of the Year, returning for the 2014-15 seasons. 
David Ridderhoff, Assistant News Editor
While neither of Lewis University's men or women's tennis teams are able to capture GLVC titles, there were three awards handed out to Flyers by the conference: junior Armand Levandi for Men's Player of the Year, senior Zsofia Kranczicki for Women's Player of the Year and head coach Bret Bridel for Women's Coach of the Year.
The players' awards came as no surprise to Bridel.
"I'm really excited for Zsofia that she was named the GLVC Player of the Year," Bridel said. "She consistently performs at a high level, works hard and is the ultimate team player."
As for his award, Bridel doesn't take the recognition for granted.
"It is great to be recognized by your peers, but my team and assistant coaches are the ones responsible [for the award] because of our performance," Bridel said.
On April 18, the men's side was swept by No. 12 Drury in the GLVC Quarterfinals. As had often been the case, the men were short on players and had to forfeit two of the five matches before even starting. Before the match was called due to Drury's having enough match victories, Levandi was holding a 6-2 lead on his opponent, while freshman Mate Srdanovic had a 4-2 edge. Both of these matches were stopped once Drury had won their fifth match, enough to advance them in the tournament. Drury later defeated Indianapolis to win the GLVC tournament.
The women had a more successful tournament than the men, finishing second in the conference, falling to Drury in the championship match. Kranczicki and her classmate Zsofia Lanstiak both won their matches, and the teams of Lanstiak and freshman Ana Banic, along with senior Kendra Mills and sophomore Jill Wetmore also won matches, but the team ultimately fell short 5-4. It was a tough loss to end the careers of two of the greatest players to ever play for Lewis.
The women are still hoping to find new leaders to step up and take leadership roles, with Wetmore and Banic both being strong candidates. The men are fortunate to have Levandi back next season, and should be able to do great things with a potentially full roster.