Students to Present Research at Annual Sustainability Summit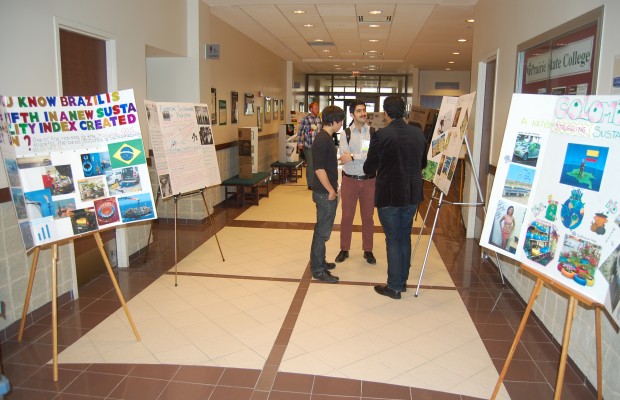 Photo provided by Jaclyn Boyle. 
Laura Fox, News Editor
The fourth annual Student Sustainability Summit will be held on Fri., April 10.
The summit will be held at Joliet Junior College, but is hosted by the South Metropolitan Higher Education Consortium (SMHEC).
The SMHEC has 13 institutional members including DeVry University, Governors State University, Illinois Institute of Technology, Joliet Junior College, Kankakee Community College, Moraine Valley Community College, Northwestern College, Olivet Nazarene University, Prairie State College, Saint Xavier University, South Suburban College, University of St. Francis and Lewis University.
Lewis students will be presenting their research at the event. This year's theme is "opportunities."
The program will begin at 8:15 a.m. for student participants to sign in and enjoy a continental breakfast with the opening remarks.
This will be followed by a presentation from the keynote speaker, the Executive Director of Trails for Illinois, Steve Buchtel.
According to the SMHEC website, "Steve's infectious energy makes everyone he approaches want to join in his cause. He leads by example, inspiring those on his team to operate with the same high level of integrity and enthusiasm that he effortlessly demonstrates."
Student participants will then have the opportunity to listen to recent graduates discuss how they discovered their careers, as well as their career trajectory in sustainability at the panel presentation.
After the panel concludes, a "share fair" with sustainability professionals will give participants one-on-one access to learn about volunteer opportunities, internships and career paths.
Students will have a brief lunch, and then break-out sessions will begin. Participants will present their sustainability related experiences and research.
Jaclyn Boyle, facilities coordinator for Sustainability and Administration at Lewis, encourages student participation and attendance at this event.
"The event is not just for students with a sustainability focused major or minor," Boyle said. "Sustainability is interdisciplinary in nature, so no matter your major, if you have an interest in environmental matters, the event will be a beneficial experience."
Participation in the program will not only be a great resume builder, but it will also provide students with connections needed to enhance their future career.
"Lewis students will be able to mingle with other sustainability interested students from other schools, along with create meaningful connections with local organizations that are looking for interns and soon-to-be graduates," Boyle said.
Along with making great connections, participants will receive free breakfast and lunch, as well as an opportunity to win five $100 bookstore certificates that will be raffled at the end of the program.
The summit will be a great networking tool for students that are passionate about sustainability.
To attend the event, register online at southmetroed.org. The registration deadline is April 6. For more information, email Jaclyn Boyle at boyleja@lewisu.edu.