Students Paint Their Mark for Celebration of Día de los Muertos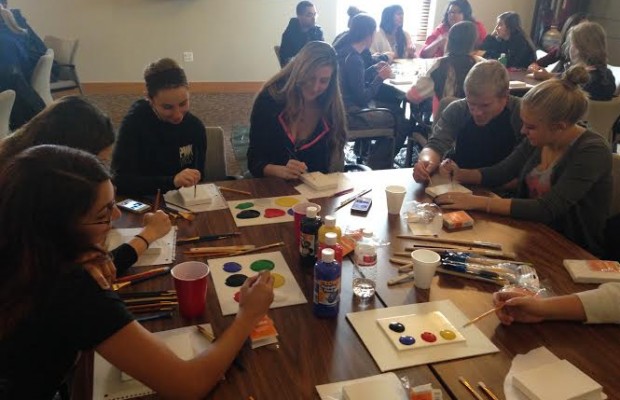 Students join the Oscar Romero Heritage group to celebrate the Day of the Dead.
Roslyn Summerville, Tempo Editor
The Oscar Romero Heritage group (ORO) hosted Día de los Muertos – All Souls Day on Oct. 23 in order to promote Latino/a faith activities on campus.
Students gathered in the D'Arcy Great Room, which was set up as large tables with paint, little canvases and paint brushes for the students to use.  But, before any painting happened, Victor Montañez took students through the history of the Día de los Muertos.
Día de los Muertos, or commonly known as Day of the Dead, is a holiday that focuses on family and friends gathering in order to remember and pray for their loved ones who have died.  It is celebrated from Oct. 31 to Nov. 2.
Montañez explained that every culture around the world acknowledges death in some way or another.  He also said that no matter how much money someone has, how tall or short they are or if they have a fancy car, everyone dies in the end.
"Regardless of how many degrees you get, you're no better than the woman on the street selling tamales," Montañez said.  "We're really no different; nothing separates us."
When honoring the dead, often there is also an incorporation of the four elements.  Montañez said that there is usually a candle (fire), drinks (water), flower (earth) and tissue paper decorations (wind).  Food is also brought to the celebrations in order to provide the loved ones with their favorite foods.
Brother Paul Joslin, FSC shared his personal connection to the celebration of Día de los Muertos.
"My father was pretty quiet with regards to a lot going on in his life, but when it was obvious that he was about to die, he turned to me and he said to me, 'Please, remember me.'  He was afraid that he wasn't going to be remembered," Joslin said.  "And that is what the Día de los Muertos is about – making sure that our loved ones get remembered."
The event was done so students would feel as if they were taking part in the real festivities of Día de los Muertos.
"[The event] is to recreate the atmosphere that takes place in Latin America every year at this time of year, said Joslin. "And due to the growing population of Latinos on campus, it's a very important holiday to be commemorated."
The students got to work on their individual canvases and were told to paint at their own discretion; some of the items drawn were skulls, flowers or bones.  There was even a large decorated canvas that students were encouraged to sign in order to create more of a community at the event.
The paintings are part of the altar and will be displayed in the Sancta Alberta Chapel from Oct. 29 to Nov. 5.
The consensus among the group of students was that it was an enjoyable experience and that there should be more Cult. and Civ. events like this one.
If interested in joining ORO, they have meetings every Monday in the Sancta Alberta Chapel at 5 p.m.  The group is open to everyone.