Students Offered Professional Experience Through Service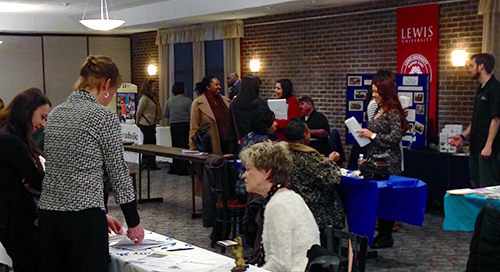 Photo courtesy of lewisu.edu: The Spring Service Fair held on Jan. 22 gave students another opportunity to explore service to others.
Stephanie Lipinski, Print Editor-In-Chief 
John Morrison, Contributor
At the end of 2014, the U.S. Department of Education and the Corporation for National and Community Service listed Lewis on the President's Higher Education Community Service Honor Roll. Lewis has received this honor three times total, but most recently in 2012 and now again in 2014. This honor is strongly connected to the Office of Service Learning and their dedication to creating hands on learning opportunities within local communities for students.
This year, the first ever Spring Service Fair was held in the University Dining Room, with members from over twenty non-for-profit groups present. Students were encouraged to explore different service opportunities and engage with members of each organization. The fair's purpose was to give students a chance to build personal and professional relationships with organizations from the surrounding communities.
According to Coordinator of Service Learning Dr. Christie Billups, service learning is intended to be academically rooted and inclusive to all students of any major.
"Students in service learning classes apply what they're learning, while serving real needs in the community," Billups said.
The service learning fair featured a myriad of service options, ranging from tutoring opportunities like those offered by SOS Children's Villages of Illinois, to the chance to fight for workers' rights with the Warehouse Workers for Justice Organization. The wide variety of organizations gives students the chance to explore many different careers and social justice opportunities.
A goal consistently embedded throughout service learning courses is using awareness of social concepts along with collaborative service in order to gain wisdom through first-hand experience. By allowing students to use classroom content in a practical manner and reflect on that experience, students gain a deeper understanding of the material, foster leadership skills and dismantle stereotypes. Increasingly, Billups is working with the rest of her staff to inform more students about this opportunity offered by the university.
"We just recently got a peace studies minor approved that will launch in Fall 2015, which will necessarily include service learning," Billups said.
Students who enroll in this minor will be required to register for three foundational courses, which all include a service learning component.
In addition to the minor, students could see a change in the general education platform, as the university is in the process of discussing alterations for the future. These modifications could potentially include a service learning course as an option to fulfill a GenEd requirement.
"Currently, three draft proposals are on the table, and one of those drafts includes service learning as a way of fostering civil engagement. It wouldn't be the only option, but it would make service learning a more visible factor in the general education for all students," Billups said.
Many students have taken service learning courses and feel that they gave them the chance to explore different career opportunities.
While participating in a theology service learning class, senior Amanda Jones found that her experience working with Feed My Starving Children opened her eyes to how easy it can be to make a difference.
"So many people say they don't have the time, but they don't realize that a half hour could be just enough … It's really good to know you're a small agent of change," Jones said.
However, service learning classes are not strictly theology based. Junior Tara Cochran enrolled in a cultural diversity service learning class and chose to volunteer her time at a local elementary school where she could interact with diversity first hand.
She was compelled through her class to continue volunteering her time for a whole year after the course had ended. Cochran feels students should take advantage of the service learning courses, because breaking out of your comfort zone can lead to self-discovery.
"It's an interesting, eye opening experience because you get to do things you'd never do before," Cochran said.
These organizations can even help seniors network and find jobs after graduation. For example, Big Brothers and Big Sisters offers internships in PR/marketing and social work, and Court Appointed Special Advocates (CASA) provides real court-appointed cases that will give students a valid start in the criminal justice system.
Those interested in getting involved with service learning should contact Dr. Christie Billups at billupch@lewisu.edu, or visit her in the Office of Service Learning in the LARC.