Students Contemplate Various Careers in Theology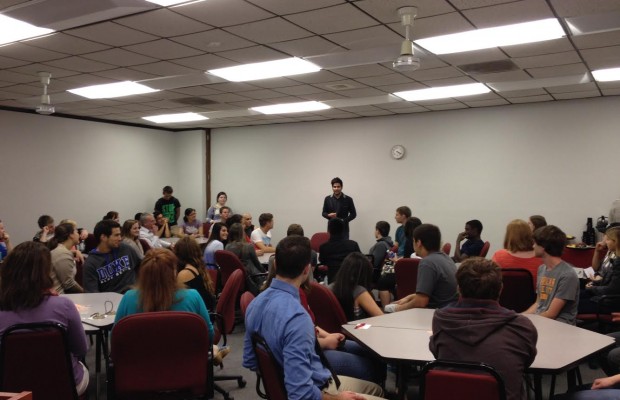 Lewis faculty and students discuss careers in theology.
Theresa Marten, Religion Editor
All Lewis students are required to take theology general education courses, however many may question how these classes will help in the future. Students may also wonder what kind of jobs can come from a major in theology. Taking advantage of the multitalented Lewis staff and inviting some special guests, the theology department gave students some time to explore, talk and laugh at Careers in Theology.
Dr. Christie Billups, associate professor of theology, director of pastoral ministry and coordinator of service learning, was the main organizer for the event. She began by proposing some of the fields and careers that could stem from studying theology. There are so many more avenues than just becoming a priest or joining a religious order.
"From theology, students can become part of parish ministry, teaching in a high school or college, graduate studies, journalism or media, social justice and chaplaincy," Billups said.
These fields include possible careers such as being a liturgist, studying systematic theology at a graduate level, working as an ethicist in a hospital, working towards immigration reform, shelter management, web design, social media, comedy and prison, hospital or military chaplain. This wide array of possibilities is not an exhaustive list, but it opens up how students can integrate their theology classes in their future lives.
At each table was a professional who shared their story of how to live out faith in a practical and meaningful way. Students were randomly dispersed between tables and rotated throughout the room so they were able to hear from all those invited.
University ministry's graduate student, Christopher Hueg, spoke about his time as a Lasallian Volunteer working, leading retreats and teaching in a high school in New York. Kevin O'Donnell, director of the office of young adult and youth ministry, shared about his various experiences working with youth and how being involved with music at mass kept him close to the church.
Colleen Degen, graduate of Lewis, encouraged students to become involved in InterVarsity Christian Fellowship (IV). She was so involved while at Lewis, she joked she "majored in IV." Degen works for InterVarsity and trains student leaders who then lead their own groups and create networks.
"Through developing students into a community that changes their community, we can change the world," said Degen.
Dr. Billups worked 16 years as a prison minister in addition to teaching at the high school and college level. Her ministry of presence in the jails taught her the importance of listening and the power of restorative justice. Although her work has been transformative, it is not for everyone.
"It is a calling to minister in prisons. I ministered in a hospital before and I know I couldn't handle that all the time. I really felt a call to walk with those who are incarcerated," said Billups.
Sean Ruane, coordinator for social justice education, explained how his faith is what gives the fire in pursuing justice for all.
"Social justice demands the acknowledgment of the dignity of every individual, illuminating oppression and calling for change," said Ruane.
Ruane also spoke on the numerous service and justice opportunities through University Ministry so that students may be more educated and begin to take action.
Dr. James Burke, associate professor and director of center for ministry and spirituality, used media to promote on peace and justice issues while on the newspaper in college.
"No matter what your major, theology can add value to your work and life," said Burke.
There was also a representative from Catholic Theological Union, which is a catholic graduate school located in Hyde Park, Chicago. Students were able to hear about various programs of study available close by.
The event ended with comic relief from Sam Sorich. Sorich is a comedian, filmmaker and does Late Night Ministry, which resembles other late night TV shows. His embodiment of his charisms with his faith is a perfect example of Dr. Burke's advice that anyone can incorporate theology in their work and life.
Even though theology as a career may not be on every students radar as they are completing their other works of study, it is events such as this that challenge students to ask themselves how to live out their faith in every part of life.