Student senate's general assembly and senator re-election draws near
Kayla Chambers, Layout Editor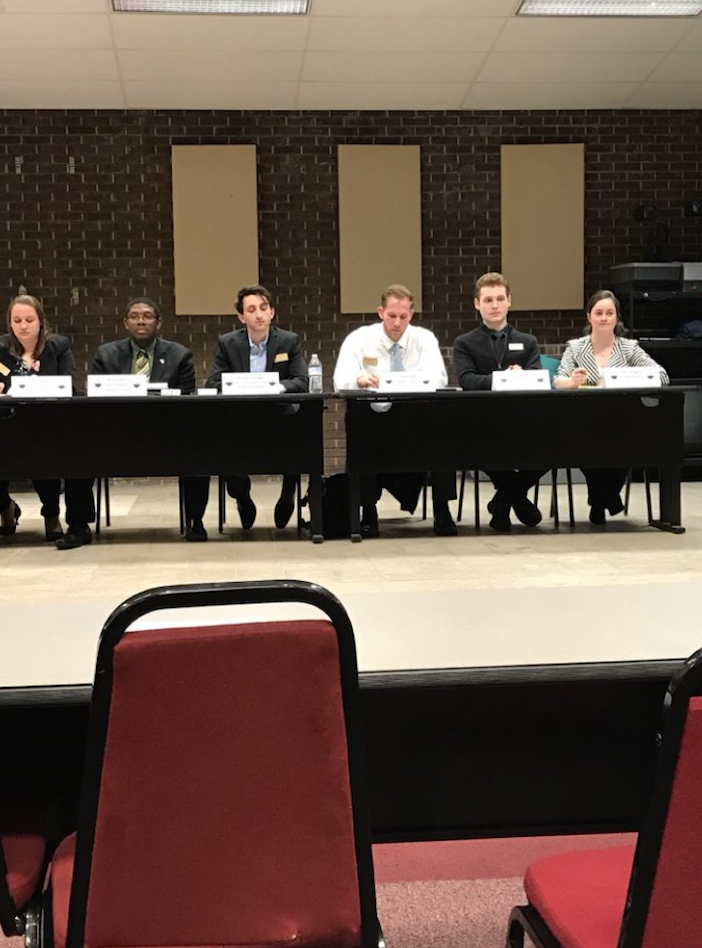 Photo courtesy of Mary Huggins
Senators attend their weekly meeting with the full senate body.
The Student Senate will begin re-elections in the upcoming months, and students will be able to cast votes for their next senators.
Although a voting system has yet to be finalized, the organization plans to form a system that allows students to vote within their constituency.
It's important for voters to know the obligations of the Student Senate as many are unaware of the newly formed organization.
In the absence of the Student Governing Board, the Student Senate was created this past fall. Students applied for a senate seat and a constitution was written and voted on by the senate body. The mission of the organization is to be the voice of the students, operating as a medium between students and faculty.
The senate body includes 21 senators representing a variety of audiences, such as differing departments of study, school years, commuters, transfer students and residential students.
General assemblies are often held, in which students can meet and speak with their senators, with the next one set to take place in mid-April.
"At these meetings we have representatives from the president's office and Sodexo that are attending," said Mary Huggins, senior economics and political science major, who fills the Senior Senator seat.
"They could hear the students say, 'Hey we want this kind of change, what can you do?' And then they'll try and work with us to find a solution," Huggins said.
Michael Debow, a freshman majoring in public policy, serves as the Freshman Senator and has already received complaints from freshman students about the school's Wi-Fi speed. An I.T. employee attended February's general assembly so student's inquiries could be addressed.
The 21 senators also formed committees such as the Public Relations Committee, Senior Committee, Programming Committee and the SWAG Committee, which deals with Lewis apparel. Students can apply to join committees if interested in participating in the Student Senate.
Some senators are also liaisons who attend faculty meetings where their presence and participation may be influential.
Student attendance at general assemblies is especially important for senators to gain a consensus of what issues or change students want addressed.
Students can also contact senate members by email with ideas for events, or any problems. Contact information can be found on the Student Development and Leader webpage.
The Student Senate also plans to hosts events on campus that spark student participation. A Piñata Party was held by the organization last December to assist with student stress. The organization has also been assisting with the President's Inauguration to ensure the upcoming event runs smoothly.
Melissa Churchill, a senior organizations senator majoring in history, urges students to not only attend events, but also to join the Student Senate themselves, as opening senate seats provide opportunities for anyone interested.
"It's an excellent opportunity to participate in the community and get involved in whatever area you excel at, get a good understanding of leadership as well as a representative role in the university," Churchill said.