Straighten Your Back, Straighten Your Life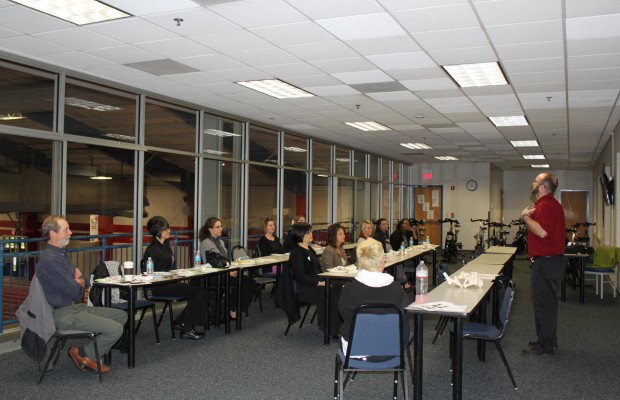 Stephanie Lipinski, Print Editor-In-Chief
Many students know the aches and pains that come with bending over textbooks continuously for several hours cramming for midterms. Or perhaps bending over a computer screen writing a final paper, or surfing the web. However, being continuously hunched over can have a dramatic affect on your long-term posture and health.
On Oct. 29 the Lewis University Fitness and Wellness Center coordinated a 'Lunch and Learn' event called "Protect Your Neck," which provided attendees with a free lunch and a presentation by a local physical therapist, Ryan Schaul. Schaul is an employee of TheraCORE, a therapeutic center of rehabilitation and exercises in Lockport, spoke to students and faculty about spine and neck care.
Schaul began his presentation by asking the audience if they had ever experienced any neck, head, or shoulder pain. Almost everyone in the room raised their hand. Schaul stated that while most people attribute these pains to stress, what could be occurring is bad posture.
Various pains can result from bad posture, including headaches. When the spine is not properly aligned, each vertebra has to work harder to support the head putting stress on bones and muscles in the neck. Schaul explained that bent forward posture could even cause pain in your jaw, due to the strain placed on muscles in that region.
Sometimes standing or sitting with the proper posture may feel uncomfortable and cause minute pain. According to Schaul, this is because your body has deemed the frequently practiced poor posture as 'normal,' so your muscles and bones have shifted gears to accommodate. Now, trying to revert back to the desired posture, the body has to be re-taught their original function.
While Schaul discussed the causes of poor posture, he also proposed solutions to correct and maintain body posture. Several solutions were discussed such as corrective devices for back support and keeping the computer monitor at eye level to avoid hunching over. However, most important was stretching and taking breaks.
If sitting sedentary, Schaul recommended stretching 5 to 7 times within each hour to readjust posture and relax muscles. However, for students this poses a problem. Often students are in class for hours at a time with no breaks or opportunities to stretch. Schaul feels teachers and students alike could benefit from stretch breaks during class time.
"I think it would go a long way to keeping the class focused," Schaul said. "It doesn't have to be minutes of stretching. Literally get out of your chair and move your neck side to side. If you get them out of their chairs and have them stretch a little bit they will be a little refreshed and sitting nice and tall," Schaul said. While the event focuses on tips to stay healthy, one attendee feels the events can benefit the Lewis community in multiple ways.
In addition to learning how take care of her body, Margaret Grabowski, assistant director of alumni relations and Lewis alumna attended the event to connect with peers.
"I always like to come to the 'Lunch and Learns,' because it is not only a nice way to see all the different people I work with around campus, but it is also good to learn different things in order to take care of yourself," Grabowski said. She attended the previous 'Lunch and Learn' event about ovarian cancer, and hopes to continue to attend additional events in the future.
While most in attendance were faculty, Grabowski feels that students could benefit from these events as well.
"I did not take advantage of this while I was a student and looking back on it, I wish I would have," Grabowski said. "Again not only for the tips to help you stay healthy, but also meeting people and another way of networking."
While the event is meant to educate the Lewis community on warning signs and preventative action, Schaul informs attendees that if the pain continues they can see a physical therapist free of charge.
If students or faculty members are experiencing chronic pain or soreness in their backs or any other region, TheraCORE offers free injury screenings.
"We will block off a half hour, they'll come in, and they'll see a physical therapist. The physical therapist will do a mini evaluation," Schaul said. After the evaluation, patients will receive suggested exercises for treatment. If the evaluation proves the injury is revealed to be more serious, the physical therapist will recommend seeing a physician. If students or faculty want to inquire about a free injury screening or have additional questions, contact TheraCORE at www.theracorept.com or call (815) 838-5071.