Special Guest Educates Women On 'Silent Killer'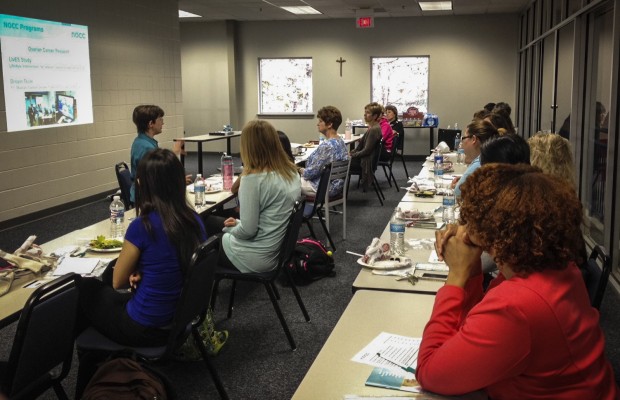 Sandra Cord from the NOCC gave the Lewis community a chance to discuss the importance of ovarian cancer. 
Nicole Krage, Layout Editor
A woman's ovaries are each about the size of an almond. Though only a few centimeters long, these two organs hold the potential of ovarian cancer, a serious disease sometimes referred to as the "silent killer." On Wednesday, Sept. 24, Sandra Cord, the Illinois Chapter Coordinator from the National Ovarian Cancer Coalition (NOCC), held a "Lunch and Learn" presentation for the Lewis community to educate them on ovarian cancer.
Those in attendance included a survivor of ovarian cancer, a Lewis student who recently had her own ovarian cancer scare and others generally seeking information. While each guest walked in with a different level of knowledge on the disease, they all walked out knowing more than they did before.
Cord's presentation included surprising statistics and critical information. In the United States alone, more than 20,000 women per year are diagnosed with ovarian cancer. Of these women, 15,000 die annually – about 75 percent. All women are at risk of this tragic disease. Although most who are diagnosed tend to be in their 60s, even children can be affected.
Men may lack ovaries necessary to be diagnosed with ovarian cancer, but they are absolutely still affected by the disease. A woman's diagnosis impacts not only her, but her family, friends, coworkers, peers etc.
"This cancer touches everyone in a woman's life," said Cord.
Cord stressed the importance of everyone being able to identify symptoms of ovarian cancer, whether or not they are at risk themselves. This is especially crucial because there is no screening to detect it. Possible symptoms include bloating, abdomen pain or discomfort, back pain, trouble eating, upset stomach and fatigue.
"[The symptoms] are all vague and hard to detect," said Cord. Because of this, they can easily be overlooked.
The key to recognizing the symptoms, Cord explained, is if they are new to you, persistent and are consistent for more than two weeks. In this case, it is important to speak to a gynecologist.
Risk factors for ovarian cancer include age, family history, never being pregnant and obesity. On the other hand, risk for this cancer can be decreased with oral contraceptives, bilateral tube ligation or ovary removal. Contrary to what many might think, while removing the ovaries greatly reduces the risk of ovarian cancer, it does not eliminate the possibility completely.
Cord hopes that awareness and knowledge about ovarian cancer increases until people are as familiar with it as they are with other cancers – for instance, the symbol and color for breast cancer. The color for ovarian cancer is teal, complementing their initiative, Take Early Action and Live.
"By sharing stories and getting the word out, we can make a difference," said Cord. "Your awareness can make a big impact on people's lives."
The NOCC has many programs, including their 18th Annual Illinois Chapter 5K Run/Walk at U.S. Cellular Field next year on May 2. This event both celebrates survivors of ovarian cancer and honors the memory of those lost.
"It's so amazing and exciting to be in a sea of 3,000 people all pulling for the same thing," said Cord.
Ovarian cancer is a devastating disease that is difficult to catch and even more difficult to overcome, but by providing both men and women with as much information as possible, awareness can increase, as well as survival rates.
For more information on ovarian cancer, NOCC programs and more, please visit www.ovarian.org.