Senior Class Gift Campaign begins gathering donations for new year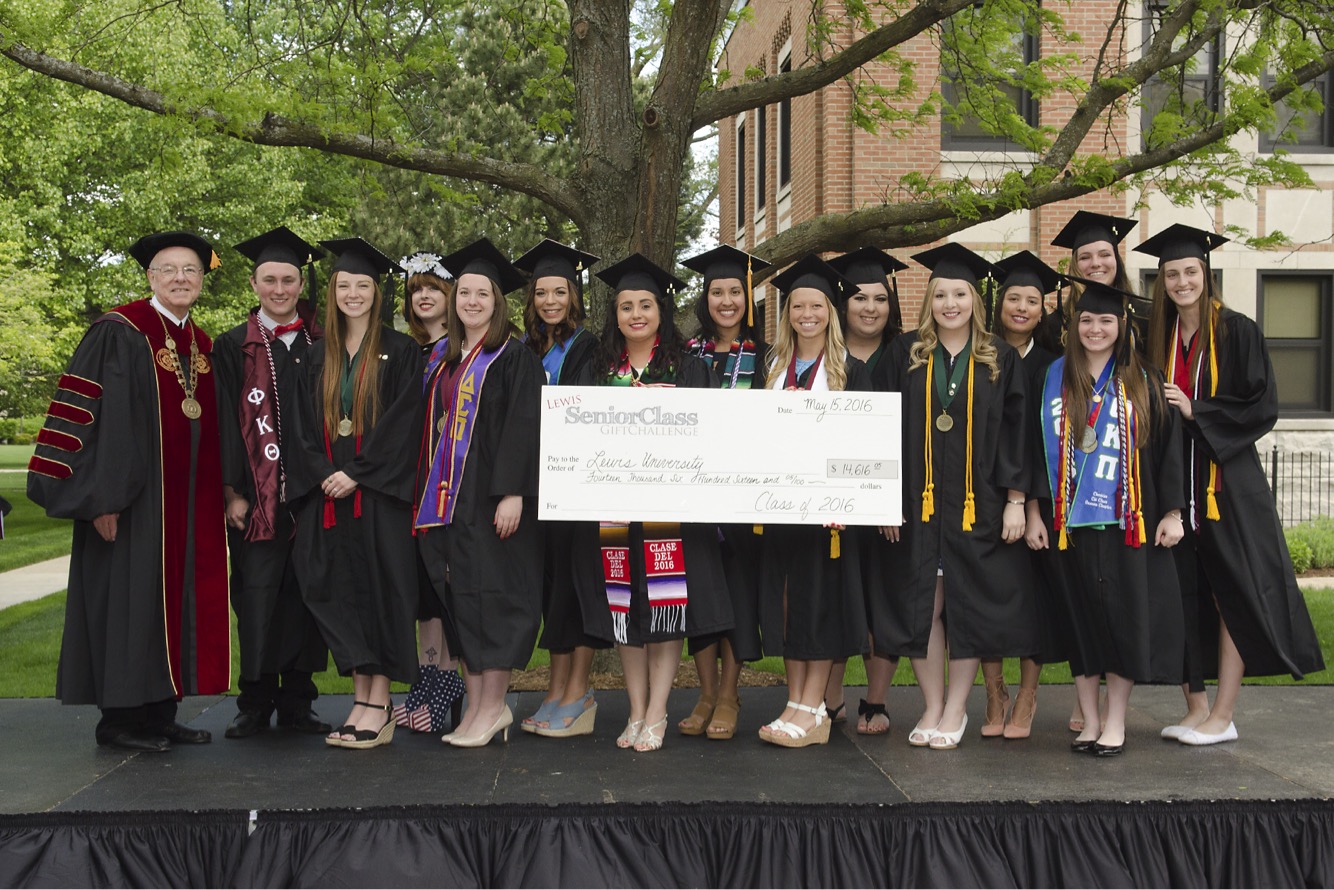 Photo courtesy of Kylie Link
Senior Class Gift Campaign presents former President Br. James with class gift during graduation last May.
Kayla Chambers, Layout Editor
The Senior Class Gift Campaign, a senior-run campaign that collects donations in support of the university, is having a slow and late start in 2017.
Although fliers are hung all around campus and numerous emails have been sent to students, a graduate assistant in charge of running the campaign, Kylie Link, attributes the low number of donations to a general unawareness from students concerning the campaign.
"Talking to alumni they're like, 'Yeah I didn't even know what Senior Challenge was,' or, 'I never even heard of it,' so I just want to get the word out about what it is," said Link.
One goal of the Senior Class Gift Campaign, also known as their Senior Challenge, is to get 100 percent of seniors involved in giving back to Lewis.
When participating in the Senior Challenge, students who donate $20.17 will in return receive a t-shirt. An additional $10 can be given in honor of President Livingston, and students will get a t-shirt along with a special gift.
A third option, in which students can also get a diploma plaque along with the t-shirt and a special gift, is reached by donating at least $99.50.
The campaign sends out pledge cards to seniors that can be returned with a check. Students can make donations through the Senior Challenge webpage at www.alumni.lewisu.edu/seniorchallenge.
Donations can be specifically designated toward athletics, student organizations, scholarships or any department of their choosing. A specific professor can also be commemorated in one's donation, after which the professor will be mailed a certificate in accordance.
All the donations will be compiled into one check that will be presented at graduation to President Livingston. Last year, the campaign garnered $16,000. The campaign has until June this year to hopefully meet or even exceed those numbers.