Senior Challenge Hopes to Make Largest Gift Yet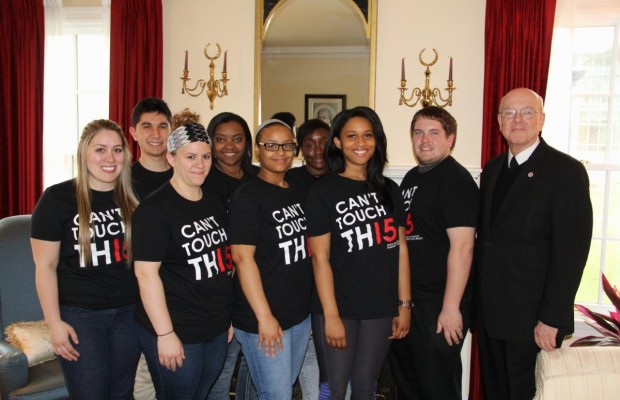 Stephanie Lipinski, Print Editor-In-Chief
The 2015 Senior Class Gift Challenge is off to a great start. With only two months left of school, the committee is hard at work to make this year's gift the best year yet.
The goal of the Senior Challenge Committee is for every senior to contribute a gift of $20.15, commemorating their graduation year. Each senior can designate his or her gift to any college, scholarship, sport or program, which means seniors can give back to areas that mean the most to them.
"I gave to the Senior Challenge because it was a small thank you that I could give to the school that has given me so much," said Sara Harms, senior education major. "Lewis University has helped guide me to the person I am today by strengthening my faith, pushing me to become a teacher and giving me the foundational belief that I can do anything I put my mind to."
Senior Challenge donors also have the option to write a special gratitude note to a faculty or staff member who has made a difference in their life. Many seniors are giving back because Lewis challenged them to become the best they could be.
"I gained so many opportunities at Lewis to see what I was really made of as a person. Lewis is not just a school; it is my family," said Chelsea Cook, a senior marketing major. "When I walk across the stage, it will be with mixed emotions. I won't want to leave this amazing community behind but I know I will be well prepared, because I am a Lewis Flyer."
University President, Brother James Gaffney, FSC, will also match donations dollar per dollar up to $2,700 in honor of his 27 years as president, and The National Alumni Board will also match the senior challenge gift up to $2,000.
With the gifts from current seniors and the matched gifts from Br. James and the Alumni Board, Lewis can look forward to a brighter future.
"I think giving back is important because without the people ahead of us that gave back, what might we not have now? It's important to ensure we invest in future students," said Jake Garringer, a senior international relations major.
On April 28, Br. James is hosting an event to thank all Senior Challenge donors. Seniors who have not made their gift can make it at the door and receive admission to the event. All students who make a gift will receive a "Can't Touch Th15" senior t-shirt and be entered into a drawing for extra graduation tickets.
To join the challenge, visit www.alumni.lewisu.edu/seniorchallenge or call Dennisa Walker at (815) 836-5882.