Schaumburg Sears Requires App For Jeans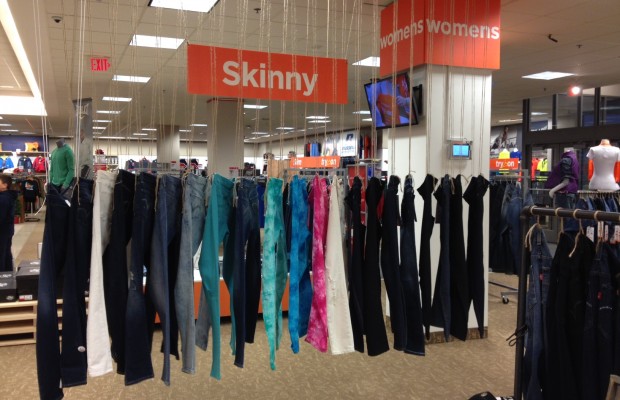 Nicole Krage, Advertising Manager
Many of us cannot imagine going through the day without our phones. We use them to talk to our friends, to remind us to do things, to take and share pictures, and now — to shop? Sears at Woodfield Mall in Schaumburg is now testing a new process for trying on and buying jeans.
Sears' new system isn't hard to miss. Instead of dozens of pairs of jeans being laid out on the sales floor, a select few are hanging from wires from the ceiling. In order to buy or simply try on a pair of jeans, customers text "TRY" to a certain number and are then sent a link to download an app called "Shop Your Way (SM) Try On." If a customer doesn't have a smartphone, they can borrow one from the department.
Through the app, customers scan the barcode on the tag of a pair of jeans, choose their desired size, length and color, and are then told which fitting room to go to. When they walk in, voilà! Their jeans are already waiting for them.
Now, I'm not sure exactly how this system works behind the scenes — and it seems to be pretty top secret anyway — but what customers will notice is that in the fitting rooms, there are two chutes. One is for jean delivery, and the other is for discarded pairs. It is a safe assumption that there are employees on the other side of the wall sending pants down these chutes to the fitting rooms, but how exactly are they receiving and fulfilling the requests for these rooms? Let's chalk it up to magic. Or some sort of advanced technology.
A change this drastic is bound to stir up some feedback. Unfortunately, both times I visited the store over Thanksgiving break, this section was dead. Customers would walk by, occasionally stopping to read the signs explaining the new system, but nobody actually went into a fitting room. Maybe it was bad timing for me, or maybe this is a sign that their new method isn't going as well as they thought it would.
Employees have found that the system seems to be more accepted by younger people.
"That's the whole point," said Kelli Ellenwood, an employee at that location for about three months. "They're trying to target those younger people."
According to employees, older people tend to dislike the new process. Anthony Mosier, who's been working at that location for about a year, finds this to be the biggest challenge.
"It's difficult when people get frustrated and just don't want to do it," he said. "Some people come in and are like, 'I don't want to download the app. I just want jeans,' and that can be hard."
Employees themselves seem to be on the fence about it. Mosier was expecting the new process to make Black Friday more challenging. It would definitely slow things down, but at least there would be less cleaning up to do afterward, he said.
Ellenwood doesn't mind the new system as an employee, but as a shopper, she would prefer the traditional method.
"I wouldn't like [using the app] because I like to be on my own when I shop," she said. "I don't want to talk to people. I just want to shop."
While some may think that moving the process of buying jeans onto customers' smartphones would decrease employee/customer interaction, it sounds like this is not the case. The employees are very friendly and open to helping anybody who needs it.
For now, this new system is only at this one location, and it's relatively small-scale.
"Right now it's only for some of the women's [jeans] and all of the men's," Ellenwood said. "They're going to expand it so they have more of women's."
Depending on the feedback Sears receives, this process could expand to other locations as well. Any Lewis students who are Sears shoppers can keep their eye out for this at Louis-Joliet Mall or if they're really curious, they can make the drive up to Schaumburg to check it out for themselves.