Prayer Breakfast Unifies Lewis Students With Prayer and Song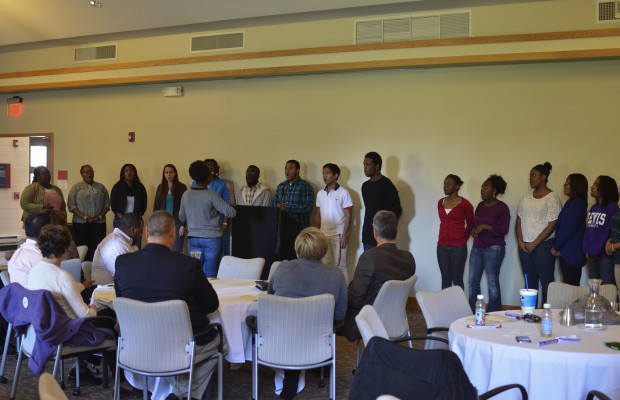 Lewis University Gospel Choir inspires students, faculty and staff with their talent and passion.
Theresa Marten, Religion Editor
October 1 marked the annual Prayer Breakfast hosted by the Lewis University Gospel Choir. Located in the D'Arcy Great Room, students, faculty, staff and the Gospel Choir joined around food, prayer and song.
This event was highly attended along with an appearance and remarks by our very own Lewis University President, Br. James Gaffney. Gaffney commented on the importance of the Prayer Breakfast and the positive impact it has had on the Lewis community.
Four students from various organizations presented four prayers during the breakfast. Alexander Stewart, representing University Ministry, read a prayer on community. Marek Blizinski on behalf of Students for Life read a powerful prayer for family. Lanita Hinton, representing Black Student Union, prayed for greater unity and Kayla Kelly from Teachers of Tomorrow, prayed for peace. The Gospel Choir then sang two beautiful songs, "Total Praise" and "Peace for my World."
"The Prayer Breakfast was very enlightening and I was able to see many organizations I was not aware of," said Kayla Kelley, senior elementary education major. "I was very impressed by the music and I thoroughly enjoyed it. It really formed a new community by bringing different organizations together who normally would not."
The Gospel Choir of about 30 students see the choir as not only an organization and a class, but also a ministry.
"I am in Gospel Choir because I have a love for music but more importantly a love for God," said Megan Zeugner, treasurer of Gospel Choir.
Gospel Choir is open to people of all backgrounds and Lewis alumni. The Prayer Breakfast is only one of the many events the Gospel Choir sponsors. There are two major performances for the Choir such as the Thanksgiving musical in the fall and Gospel Fest in the spring. In addition, Gospel Choir attends outside events such as singing at other churches and going to workshops at other schools such as Illinois State University.
Aside from providing students with an opportunity to develop their singing talent and expressing faith, many in the choir have benefited in other ways.
"The biggest way Gospel Choir has impacted me is it has provided me with a sense of community," said Zeugner.
The Gospel Choir is always looking for new members. If you missed the prayer breakfast or want to hear the Gospel Choir again, the Thanksgiving musical is Friday, November 21, from 7 p.m. to 9 p.m. in the Sancta Alberta Chapel. Anyone interested in Gospel Choir the rehearsal meets at 7 p.m. in Ives Hall in the Fine Arts Building. For more information or to join the choir, you can come to rehearsals or e-mail lewisgospelchoir@yahoo.com