Paul Konerko: One Man who Never Disappointed for the White Sox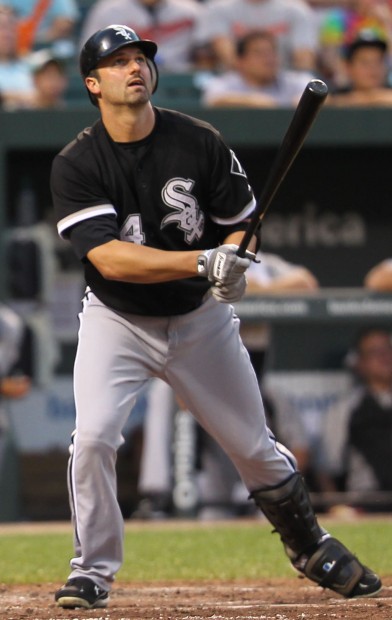 Paul Konerko ended his 14th season with the White Sox with only a .244 average, 12 home runs and 54 RBIs.
Photo courtesy of Keith Allison.
Nicole Kappelman, Assistant Sports Editor
Another season has come and gone for the Chicago White Sox, and the disappointment of coming in last place in the American League Central is still in the air.  After coming off of a 2012 season record of 85-77 and clinching second place in the postseason standings, the 2013 season has undoubtedly been an utter disappointment.
Coming in last place with a record of 63-99, the only thing they achieved this season was getting a better record than the Cubs. Oh wait, they couldn't do that either…
It's pretty safe to say that changes need to be made in the upcoming offseason for the Sox, or there will most definitely be even more disappointed fans next year. It seems that the continuous theme from the season has been disappointment. A disappointing record.  A disappointing lineup.  Disappointing sales. Disappointment, disappointment, disappointment… Do you see the pattern here?
What could potentially be even more disappointing, though, is losing one of the most important players on the team. Not only has he been their captain since 2006, but he is the heart and soul of the team and the only player that still remains after the 2005 World Series Championship. He's the bread and butter of the team, if you will.
It could be none other than Paul Konerko himself. The 37-year-old Rhode Island native may or may not be throwing in the towel after playing in the league for 16 years.  Konerko has been with the Sox since he was 23 years old, or 14 great years, to put it in a different perspective.
Rumors have been flying around that Konerko will be retiring no later than the 2014 season. The big question, however, still remains: will it be now, or will it be a year from now?  The South Sider has been the heart of the Sox for the past few years. Between injuries and age, Konerko has still shown up and given everything he can to his team.
There have been skeptics that criticize him and say he isn't good enough to ever be inducted into the Hall of Fame. They say that his numbers will never add up to the "greats" that are already in there. While some of his statistics may prove that theory right, there is one thing that is undeniable − Konerko is a stand-up kind of guy. While some of you may be saying, "Well that's great, but how will personality get him into the Hall of Fame?"  It won't. But it will certainly never be forgotten.
It's true what they say that statistics and numbers have never been remembered in history. Dates, sure, and certain events, yes. But specific statistics?  20 years from now, no one will look back and say that if Konerko had done this or done that one little thing he probably could've been inducted. I am a girl, so you may ask if I even know anything about sports? I may not remember every specific detail, but what I do know is that a player's determination and personality are two of the strongest qualities that stick with you as a fan.
You can post the greatest numbers as a player and have the best swing in the major leagues. But when it comes down to it, no one wants to watch a jerk of a player. Paul Konerko has been that stand-up guy that has stood by his team for the past 14 years. He has stood by his city and by his fans. Not once has he ever let us down. Sure, there have been his ups and his downs in the past couple of years, but if there's one thing he has shown, it's that he loves this game and his team.
Even after finishing in last place this season, Konerko still greeted fans after the season-ending game on Sept. 29.  He thanked the fans and the city for being so good through thick and thin. Most people have said that his speech was also his farewell speech.  Whether it's true, no one can say for sure. Time will tell, and the free agent will have to make a decision to stay with the Sox, go to another team or officially call it quits.
Whatever Konerko's decision, though, he will always be remembered as one of the greatest Sox players, at least in my book. Whether you're a New York Yankees, St. Louis Cardinals or even Cubs fan, you can't deny that Konerko became the image of the Sox. A great player, captain, teammate and, most importantly, person, Paul Konerko will never be forgotten, no matter where he goes.