'Pack the Bus' MAP rally brings attention to division within state government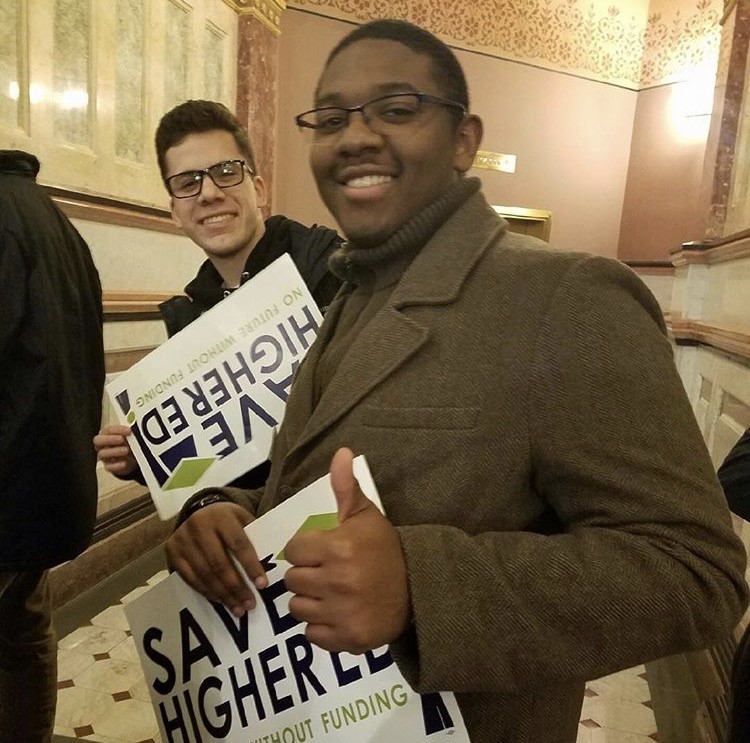 Photo courtesy of Instagram user @LewisUniversity
Lewis student Tyler Trester and William Riley attend the MAP grant rally in Springfield Feb. 8.
Bree Scott, Co-News Editor
Lewis University students piled into a bus Feb. 8 and drove 170 miles to Springfield to rally for the dispersion of MAP grants promised to students across the state. William Riley, a junior aviation administration and public policy major, estimated that there were 200 to 300 people in attendance when he arrived in Springfield with his fellow peers, including students from DePaul, Loyola and other schools from downstate. President Livingston also attended the event.
Politicians such as Illinois State Treasurer Mike Frerichs, took to the microphone to express the importance for students to have access to this money so that they may obtain a good education, and eventually, go out into the world and find good work and create even more jobs.
"I thought the rally went well, but it was not a groundbreaking event," said Tyler Trester, a senior psychology major who was also present at the rally, "The MAP grant funding is part of a larger statewide issue of agreeing on a budget. It is sad to see the partisan divide between the senate and the governor affecting universities, especially students who rely on state help to go to school. It definitely perpetuates an uneducated electorate and an unskilled workforce, which explains why people are fleeing the state of Illinois in droves."
MAP grant funds have been withheld from students since last semester as a result of the Illinois budget crisis. Many Illinois universities have had to resort to funding through emergency measures.
"[The MAP grant issue] directly affects me. That's $2,000 to $3,000 that I need in order to come back next semester," said Riley, "Last year, some people were saying they might not be able to return next semester if that money hasn't been distributed. It's really a shame in the sense that students all across the state are suffering because of political dystopia, I guess, or just disarray, if that makes sense."
Riley also mentioned that the MAP grant issue affects everyone, whether directly or indirectly — even some of the staff at Lewis.
"In reality, even the students who don't receive MAP grant funding are affected by it, because last year, Lewis was actually promised $6 million from it. That was $6 million that they didn't get until later and they had to account for the budget and stuff for that . . . So, it affects all of us. For some, more direct than others, but it does affect all of us," said Riley.
Advocating for the distribution of these funds is essential, but Riley stresses that an understanding of the issues is equally as important for advocating to be successful.